FAIF INTERVIEW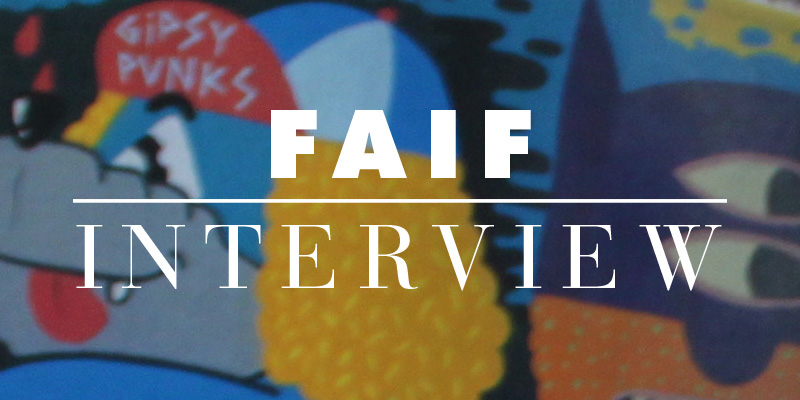 BARCELONA È UN GRAN BEL POSTO, CI FANNO IL SONAR, CI SONO I MIGLIORI AMICI DI ISACCO CHE SI STANNO PER SPOSARE, C'È' LIONEL MESSI E LA SUA BANDA, E POI C'È FAIF O FAIFY, QUELLO DEI MANDARINOS CREW.
PUOI TROVARE I SUOI THROW UP (FAIFY) SULLA RAMBLA E LE SUE LETTERE SUPER FRESH IN GIRO PER L'EUROPA, MA LUI SI GASA A FARE ANCHE ALTRO, IL CAMPIONE DEL MONDO (FAIF) VUOLE FARE L'ARTISTA.
IL SUO PRESOBENISMO È A LIVELLI ALTISSIMI E INFATTI CI HA INVIATO UN PO' DI FOTO INEDITE DELLE SUE ULTIME PRODUZIONI OUTDOOR E INDOOR.
INOLTRE GLI ABBIAMO FATTO UN'INTERVIEW, COME SEMPRE SENZA FARE TROPPE DOMANDE. ABBIAMO PREPARATO DELLE IMMAGINI CON TRE OPZIONI, LA RISPOSTA E' A TEMA LIBERO SULL'OPZIONE EVIDENZIATA.
SI CAPISCE?
PROBABILMENTE ZERO! ALLORA NON PENSARCI, VIENI DENTRO E STAI DA DIO, FIDATI.
CI SEI? TRE OPZIONI – QUELLA EVIDENZIATA È LA SCELTA – FAIF IL SUPERSIMPA TE LA SPIEGA.
SUPER EASY.

LONDON / BARCELONA / NEW YORK CITY
 I'M SURE NEW YORK AND LONDON HAVE BIG AND POWERFUL PORN INDUSTRIES. BUT BARCELONA IS HOT! AND THE CUTE GIRLS WHO LIVE WITH ME… THEY LIKE THE BEACH. THEY WON'T COME WITH ME TO THE COLD NORTH, NO MATTER HOW MUCH COCAINE I OFFER THEM. THEY NEED THE BEACH AND I NEED THEM, SO I WILL STAY.
SONO SICURO CHE NEW YORK E LONDRA SIANO DELLE IMPORTANTI PORNO-INDUSTRIE. MA BARCELONA E' CALDA! E ALLE RAGAZZE CHE VIVONO CON ME PIACE ANDARE IN SPIAGGIA. NON VERREBBERO MAI SU AL NORD, NON IMPORTA QUANTA COCA POTREI OFFRIRGLI. LORO HANNO BISOGNO DELLA SPIAGGIA E IO HO BISOGNO DI LORO. QUINDI RESTO QUI.

STREET ART / WRITING / GRAPHIC DESIGN
I WOULD LIKE TO ANSWER BODY PAINT, BUT WRITING IS ALSO GOOD. GRAFFITI IS WHAT I DO THOSE NIGHTS WHEN I DON'T HAVE ANY GIRL TO HAVE SEX WITH. SEARCHING A NICE SPOT, WAITING A LITTLE BIT AND PAINTING IT AS FAST AS I CAN. THIS IS THE 3TH THING I LIKE THE MOST IN THIS LIFE, AFTER SEX AND EATING BACON. SINCE I DISCOVERED ILLEGAL GRAFFITI I'M LESS INTO DRUGS SO MAYBE THIS IS SOMETHING POSITIVE. THEN, SOMETIMES I ALSO PAINT COLORFUL AND GIRLY SHIT, AS YOU CAN SEE IN THE PICTURES.
VORREI POTER RISPONDERE BODY PAINT, MA ANCHE WRITING VA BENE. I GRAFFITI LI FACCIO IN QUELLE SERE IN CUI NON HO NESSUNA RAGAZZA CON CUI FARE SESSO. CERCARE UN POSTO, ASPETTARE E DIPINGERE IL PIU' VELOCEMENTE POSSIBILE, QUESTA E' LA TERZA COSA CHE MI PIACE FARE DI PIU' NELLA VITA, DOPO IL SESSO E IL BACON. POI DA QUANDO HO SCOPERTO I GRAFFITI MI DROGO DI MENO, QUINDI MAGARI E' QUALCOSA DI POSITIVO NO? POI A VOLTE DIPINGO ANCHE COSE COLORATE E UN PO' DA TIPA, COME POTRAI VEDERE NELLE FOTO.

FIXED / HUMMER / SEGWAY
THIS IS THE EASIEST QUESTION I EVER HAD TO ANSWER IN ALL MY LIFE. THE SEGWAY IS WHAT I USE DAILY TO GO THROUGHT MY VERY BIG MANSION. IT'S SOMETHING THAT REALLY CHANGED MY LIFE. IMAGINE YOU ARE IN YOUR LIVING ROOM SMOKING SOME WEED AND SUDDENTLY YOU WANT TO EAT SOMETHING. THE KITCHEN IS TOO FAR, LIKE 5 OR 6 MINUTES WALKING. I REALLY REALLY NEED ONE. IF THE QUESTION WAS CAR OR BIKE I WOULD SAY CAR. I USED TO DRIVE MY FERRARI AT NIGHT TO MY FAVOURITE CLUB, WHEN SUDDENTLY I KILLED A BIKER. THEN I WAS IN JAIL. THANKS TO MY MUM WHO PAID LOTS OF MONEY AND NOW I'M FREE AGAIN. LOVE YOU!
QUESTA E' LA DOMANDA PIU' FACILE A CUI ABBIA MAI RISPOSTO. IL SEGWAY E' QUELLO CHE USO OGNI GIORNO PER ATTRAVERSARE LA MIA MEGA CASA. MI HA VERAMENTE CAMBIATO LA VITA. IMMAGINA CHE SEI IN SALOTTO, STAI FUMANDO DELL'ERBA E ALL'IMPROVVISO, SAI COM'E', TI VIENE VOGLIA DI MANGIARE QUALCOSA. LA CUCINA E' TROPPO LONTANA, TIPO 5-6 MINUTI A PIEDI. NE AVEVO DAVVERO DAVVERO BISOGNO. SE LA DOMANDA INVECE FOSSE STATA MACCHINA O BICI AVREI DETTO MACCHINA. UNA VOLTA ERO SU UNA FERRARI E STAVO ANDANDO AL MIO CLUB PREFERITO, QUANDO HO MESSO SOTTO UN CICLISTA. SONO FINITO IN GALERA.
GRAZIE A MIA MAMMA, CHE HA PAGATO UN SACCO DI SOLDI PER FARMI USCIRE, ORA SONO DI NUOVO LIBERO. TI VOGLIO BENE!

SPRAY / MARKER / ESTINGUER
I LIKE TO PAINT WITH WHATEVER I HAVE, BUT I HAVE TO RECOGNIZE THAT I LOVE PAINTING WITH CANS. IT'S GREAT BECAUSE IF YOU ARE PAINTING A WHOLETRAIN IN THE MAIN STATION OF YOUR SUBWAY SYSTEM, YOU CAN USE THE SPRAY CAN AS A FIRE WEAPON. YOU JUST NEED A LIGHTER AND YOU CAN BURN THE FACE OF THE SECURITY OFFICER AND THE POLICE OFFICER AND FINISH YOUR PAINTING CHILLING WITH YOUR FRIENDS. THEN YOU GO TO SLEEP WITH YOUR GIRL AND POST YOUR PICTURE IN THE INTERNET. TO PAINT WHAT YOU SEE IN THE GALLERY PICTURES, MY GIRLY SHIT FULL OF COLOR, I USE ANY KIND OF PAINT. AS COLORFUL AS I CAN.
MI PIACE DIPINGERE CON QUALSIASI COSA HO SOTTOMANO, MA DEVO AMMETTERE CHE ADORO DIPINGERE CON GLI SPRAY. E' FANTASTICO PERCHE' SE TI STAI FACENDO UN TRENO NELLA STAZIONE PRINCIPALE DELLA METRO PUOI USARE LO SPRAY COME ARMA. TI SERVE SOLO UN ACCENDINO E PUOI BRUCIARE LA FACCIA DI QUELLO DELLA SICUREZZA E POI LO SBIRRO E FINIRE DI DIPINGERE IN RELAX COI TUOI AMICI. POI TORNI A CASA, VAI A LETTO CON LA TUA RAGAZZA E METTI LA FOTO DEL PEZZO SU INTERNET. PER DIPINGERE QUELLO CHE VEDI NELLE FOTO DELLA GALLERY, QUELLE LI' TUTTE COLORATE, USO OGNI TIPO DI VERNICE. COLORATISSIMO.

MARJUANA / PILLS / COCA
DRUGS ARE LIKE OXYGEN FOR ME. I NEED ALL OF THEM MUCH MORE THAN YOU CAN IMAGINE. I LOVE DRUGS.