REEMIX PRESENTA: SHABLO LIVE + THE ELHITS, 11.07.2013, PERUGIA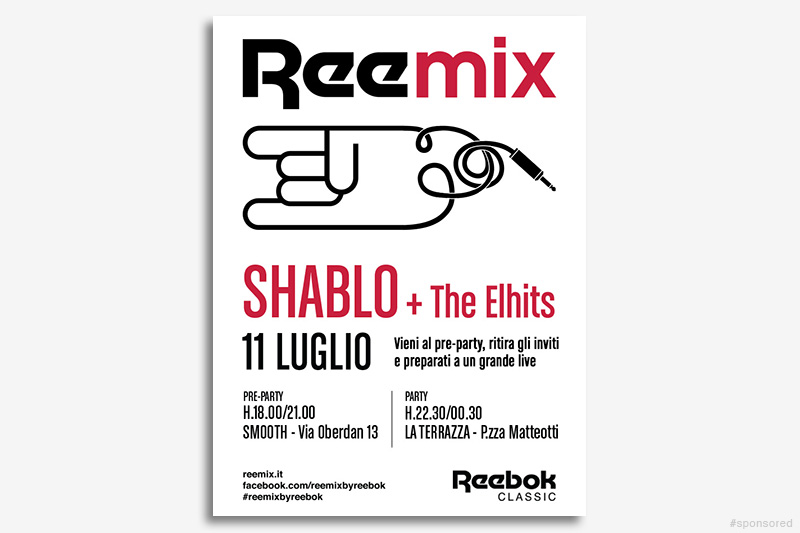 I VINCITORI DELLA SECONDA FASE DI REEMIX BY REEBOK, QUELLA CON SHABLO, SONO I THE ELHITS, IL LORO REEMIX LO PUOI ASCOLTARE QUI, MENTRE PER SENTIRE IL LORO DJ SET DAL VIVO DOVRAI ANDARE A PERUGIA @ LA TERRAZZA. IN QUESTO MOMENTO NOI SIAMO APPENA ARRIVATI VICINO A PERUGIA, FOLIGNO PER LA PRECISIONE (DANCITY FESTIVAL, YOU KNOW) E QUASI QUASI CI STIAMO FACENDO UN PENSIERO A RIMANERE QUI ANCORA PER QUALCHE GIORNO.
TUTTE LE INFO E MODALITA' DI PARTECIPAZIONE – FREE, MA SU INVITO DA RITIRARE PRESSO SMOOTH – LE TROVI SU FACEBOOK.
ORA DEVI SOLO ASCOLTARTI LE GOOD VIBES BY SHABLO CON IL PEZZO GET LOOSE 
E POI LA VERSIONE WINNER SCELTA DALLA JURIA BY THE ELHITS
UN SALUTO PURE AL NOSTRO BRO RAILSTER CHE HA PARTECIPATO CON QUEST'ALTRO REMIX MUY STILOSO
BELLA AI REEGAZ DI REEBOK, CI VEDIAMO LI' E CI SENTIAMO DOMANI PER PARLARTI MEGLIO DELLA FASE 3.
- EVENTO FB -
CIAO SHABLI