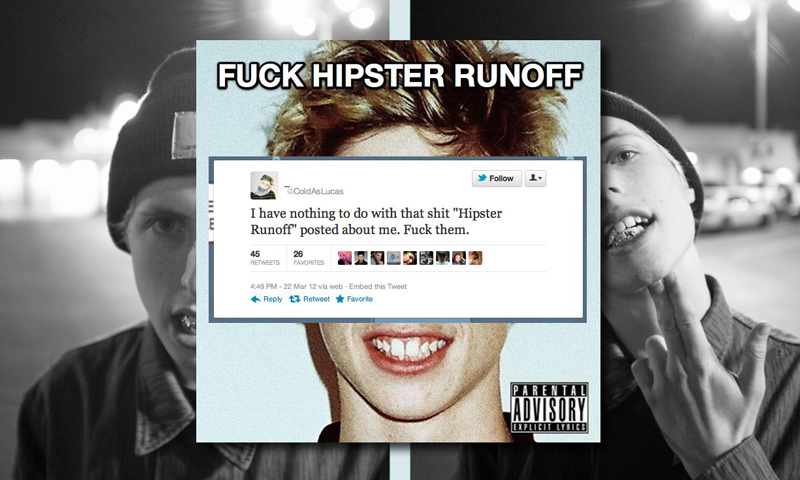 HEY, MA LO SAPEVI CHE LUCAS VERCETTI SI E' PRESO MARIO PERCHE' HIPSTER RUNOFF HA SCRITTO QUALCHE GIORNO FA UN FAKE ARTICOLO IN PRIMA PERSONA CHE SPIEGAVA UN PO' LA SUA STORIA COME UNICO BIANCO ALL'INTERNO DELLA WOLF BANDA??? STORIE DI DIVERSITA' ETNICA E FRATELLANZA BLACK&WHITE, L'ARTICOLO SI CHIAMAVA "WHAT IT'S LIKE TO BE THE WHITE GUY IN ODD FUTURE: THE LUCAS VERCETTI STORY". FA RIDERE, E' IRONICO, PERO' PROBABILMENTE LUCAS SI E' PRESO MALE PERCHE' OVVIAMENTE E' TUTTO FALSO (VEDI ALLA VOCE: IRONIA). E SI E' PRESO MALE COME BON IVER. DAI. LOL.
CMQ LUI, LUCAS VERCETTI, E' IL MANAGER DEL WOLF GANG STORE. ERA STATO MESSO COME COPERTINA-TEASER DELL'OF TAPE VOL. 2. E A STO GIRO VINCE IL TAPIRO HIPSTER DI STRISCIA L'HIPSTER. QUALCHE HIPSTER GLIELO PORTI, MAGARI TORNA A CASA CON UN PO' DI MAGLIETTE COI GATTINI, QUELLE SPACCANO.
PER SAPERNE DI PIU' SU QUESTA NOTIZIA LEGGITI L'ARTICOLO ORIGINALE CHE HA FATTO NASCERE LA POLEMICA SU TWITTER, FATTI UN'IDEA E SCEGLI TU A CHI DARE RAGIONE.