THE MIXIE VOL. 23 / BOMBÉ
TORNIAMO UN'ALTRA VOLTA A PHILADELPHIA, PRENDIAMO L'AEREO DA PERUGIA, DOVE SIAMO STATI IPNOTIZZATI DA FURTHERSET (E IL SUO DITO MEDIO) E ATTERRIAMO NELLA CITTA' DEL FAMOSO FORMAGGIO. SCHERZO DAI, PHILADELPHIA NON E' LA CITTA' DI QUEL FORMAGGIO (MA VERAMENTE?), E' UNA CITTA' CON UNA SCENA MUSICALE MOLTO FIGA CHE VEDE NOMI COME KRUEGER AND COPOUT (KNC), DJ SEGA, STARKEY E OVVIAMENTE BOMBÉ. LUI L'ABBIAMO INCONTRATO PER LA PRIMA VOLTA PIU' O MENO L'ANNO SCORSO, QUANDO HA REALIZZATO IL MIXTAPE JAMES DRAKE, TE NE ABBIAMO PARLATO E DA LI' SIAMO RIMASTI SEMPRE CON UN OCCHIO ANZI DUE SULLE SUE PRODUZIONI, REMIX E BOOTLEG. ED ECCOLO QUI.
PER QUESTO 25 APRILE TI FACCIAMO SENTIRE LE BOMBE. IL GIOCO DI PAROLE E' FIN TROPPO FACILE, MA TE LO DICIAMO LO STESSO. CI STA TUTTO. IL SUO THE MIXIE VOL. 23 (23 COME MICHAEL JORDAN) INIZIA CON IL FRUSCIO DEL VINILE E POI SUBITO UNA CASSA DRITTA, UN PO' VIOLENTA: E' LA PRIMA BOMBA. POI E' TUTTO UN ADDOLCIRSI VERSO SUONI PIU' FUTURE BASS. FUTURO, GIA', PERCHE' BOMBÉ CI VEDE LONTANISSIMO E NELLA TRACKLIST CI SONO MOLTI NOMI DI CUI SENTIRAI PARLARE PROSSIMAMENTE. SU TUTTI LUCID, KRUEGER E SAMO SOUND BOY.
POCO ALTRO DA AGGIUNGERE, ASCOLTA LA MUSICA, VIVA LA MUSICA, BIG UP TO PHILADELPHIA, BIG UP BOMBÉ E BUONA FESTA DELLA LIBERAZIONE.
BOOM.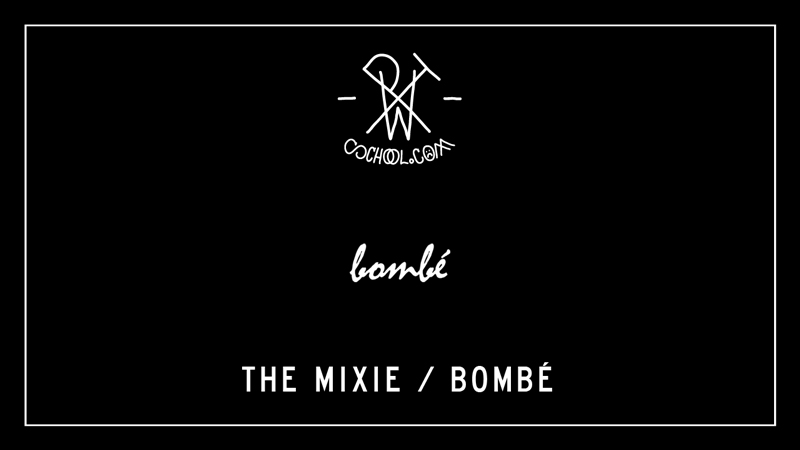 TRACKLIST:
SCUBA – UNDERBELLY
ELITE GYMNASTICS – MINNEAPOLIS BELONGS TO YOU (LOL BOYS REMIX)
KON – TURNABOUT
MACHINEDRUM – VAN VOGUE
MYRRYRS – FEEL U (SAMO SOUND BOY REMIX)
DJ FUNERAL – THE KILLING
NAH LIKE – BOSS (KNC REMIX)
MESS KID – SIP SLOW (MOHEGAN SON LEGBOOT)
KRUEGER – THIS IS SICK (DRIPPIN REMIX)
WHEEZ-IE – KEEP YER CHIN UP (SALVA REMIX)
MISTA WISH – STRETCH OUT (LUCID REMIX)
DEV79 – GET 2 KNOW FT. SLIX (SLICK SHOOTA REMIX)