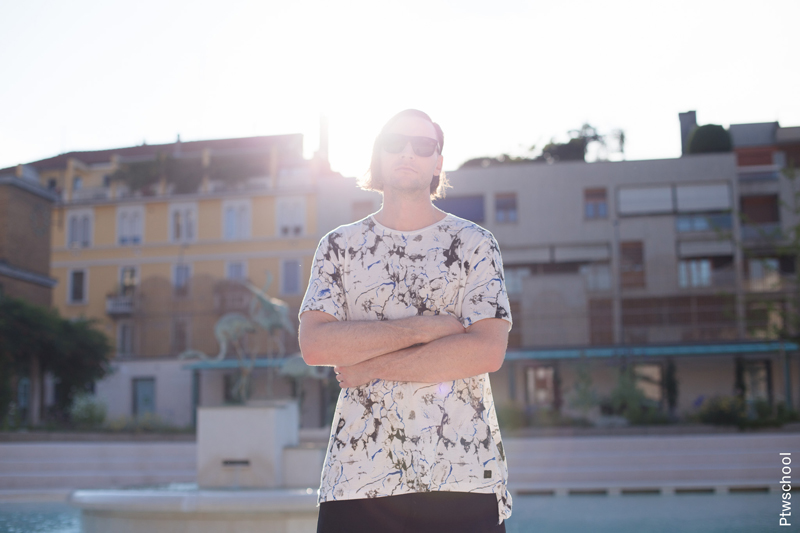 ABBIAMO INTERVISTATO EGYPTRIXX (HALOCLINE TRANCE)

PORTRAITS BY RFM
A COUPLE OF WEEKS AGO, DAVID PSUTKA – A.K.A. EGYPTRIXX – CAME BACK TO ITALY TO PLAY A LIVE SHOW AT THE SUMPTUOUS LOCATION OF BAGNI MISTERIOSI. THE EVENT HAS BEEN ORGANIZED BY ELECTROPARK EXCHANGES, WHO DEFINES IT "A TRIPTYCH OF CONCERTS WORTHY OF THE BEST RENAISSANCE TRADITION", WITH A FOCUS ON CANADA AND CANADIAN PRODUCERS (BEFORE EGYPTRIXX, TIM HECKER HAS PLAYED THERE, WHILE MARIE DAVIDSON WILL HEADLINE THE 4TH JULY EVENT).
WE WERE THERE, WE HAD QUESTIONS FOR DAVID AND RFM'S CAMERA WAS READY TO SHOOT. SO, WE SEIZED THE OPPORTUNITY TO INTERVIEW HIM. WE TALKED ABOUT MUSIC, THE LOCATIONS IN WHICH HE PLAYED, HIS LABEL (THAT ACTUALLY FASCINATES US) AND WHAT HE REMEMBERED ABOUT THE LAST MILANESE GIG, WHEN HE WAS OUR GUEST AT THE UNDERGROUND PARTY (#TBT 2014).
THE LIVE STARTED JUST AFTER THE SUNSET. THE LIGHTS TURNED OFF, A METALLIC AND NATURAL SOUND STREAM SURROUNDED US FOR 45 MINUTES. THANK YOU DAVID & ELECTROPARK EXCHANGES.
PTWSCHOOL: HI DAVID, FIRST AND FOREMOST WELCOME BACK TO ITALY, IF WE'RE RIGHT IT IS THE SECOND TIME YOU'RE HERE IN MILAN AND THE FIRST ONE WAS THE PARTY HOLD BY US THREE YEARS AGO IN VIA CROCEFISSO 18. WHAT DO YOU REMEMBER OF THAT EXPERIENCE – BEFORE, DURING AND AFTER IT?
EGYPTRIXX: YEA THE LAST TIME I WAS IN MILAN WAS FOR THIS DJ SET, IT WAS GREAT. I'VE ALWAYS LOVED DOING SHOWS IN ITALY – IT'S A SENSUAL, VIVID AND INTERESTING PLACE. NEVER HAD A BAD TIME THERE. I MET SOME NICE PEOPLE AT THIS SHOW INCLUDING PTWSCHOOL CREW :) I REMEMBER THE VENUE WAS A LABYRINTH. I DON'T REALLY HAVE ANY ELSE TO SHARE ABOUT MY LAST TRIP TO MILAN EITHER, MEMORY IS A LITTLE FOGGY!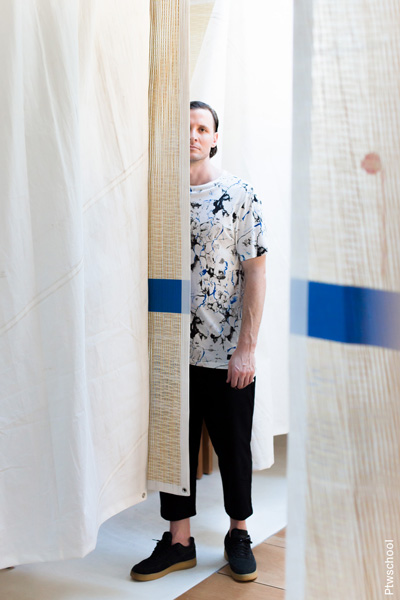 PTWSCHOOL: WE GUESS YOU'RE OFTEN TRAVELLING AND DJING IN OUTSTANDING VENUES. DO YOU CONSIDER THE VENUE A KEY FACTOR WHEN PLANNING YOUR SHOWS? DO YOU HAVE AN IDEAL LOCATION? TELL US THE WEIRDEST (POSITIVELY OR NEGATIVELY) VENUE WHERE YOU PLAYED.
EGYPTRIXX: MY BASIC ACCESS TO ALL THE PROJECTS I WORK ON IS THROUGH THE SOUNDS THEY CREATE AND HOW THOSE SOUNDS BEHAVE IN SPACE – MY APPROACH TO ALL MUSIC IS FROM AN ACCEPTANCE OF SOUND AS A PHYSICAL, MATERIAL OBJECT, SO THE VENUE/AUDIENCE/ATMOSPHERE IS AS IMPORTANT TO THE SHOW AS THE PERFORMANCE ITSELF. I'M REALLY INTO HOW THE SOUND CLANGS AROUND THE ROOM AND FEELS IN SPACE (WHICH IS WHY I USUALLY TURN MONITORS DOWN REALLY LOW OR COMPLETELY OFF DURING SHOWS). WHETHER ITS A DJ SET, LIVE SET, WHATEVER, VENUES HAVE THEIR OWN EXPERIENTIAL CHARACTERISTICS AND THAT IS A FACTOR WHEN IM PREPARING FOR A SHOW – WHETHER ITS AN ANAMAI SHOW WHICH CAN BE REALLY INVITING AND FLUID, OR AN EGYPTRIXX SHOW WHICH CAN BE REALLY PUNISHING AND PHYSICAL, OR A DJ SET ETC. I DON'T REALLY HAVE STRONG PREFERENCES ABOUT THE TYPE OF VENUE BUT NEGOTIATING DIFFERENT STRUCTURES IS DEFINITELY PART OF THE EXCITEMENT OF DOING SHOWS. I'VE DONE SHOWS IN A LOT OF UNCONVENTIONAL SPACES (CHURCHES, HOMES, WAREHOUSES, POOLS ETC) AND I'M GRATEFUL FOR PROMOTERS WHO TAKE THESE RISKS. ITS OFTEN MORE REWARDING TO THE ARTIST AND VIEWER TO BE IN AN UNUSUAL SPOT.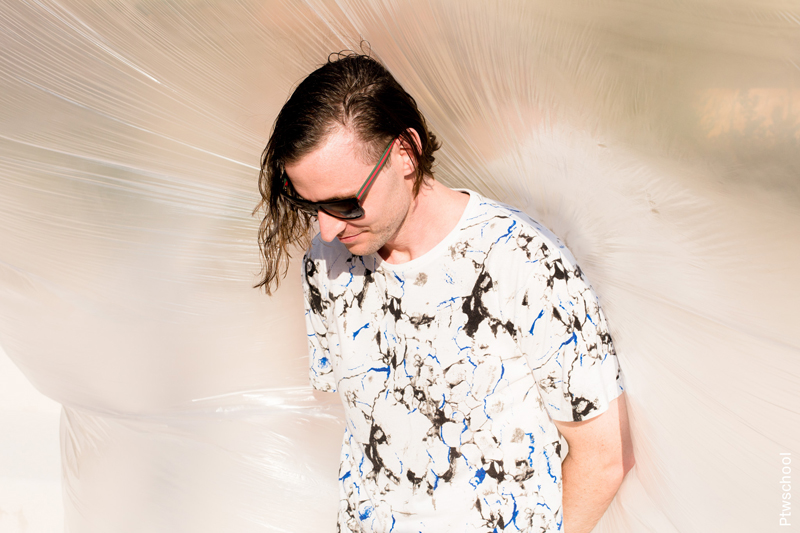 PTWSCHOOL: WHAT WAS, ON THE CONTRARY, THE MOST SUGGESTIVE?
EGYPTRIXX: I DON'T REALLY HAVE FAVOURITES TO BE HONEST – THERE ARE GREAT, HIFI VENUES LIKE BERGHAIN OR FIRST AVENUE WHICH ARE ALWAYS A PLEASURE TO PLAY, BUT I FEEL REALLY ENGAGED IN A DIFFERENT WAY AND ACTIVATED CREATIVELY FROM BRINGING MY PROJECTS INTO UNCONVENTIONAL SPACES LIKE BASILICA HUDSON, STUDIO BELL CALGARY, OR TEATRO FRANCO PARENTI MILANO ETC. MY ENTIRE APPROACH TO MUSIC REALLY CENTRES ON HOW SOUND EXISTS IN SPACE, SO STRUCTURES + VENUES CAN SHAPE THE EXPERIENCE A LOT.
PTWSCHOOL: HOW IS THE CONTEMPORARY ELECTRONIC MUSIC SCENE IN TORONTO AND, GENERALLY, IN CANADA?
EGYPTRIXX: TORONTO IS A BIG, DIVERSE CITY THAT OPERATES AS A MULTI-FACTED REFLECTION OF GLOBAL SOUNDS AS MUCH AS ANYTHING – THERE ARE SMALL COMMUNITIES HERE REFERENCING/CELEBRATING ALL THE MAJOR SOUNDS OF THE MOMENT BUT ITS KINDA HARD TO DESCRIBE A SPECIFIC SOUND OR AESTHETIC. FOR ME, THE MOST INTERESTING STUFF HAPPENING IN THE CITY IS SUBTLE AND INTERDISCIPLINARY. THE ARTISTS I FOLLOW MOST CLOSELY ARE XUAN YE, COLIN FISHER, DAVID JONES, AMANDA ACORN, OPEN FORTRESS, CHRYSANTHEMUM WHITE ALDER, PRESSA.
PTWSCHOOL: YOUR RECENT RECORD FEATURES SOME UNIQUE 3D RENDERING TECHNIQUES 3D. IN OUR OPINION, THEY OFFER A GOOD INTERPRETATION OF YOUR MUSIC'S EVOLUTION PATH TOO. DO YOU AGREE?
A LOT OF THE MUSIC I WORK ON – THE EGYPTRIXX PROJECT ESPECIALLY – IS INFORMED PRETTY HEAVILY BY NON-MUSICAL IDEAS AND REFERENCES. THINGS LIKE TEXTURE, ARRANGEMENT, RELATIONSHIPS BETWEEN MATERIALS, PHYSICAL SOUND ETC ARE CENTRAL TO THE MATERIAL – THE EGYPTRIXX PROJECT IS CLOSELY LINKED TO DIGITAL AESTHETICS AND PROCESSES, SO THE VISUAL COMPONENT IS COMPLIMENTARY IN THAT SENSE.
PTWSCHOOL: WHO MAKES THE ARTWORKS AND HOW DO YOU USUALLY INTERACT AND WORK WITH DESIGNERS?
ANF (ANDREAS FISCHER) HAS MADE ALL THE ARTWORK FOR THE EGYPTRIXX PROJECT. I'VE ALWAYS KINDA TREATED THE PROJECT AS A MULTIMEDIA COLLABORATION BUT THERE HAVE BEEN DIFFERENT WORKFLOWS BETWEEN US FOR EACH RECORD. PURE BEYOND REPROACH WAS MORE OF A COMMISSION BASED ON THE THEMATIC IDEA BEHIND THE RECORD, A FANTASIZED DEPICTION OF THE GREAT PACIFIC GARBAGE PATCH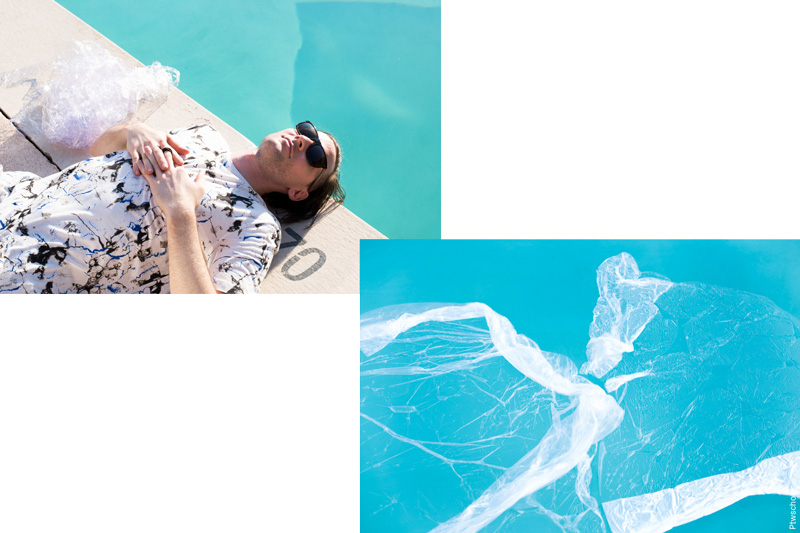 PTWSCHOOL: YOUR LABEL, HALOCLINE TRANCE, IS THE NATURAL EXTENSION OF YOURSELF. WHAT WE MEAN IT IS THAT THERE'S SOMETHING OF YOU IN MOST OF YOUR RELEASES, NOT ALWAYS WITH EGYPTRIXX NAME BUT, FOR INSTANCE, THE LATEST RELEASE WITH ANAMAI HAS SOME ANALOG INFLUENCE AND VOCALS, WHEREAS LIMIT IS THE RESULT OF THE COLLABORATION WITH JAMES CONNOLLY (DANCE SYSTEM / L-VIS 1990) AND MAYBE IS THE ONE WITH THE MOST CLUB-ORIENTED SINGLE TUNE. THE QUESTION IS: HOW MANY DAVID PSUTKA EXIST? MAY YOU TALK ABOUT THESE COLLABORATIONS AND THE IDEA BEHIND YOUR LABEL, STARTING FROM THE ORIGIN OF ITS NAME?
THERE ISNT LIKE A SNAPPY NARRATIVE BEHIND THE NAME, JUST A LITTLE JUMBLE OF IDEAS AND IMAGERY LOOSELY ALIGNED WITH IDEAS THAT RECUR IN THE PROJECTS – A HALOCLINE IS A DEEP SEAWATER STRATUM…TRANCE IS A FEELING, STATE, SOUND ETC. I WRITE + RECORD A LOT SO I WANTED TO HAVE A VESSEL FOR ALL THE MATERIAL AND OUR EVENTS.
PTWSCHOOL: NOW, ONE QUESTIONE ABOUT YOUR LAST RECORD. REGARDING THE ARTWORK, THERE'S SOME 3D PLASTIC MATERIAL HERE TOO, AND PLASTIC FEATURES ALSO IN ONE OF THE TRACKS' TITLE: "PLASTIC PEBBLE". THE SAME FOR CONCRETE, WHICH GIVES THE NAME TO "WE CAN BE CONCRETE". FINALLY, THE FLUSHING WATER AT THE BEGINNING AND AT THE END OF THE ALBUM. WHAT'S THE CONCEPT BEHIND THIS RELEASE AND HOW DO YOU FEEL WHEN PLAYING IT LIVE?
THE GOAL WAS TO IMAGINE RHYTHMS AND PATTERNS OF SOUND THAT MIGHT BE CREATED BY PIECES OF OCEANIC MICROPLASTIC COLLIDING AMONGST THEMSELVES – DRIPPING, SPLASHING, CLANKING, PHASING. ON THE ALBUM THOSE RHYTHMS ARE SUGGESTED AS PARALLELS TO THE HUMAN TENDENCY TOWARDS TOTAL LOYALTY 'WHAT WOULDN'T YOU DO FOR THE CREW'.  THE LIVE SHOWS HAVE BEEN PRETTY POWERFUL ACTUALLY, REALLY PHYSICAL AND OVERWHELMING BUT ALSO KINDA COMFORTING AND SENSORY.
PTWSCHOOL: AS THE FINAL QUESTION WE WOULD LIKE TO ASK ABOUT YOUR FUTURE. CAN GIVE US A PREVIEW OF WHAT IS GOING TO HAPPEN TO EGYPTRIXX AND HALOCLINE TRANCE? RELEASES, GIGS, AND ANY PARTICULAR PROJECT OR COLLABORATION?
IM JUST FINISHING UP SOME SUMMER GIGS WITH ANAMAI + EGYPTRIXX THEN WILL BE TAKING SOME TIME OFF FOR SOME FAMILY STUFF. I HAVE A FEW TOURS COMING UP THIS FALL AND WILL BE PUTTING OUT A SECOND CERAMIC TL RECORD ON HALOCLINE TRANCE – ITS A VERY EXCITING COLLABORATION, IM EXCITED TO SHARE IT.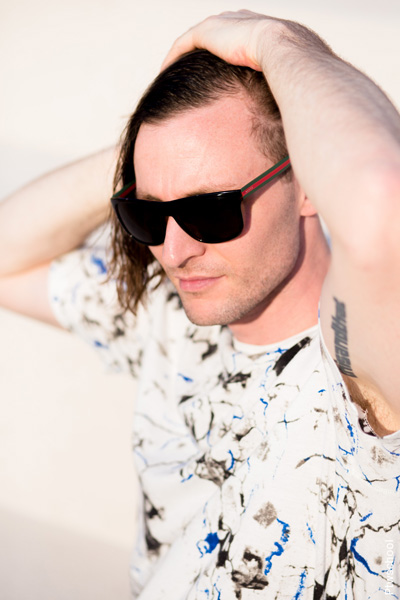 PHOTOS & INTERVIEW: RFM
TRANSLATIONS: CC
SPECIAL THANKS: ELECTROPARK EXCHANGES
FOLLOW EGYPTRIXX: SOUNDCLOUD.COM/EGYPTRIXX
FOLLOW HALOCLINE-TRANCE: HALOCLINE-TRANCE.COM
BYE OCEANS