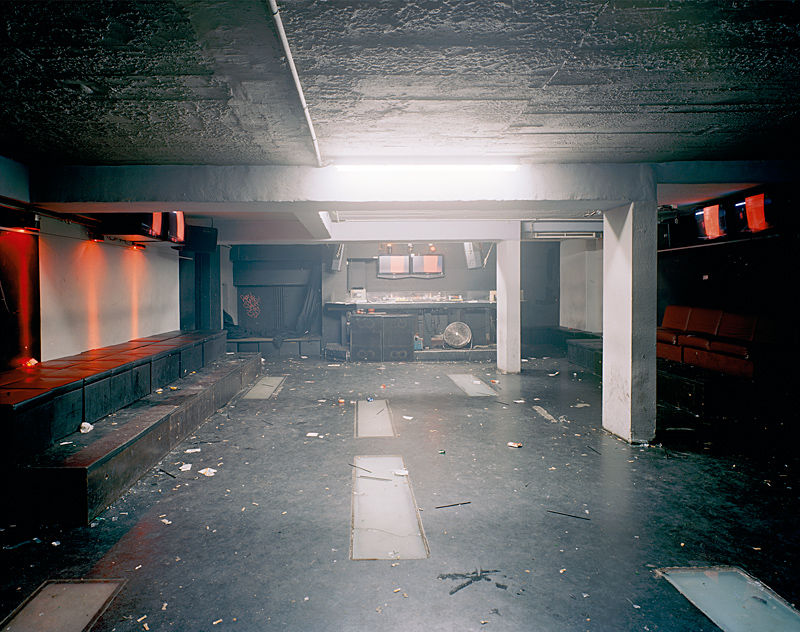 ANDRE' GIESEMANN, IL FOTOGRAFO CHE FA CHIUSURA
ANDRE' GIESEMANN E' UN FOTOGRAFO TEDESCO, SE VUOI ESSERE DIVERTENTE PUOI DIRE GRAFOTOFO DESCOTE E POI RIDI. MA POCO IMPORTA, NON E' UN CABARET.
IL PROGETTO DI ANDRE' SI CHIAMA 'VOM BLEIBEN' ED E' MOLTO CHIARO, FARE CHIUSURA ALLE FESTE, SOLO LA CHIUSURA, MA NON GLI ULTIMI 3 PEZZI DELLA SERATA, PROPRIO ENTRARE NEL CLUB QUANDO E' TUTTO FINITO.
ASPETTANO (LUI E DANIEL SCHULZ, SONO IN COLLABO) CHE LA MUSICA FINISCA, CHE TUTTA LA GENTE ESCA FUORI PER ANDARE A FARE COLAZIONE, E QUANDO SI ACCENDONO LE LUCI PER LE PULIZIE DEL CLUB SCATTANO LE FOTO.
IL RISULTATO E' QUESTO.
QUA IL COMUNICATO UFFICIALE CHE SPIEGA IL PROGETTO, CHE FORTUNA E' IN INGLESE E NON TEDESCO.
"VOM BLEIBEN" IN COLLABORATION WITH DANIEL SCHULZ, DOCUMENTS THE MOMENT IN WHICH THE NIGHT AT THE TECHNO CLUB IS OVER AND THE VISITORS HAVE LEFT THE LOCATION. IT IS THE MOMENT IN WHICH THE TRACES OF THE EVENT BECOME VISIBLE. THE CLEANING-LIGHTS ILLUMINATING THE ROOM EVOKE A SENSE OF AWAKENING IN THE VISITORS. WHEN THE CLUBS CLOSE AT DAYTIME, WE ENTER THEIR ROOMS AND THE BATTLEFIELD THAT HAS BEEN LEFT BEHIND. AS SOON AS THE LAST VISITORS HAVE LEFT AND THE CLEANING-LIGHT HAS BEEN TURNED ON, WE START TO PHOTOGRAPHICALLY RECORD THE PRESENT SCENE AND ATMOSPHERE. THE MOMENT BEFORE EVERYTHING IS PUT BACK IN ORDER EXISTS ONLY FOR A SHORT TIME. DUE TO THE LONG EXPOSURE TIME TECHNICALLY REQUIRED, WE ARTIFICIALLY EXTEND THIS MOMENT, THE TIME OF EXPOSURE MATCHING REAL TIME. WE HAVE SET OURSELVES THE TASK TO DOCUMENT THE OFTEN ONLY TEMPORARY EXISTENCE OF TECHNO CLUBS OVER A LONGER PERIOD OF TIME.