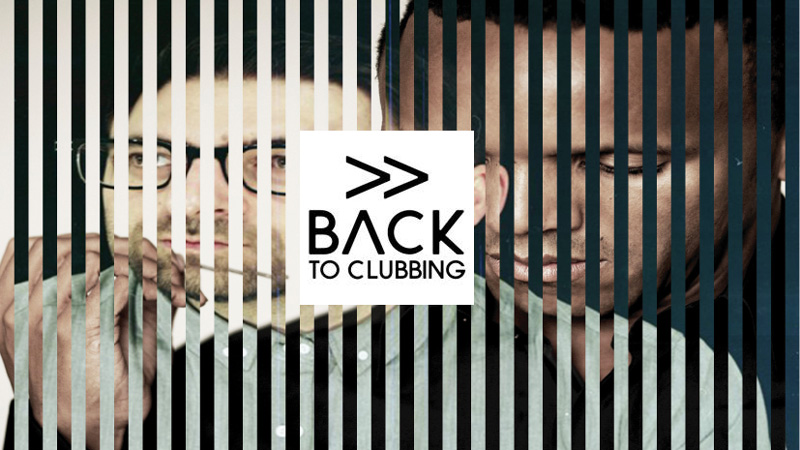 BACK TO CLUBBING #1
SETTEMBRE SI SA CHE E' UN PO' IL MESE DEL RITORNO A: RITORNI A LAVORARE, RITORNI A LEZIONE,  RITORNI DA QUELLA CHE TI FACEVI PRIMA DI ANDARE AL MARE, RITORNI A USCIRE TUTTE LE SERE PERCHE' AD AGOSTO TI SEI RIPOSATO UN CASINO E CARICO, CARICO MAURIZIO!
COMUNQUE… SETTEMBRE E' GIA' FINITO, VOLATO, CIAO CIAO, SEI GIA' TORNATO TALMENTE TANTE VOLTE IN QUESTE QUATTRO SETTIMANE CHE HAI VOGLIA DI ANDARTENE DI NUOVO, VERO? FOTTERE LA ROUTINE, FARE QUEL CAZZO DI PARE, MA NO. MILANO TI TIENE LI', CON LE SUE FESTE, I COCKTAIL ROVESCIATI, LA BUONA MUSICA E LA VOGLIA DI BALLARE CHE TI RITORNA OGNI FINE SETTIMANA.
LA CREW DI BACK TO CLUBBING HA SCELTO IL NOME GIUSTO PER TUTTO QUESTO, BACK TO CLUBBING APPUNTO. NON C'E' ALTRO DA DIRE SE NON CHE LA LINE-UP DI STASERA E' CIAO PROPRIO (DYED SOUNDOROM – COSMIN TRG – PLANET SOAP – LUCA DOOBIE – SETH & WFNM) E CHE NOI SAREMO LI'.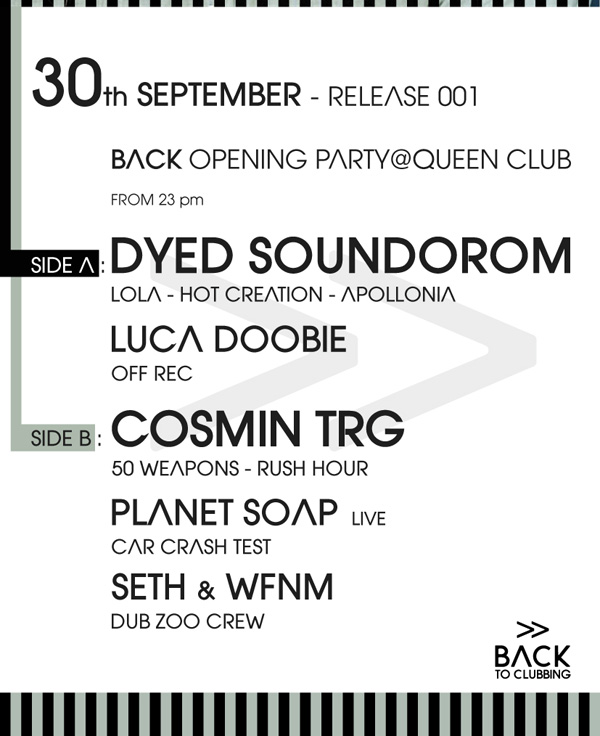 OGNI VENERDI' AL QUEEN, IN VIA CARDUCCI 25, BACK TO CLUBBING PORTERA' DUE GUEST, UNO PER SALA. SIDE A & SIDE B, COME I LATI DI UN DISCO.
QUESTA E' LA PROGRAMMAZIONE DI OTTOBRE.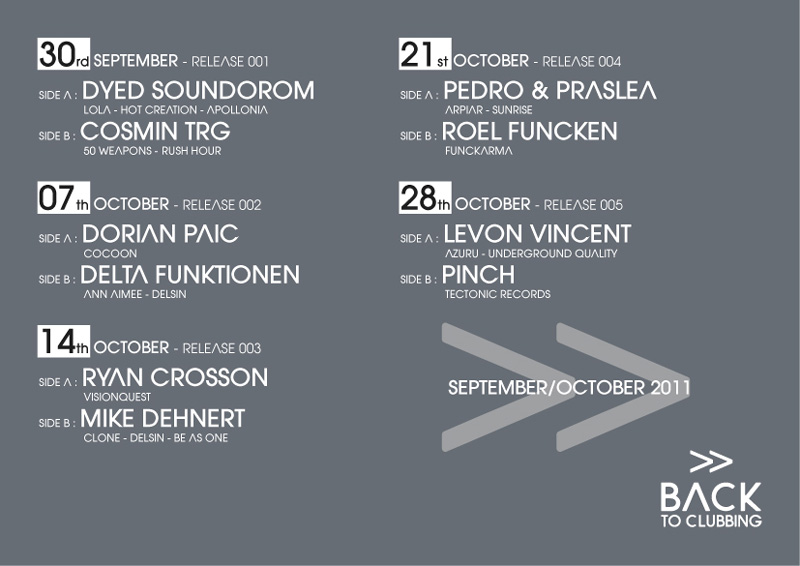 TONIGHT:
DYED SOUNDOROM
Lee Foss – Your Turn Girl (Shonky & Dyed Soundorom Remix) by Dyed Soundorom 
Maya Jane Coles – What They Say (Dyed Soundorom Remix) by Dyed Soundorom 
COSMIN TRG
Cosmin TRG-RBMA 2010 Podcast by CosminTRG 
PLANET SOAP
LUCA DOOBIE
Luca Doobie – OFF Recordings Podcast – 16-06-2010 by R_co 
SETH & WFNM / DUB ZOO CREW
Dub Zoo Crew Mixtape Part1 – Mixed By Seth by DubZoo Milano
CIAO CLUBBERS