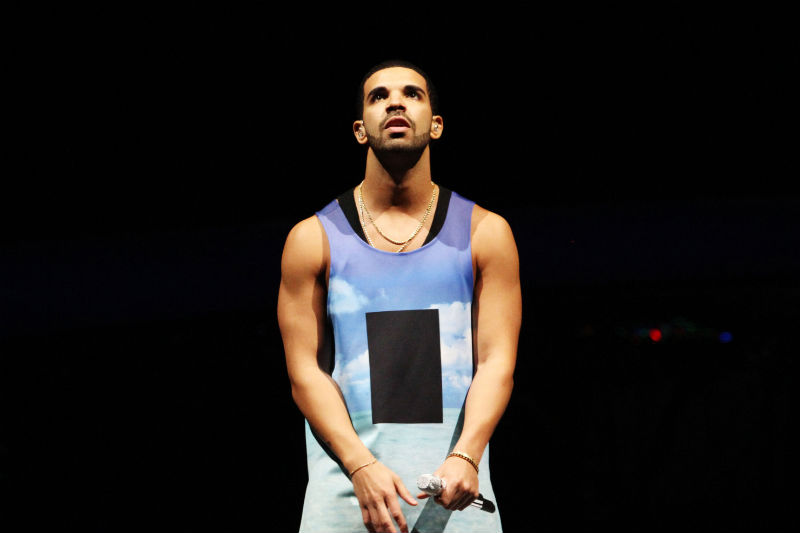 DRAKE – HOW ABOUT NOW / LEAK
PARE CHE UNA RAGAZZA IN GEORGIA ABBIA CARICATO SUL SUO SOUNDCLOUD UN PEZZO INEDITO DI DRAKE ACCOMPAGNATO DALLE SEGUENTI PAROLE "THIS IS A LEAK FROM DRIZZY'S FORTHCOMING ALBUM VIEWS FROM THE SIX"
IL SUO PROFILO È STATO FATTO SALTARE IN ARIA, MA IL BRANO NO, QUELLO ORMAI È IMMORTALE O QUASI.
LA CANZONE PARLA DI UNA RAGAZZA CHE NON APPREZZA DRAKE ABBASTANZA PRIMA DI DIVENTARE FAMOSO E CAMPIONA UN PEZZO DEL BRANO DEI JODECI "MY HEART BELONGS TO YOU"
ALL'INIZIO C'È PURE UNA VOCE REGISTRATA AL TELEFONO CHE SEMBRA QUELLA DI NICKI MINAJ.
IN OGNI CASO IL PEZZO È IN PURO STILE DRAKE, NESSUNA GROSSA NOVITÀ A PARTE CHE A SPIFFERARE TUTTO È STATA UNA RAGAZZINA E CHE PROBABILMENTE ADESSO NON POTRÀ MAI PIÙ LOGGARSI NELL'INTERNET.
SOPRA TI LINKIAMO IL PEZZO CON PURE IL FREE DOWNLOAD, SBRIGATI A FARE QUELLO CHE DEVI FARE E POI LEGGITI IL TESTO:
"THAT'S WHAT I'M TALKING ABOUT THOUGH, LIKE YOU CHANGED UP
YOU DON'T EVEN FUCKING LINK NOBODY NO MORE, YOU JUST DASHING AWAY LIKE A TAXI
YO, YOU CHEESED ME DOG
[VERSE 1]
ALWAYS FELT LIKE MY VISION BEEN BIGGER THAN THE BIGGER PICTURE
CRAZY HOW YOU GOTTA WAIT UNTIL IT'S DARK OUT TO SEE WHO REALLY WITH YOU
CRAZY HOW EVEN WHEN IT MISS YA, SHIT'LL COME BACK AROUND AND GET YA
CRAZY LIKE ALL MY NIGGAS, CRAZY LIKE ALL MY NIGGAS
REMEMBER I DELETED ALL MY OTHER GIRLS NUMBERS OUT THE PHONE FOR YOU?
REMEMBER WHEN YOU HAD TO TAKE THE BAR EXAM, I DROVE IN THE SNOW FOR YOU
YOU PROBABLY DON'T REMEMBER HALF THE SHIT A NIGGA DID FOR YOU
[HOOK]
YA, YOU AIN'T REALLY FUCK WITH ME WAY BACK THEN GIRL, HOW BOUT NOW?
CAUSE I'M UP RIGHT NOW AND YOU SUCK RIGHT NOW
AW, YOU THOUGHT YOU HAD IT ALL FIGURED OUT BACK THEN GIRL, HOW BOUT NOW?
CAUSE I'M UP RIGHT NOW AND YOU SUCK RIGHT NOW
YOU THOUGHT THE LITTLE EFFORT THAT YOU PUT IN WAS ENOUGH GIRL, HOW BOUT NOW?
GIRL HOW BOUT NOW? HOW BOUT NOW GIRL?
WHAT ABOUT NOW GIRL? HOW BOUT NOW?
ALWAYS BEEN DADDY'S LITTLE ANGEL
I BOUGHT YOUR DAD A BUNCH OF SHIT FOR CHRISTMAS, HE AIN'T EVEN SAY THANK YOU
I HAD NO MONEY, LEFT FROM BACK WHEN I WAS FOCUSED ON THE MUSIC
I USED TO ALWAYS TRY AND BURN YOU CDS OF MY NEW SHIT
YOU BE LIKE "WHO'S THIS?"
I BE LIKE "ME, GIRL."
YOU BE LIKE "OH WORD, TRUE SHIT?"
THEN ASK IF WE COULD LISTEN TO LUDACRIS
AND CAR RIDES MADE ME FEEL LIKE I WAS LOSING IT
YEAH, MADE ME FEEL I HAVE IT LIKE THAT
LIKE I WAS AVERAGE LIKE THAT
STARTED DRINKING WAY MORE THAN I USED TO
PEOPLE FORM HABITS LIKE THAT, GIRL
YEAH, MAN ENOUGH TO TELL YOU I WAS HURT THAT YEAR
I'M NOT EVEN CHRISTIAN I STILL WENT TO CHURCH THAT YEAR, GUESS
I JUST HAD TO PRETEND THAT YEAR
I AIN'T EVEN SEE MY FRIENDS THAT YEAR
PLACES THAT I SHOULD'VE BEEN
YOU AIN'T REALLY FUCKED WITH ME WAY BACK THEN BUT
[HOOK]
YA, YOU AIN'T REALLY FUCK WITH ME WAY BACK THEN GIRL, HOW BOUT NOW?
CAUSE I'M UP RIGHT NOW AND YOU SUCK RIGHT NOW
AW, YOU THOUGHT YOU HAD IT ALL FIGURED OUT BACK THEN GIRL, HOW BOUT NOW?
CAUSE I'M UP RIGHT NOW AND YOU SUCK RIGHT NOW
YOU THOUGHT THE LITTLE EFFORT THAT YOU PUT IN WAS ENOUGH GIRL, HOW BOUT NOW?
GIRL HOW BOUT NOW? HOW BOUT NOW GIRL?
WHAT ABOUT NOW GIRL? HOW BOUT NOW?"
CIAO SPIONI