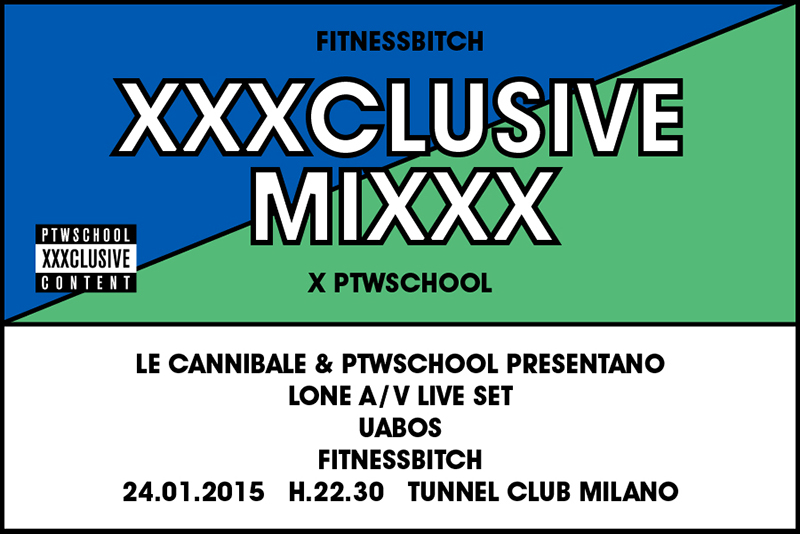 FITNESSBITCH X PTWSCHOOL X LE CANNIBALE / XXXCLUSIVE MIXXX
– EVENTO FB –
NON POTEVAMO ARRIVARE A POCHI GIORNI DALL'EVENTO SENZA AVERTI FATTO SENTIRE QUALCOSA DI XXXCLUSIVO E ALLORA ABBIAMO CHIESTO A FITNESSBITCH – CHE PER TUTTO IL 2014 CI HA ACCOMPAGNATI CON UN MIX AL MESE – DI FARE IL SUO PRIMO MIX DEL 2015.
IL RISULTATO E' QUELLO CHE STAI PER SENTIRE E QUELLO CHE SENTIRAI SABATO SUBITO DOPO IL SET DI LONE ALLA NOSTRA SERATA IN COLLABORAZIONE CON LE CANNIBALE.
CASSA DRITTA, MA CON STILE, E PEDALARE.
TRACKLIST:
GERRY READ – COSMOID (ORIGINAL MIX)
KASSEM MOSSE – NO PEACE NO LOVE NO UNITY
ALEX DEAMONS – THROUGH
DA MONGOLOIDS – SPARK DA METH
DE SLUWE VOS – THE BULLET
JOEDAN –  CAVEMA
YALEESA HALL – FIRST LEYLAND
KOWTON – GLOCK AND ROLL
DOC_DANEEKA – GHOST_TEXT
JAMMIN GERALD – PUMP THAT SHIT UP
TRAUMER – UNDERLYING (ORIGINAL MIX)
FRAXINUS – ALL ENDS
FACEBOOK.COM/FITNESSBITCH
SOUNDCLOUD.COM/FITNESSBITCH
E SE NON L'HAI ANCORA FATTO VIENI DENTRO CHE SABATO E' VICINO:
– EVENTO FB –
CIAO NEVER ALONE.