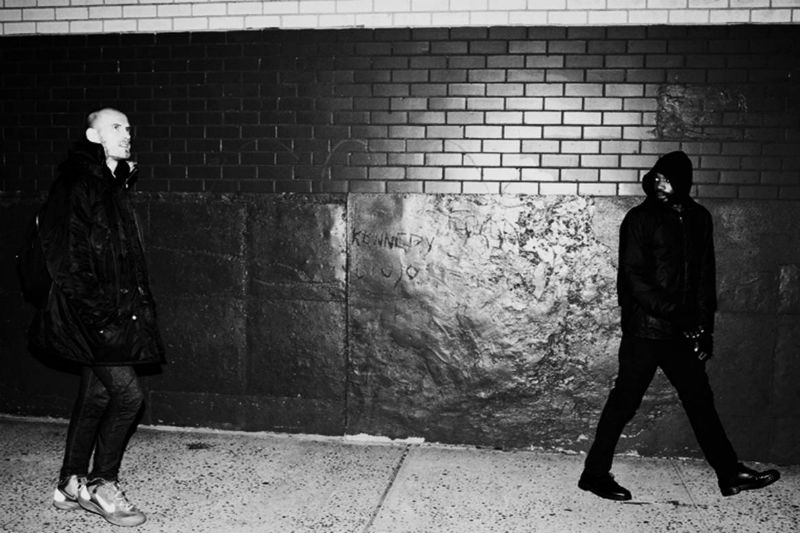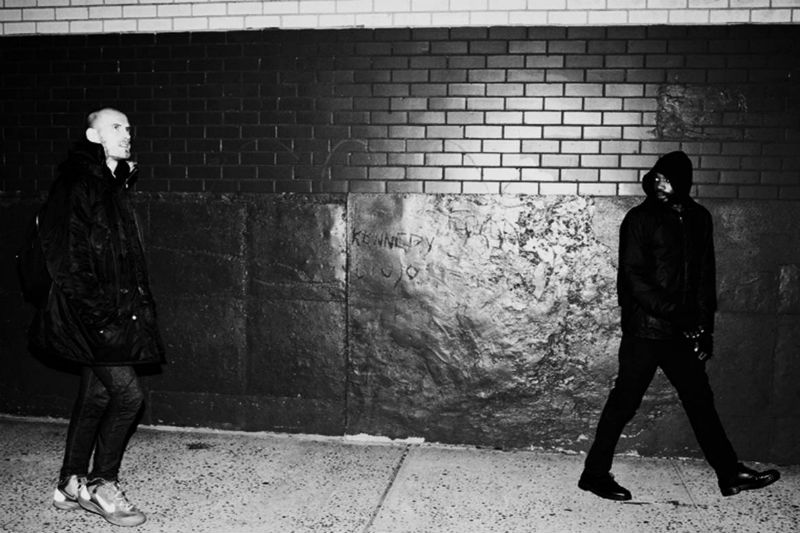 I DEATH GRIPS SI SONO SCIOLTI
PER CHI ANCORA NON LO SAPESSE LA BAND DI SACRAMENTO HA COMUNICATO L'ALTRO IERI VIA SOCIAL NETWORK IL PROPRIO SCIOGLIMENTO.
NESSUN MOTIVO PRECISO, SOLO DELLE MOTIVAZIONI SCRITTE SU DI UN TOVAGLIOLO E POI POSTATO SU FACEBOOK.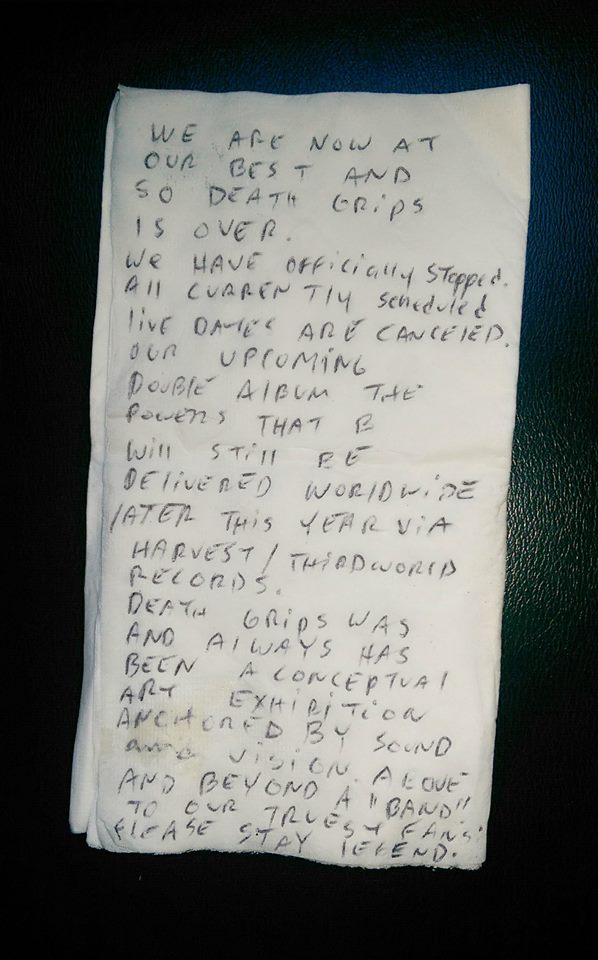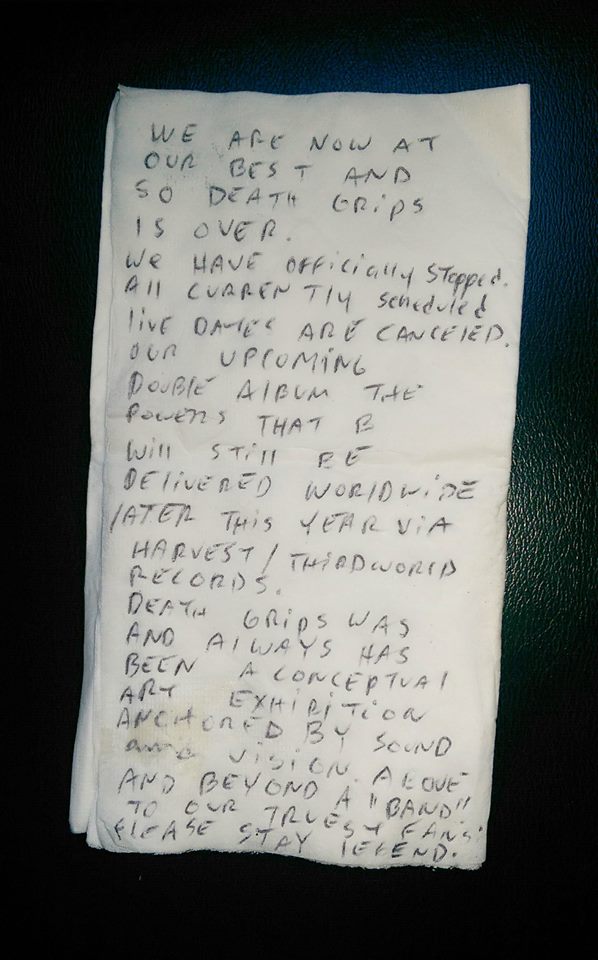 "WE ARE NOW AT OUR BEST AND SO DEATH GRIPS IS OVER. WE HAVE OFFICIALLY STOPPED. ALL CURRENTLY SCHEDULED LIVE DATES ARE CANCELED. OUR UPCOMING DOUBLE ALBUM "THE POWERS THAT B" WILL STILL BE DELIVERED WORLDWIDE LATER THIS YEAR VIA HARVEST/THIRD WORLDS RECORDS. DEATH GRIPS WAS AND ALWAYS HAS BEEN A CONCEPTUAL ART EXHIBITION ANCHORED BY SOUND AND VISION. ABOVE AND BEYOND A "BAND". TO OUR TRUEST FANS, PLEASE STAY LEGEND."
I RAGAZZI AVEVANO ANCHE UN PO' DI CONCERTI FISSATI CHE NATURALMENTE SONO STATI TUTTI CANCELLATI, ANCHE QUELLO IN APERTURA DEI NINE INCH NAILS DEL TRANQUILLO TRENT REZNOR CHE QUANDO HA SAPUTO DELLA NOTIZIA HA TWITTATO FELICE: 
sorry everyone… why would I have ever thought those dudes could keep it together?

— Trent Reznor (@trent_reznor) 3 Luglio 2014
LA BAND CHE HA RIVOLUZIONATO IL MONDO DEL RAP LASCIA ALLE SUE SPALLE MOLTISSIMA MUSICA, UN ALBUM "NIGGAS ON THE MOON" E' STATO RILASCIATO PROPRIO QUALCHE MESE FA E C'ERA ANCHE UN NUOVO DOPPIO ALBUM IN USCITA CHE VADRA' COMUNQUE LA LUCE IL MESE PROSSIMO E CHE SI CHIAMERA': "THE POWER THAT B"
SICURAMENTE CE LI RICORDEREMO PER IL PIACEVOLISSIMMO SCONTRO CHE LA BAND HA AVUTO CON LA MAJOR EPIC RECORDS, INFATTI RICORDERETE TUTTI CHE FECERO USCIRE IN FREE DOWNLOAD SENZA DIRE NIENTE ALLL'ETICHETTA IL LORO ALBUM "NO LOVE DEEP WEB" PROPRIO PER FARE UNO SGARRO A QUELLI DELLA EPIC ACCUSATI DI STROZZARE LA CREATIVITA' DELLE GIOVANI BAND. MA SOPRATTUTTO CI RICORDEREMO LA COPERTINA DI QUELL'ALBUM.
BEH E' STATO BELLO REGAZ, FATE I BRAVI, QUANDO VI ABBIAMO VISTI A PARIGI E' STATO UNA BOMBA.
CIAO PISELLI