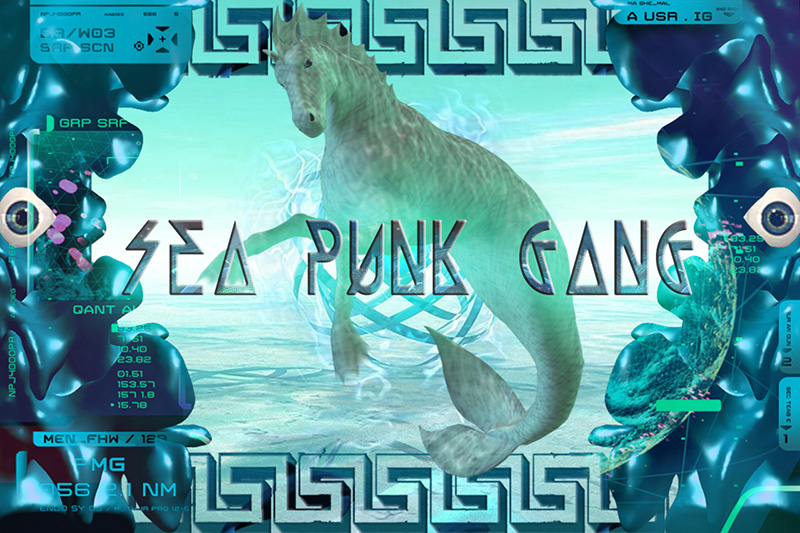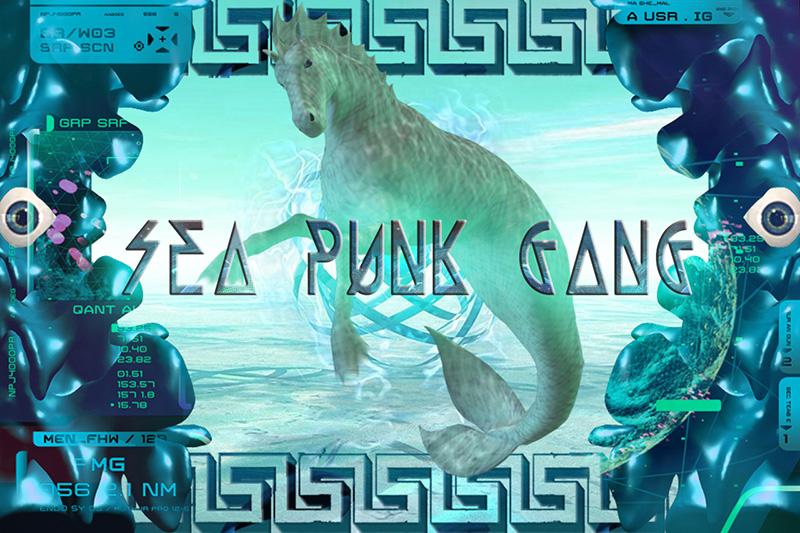 I MIXTAPE DI ☼SEAPUNKGANG☼
LORO PIU' CHE UNDERGROUND SI DEFINISCONO UNDERWATER, NUOTANO COI DELFINI, IL MARE E' IL LORO HABITAT, SOGNANO L'OCEANO, MA SOPRATTUTTO RAPPRESENTANO IL MOVIMENTO SEA PUNK IN ITALIA.
☼SEAPUNKGANG☼ E' UN COLLETTIVO (DI DUE PERSONE) NATO TRA PARMA E MILANO: DUE DJ (GIAD & CHIAMU), DI CUI UN GRAFICO (GIAD), CHE HANNO INIZIATO FACENDO MIXATI E APRENDO UN BLOG SU TUMBLR, POI CON LA VELOCE CRESCITA DEL SITO (E DEL MOVIMENTO STESSO, NATO APPENA UN ANNO FA) HANNO INIZIATO A COLLABORARE CON ALTRI PESCEGALLI DELLA SCENA. L'ULTIMO E' WITCHNEY HOUSTON (FROM WARSAW, FUTURO) CHE HA REALIZZATO PER LORO QUESTO MIXTAPE NUMERO 8.
SE ANCORA TI STAI CHIEDENDO COSA CAZZO E' IL SEA PUNK, BEH, CE LO SIAMO CHIESTI PURE NOI GIA' UNA VOLTA: IT'S A STATE OF MIND.
SE INVECE LO SAI GIA', BEH STAI PROPRIO AVANTI ZIO! DOVRESTI PARTECIPARE A QUALCHE QUIZ A PREMI.
FORSE WIKIPEDIA TI AIUTA, IN OGNI CASO CAPISCI MEGLIO GUARDANDO E ASCOLTANDO, COME SEMPRE. PER ESEMPIO STUDIATI QUA SOPRA LA COVER DELL'ULTIMO MIX  E ASCOLTA BENE LE SITUAZIONI CHE VANNO DAI COCTEAU TWINS A BOSSTONE PASSANDO PER UNICORN KID E CIARA. TUTTO CHIARO MO'?
TRACKLIST:
COCTEAU TWINS – I WEAR YOUR RING
SCUBA – NE1BUTU
NOOB – SPELL (MAELSTROM REMIX)
KW GRIFF – BRING IN THE KATZ
JON KWEST – DEW DA INS
SLIINK & BRENMAR – BAIT
RYAN HEMSWORTH – SLURRING (BAAUER REMIX)
ASAP ROCKY – PRETTY FLACKO
BOSSTONE – LEAN
MATMOS – VERY LARGE GREEN TRIANGLES (SCHWARZ MIX)
DJ HOODCORE – DOOMSDAY
SIRPHRESH X RIHANNA – RUSSIAN ROULETTE (PHREEMIX)
DJ EXCLUSIVE & 2-RAW – VIBRATE WIT IT 2K12
ROLLTHEDAMNDYCE FT. DJ HYPNOTIC – KRUSHERZ RUN THIS
VIBES & WITCHDOKTOR – SWEETEST LOVE (MACHINEDRUM JUKE EDIT)
UNICORN KID – TRUE LOVE FANTASY
WITCHNEY HOUSTON – T34CH3R5
ZAK MATIC – A$$
CIARA – HARD IN THE PAINT
UNKNOWN – UNKNOWN
PHYSICAL THERAPY – DRONE ON (FT. JAMIE KRASNER) ((SUPREME CUTS MIX))
FORSE NO, UN AIUTINO MARA (CIT.),
QUESTE QUA SOTTO SONO LE COVER DI TUTTI GLI ALTRI MIX, OTTO APPUNTO – PER ORA – E COME STARAI CAPENDO NON CONTA SOLO LA MUSICA (COSE 90'S, BALTIMORE, TRAP AND MORE),  MA ANCHE TUTTO L'IMMAGINARIO CONNESSO.
ASCOLTALI TUTTI UNO DOPO L'ALTRO E DIVENTI IN DELFINO. ECCO, MAGARI NON FARLO IN UFFICIO,
NOT SAFE AT WORK,
I TUOI COLLEGHI NON LA PRENDEREBBERO BENE.
CHE ALTRO DIRTI? SEGUILI CHE TI FAI UNA CULTURA
"IL DELFINO NON E' UN PESCE"