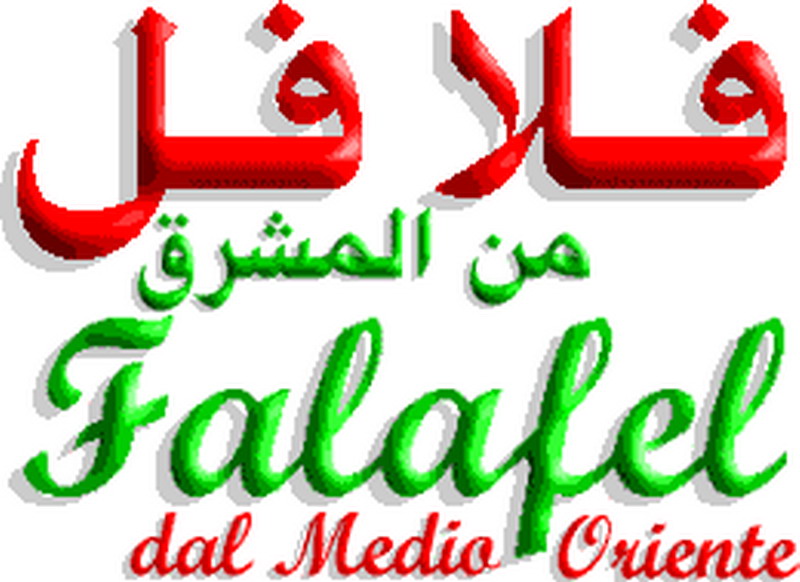 IL POST COOLINARIO PRE PRANZO – FALAFEL MANIA
GIORNI FA ABBIAMO FATTO IL POST DEI SANDWICH SCANSIONATI E ABBIAMO FATTO UN BOTTO DI VISITE, LO SPONSOR SI E' SGRILLETTATO E IL BOSS HA SQUIRTATO QUINDI BISSIAMO COME UN BIS DI PRIMI
STAVOLTA CI SPOSTIAMO SUL VEGANO E VI PROPONIAMO UNA SERIE DI FALAFEL DA STURBO. PARE CHE ADESSO A NUOVA IORKE TUTTI I RISTORANTI ANCHE QUELLI PIU' SBORONI SI SIANO MESSI A CUCINARE FALAFEL INSERENDOLI NEL LORO MENU' TRA LE OSTRICHE ALLA CREMA CHANTILLY E LE UOVA DI STORIONE IN CARROZZA.
IL FALAFEL NASCE COME CIBO DA STRADA, ANTITESI DEL KEBAB E' IL BALUARDO DELLA DIETA CHEAP PER TUTTI I VEGETARIANI E NON. INSOMMA INSPIEGABILMENTE COME LA PRESENZA DI MARTINA STELLA NEL CINEMA ITALIANO NON PORNO ADESSO NELLA CITTA' MENO AMERICANA DELL'AMERICA STANNO TUTTI COME I PAZZI PER QUESTA PIETANZA, RISULTATO UNA GRANDISSIMA VARIETA' DI FALAFEL.
QUINDI COME AL SOLITO METTETE UNA PROTEZIONE ANTI BAVA SULLA TASTIERA E GUSTATEVI QUESTA GALLERY CON RICETTE ANNESSE E INDIRIZZI SE PER CASO VI VIENE DI ANDARE A NY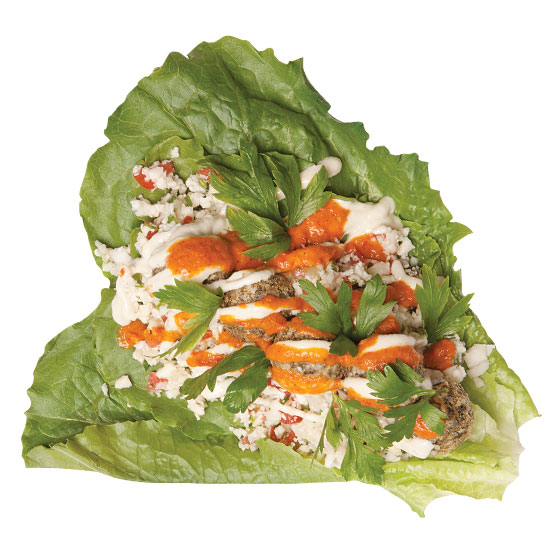 RAW
WITH NARY A CHICKPEA OR FAVA IN SIGHT, RAW "FALAFEL," CONSISTING OF VEGGIES, NUTS, AND SEEDS, REQUIRES QUOTATION MARKS. FIND IT AT LIFETHYME, ORGANIC AVENUE, OR ONE LUCKY DUCK (PICTURED), WHERE IT'S PAIRED WITH BULGUR-FREE CAULIFLOWER "TABBOULEH." $16; 125 1/2 E. 17TH ST., NR. IRVING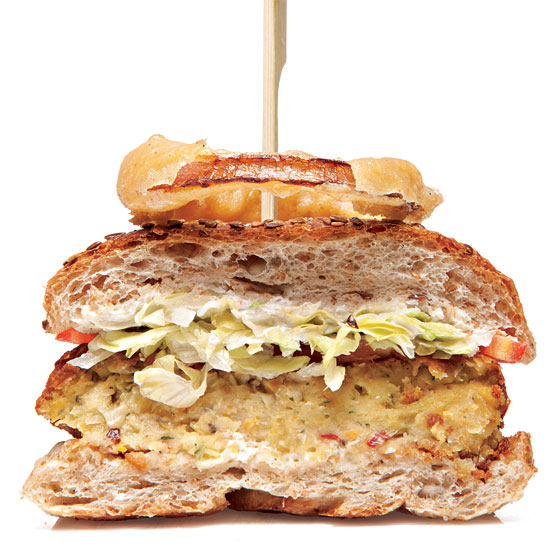 FALAFEL INCOGNITO
ALSO KNOWN AS A VEGGIE BURGER, GARNISHED WITH LETTUCE, TOMATO, AND TSATSIKI ON A SEVEN-GRAIN BUN. THE TWO CROWNING ONION RINGS ARE A RESOLUTELY AMERICAN TOUCH. $14 AT BURGER & BARREL, 25 W. HOUSTON ST., NR. MERCER ST.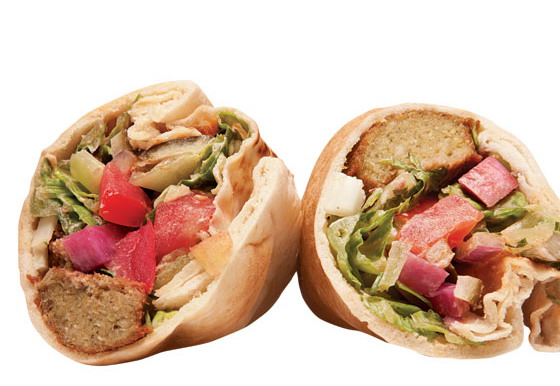 ROLLED
A HALLMARK OF LEBANESE JOINTS LIKE WAFA'S, KARAM, AND THE SYRIAN-LEBANESE ALFANOOSE (PICTURED), THIS APPROACH ROLLS FALAFEL UP BURRITO STYLE IN A THIN PITA, WHICH, WHEN DONE WELL, MAKES FOR A WIELDIER CONSTRUCTION, A SUPERIOR FILLING-TO-FLATBREAD RATION, AND LESS TAHINI SPILLAGE ON YOUR SHOES. $5.75; 8 MAIDEN LN., NR. BROADWAY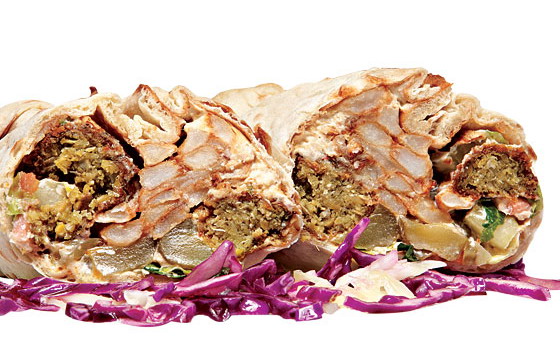 LAFFALAFEL
A FALAFEL SANDWICH ROLLED UP IN THE THICK, SUPPLE, CHEWY IRAQI FLATBREAD CALLED LAFFA, BEST BAKED ON PREMISES IN A TABOON OVEN AS IT IS AT OLYMPIC PITA AND ITS FLUSHING AND MIDWOOD ISRAELI-SHAWARMA ILK. FRENCH FRIES INSIDE THE SANDWICH ARE OPTIONAL. $9.50; 58 W. 38TH ST., NR. SIXTH AVE.;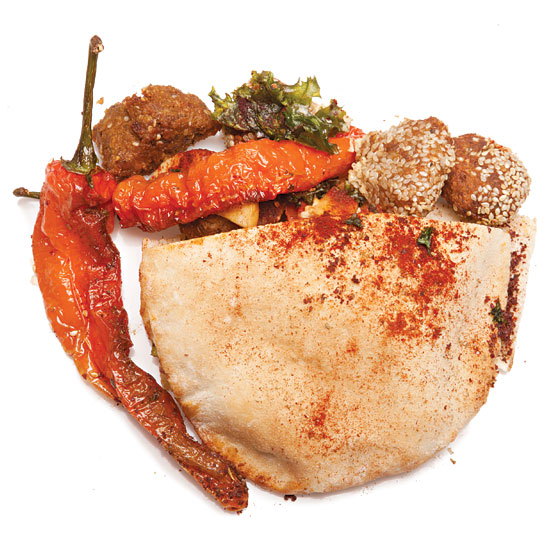 EGYPTIAN STYLE
IT'S PRETTY GENERALLY AGREED THAT FALAFEL ORIGINATED IN EGYPT, AND THAT THE FIRST GOLDEN NUGGETS SCOOPED FROM THE FRYOLATER WERE FASHIONED NOT FROM CHICKPEAS BUT FROM DRIED BROAD, OR FAVA, BEANS. AT KABAB CAFÉ, ALI EL SAYED FOLLOWS TRADITION WITH FAVA FRITTERS SERVED IN SANDWICH FORM ($5; TAKEOUT ONLY) OR AS PART OF A MEZZE PLATE ($10). 25-12 STEINWAY ST., ASTORIA;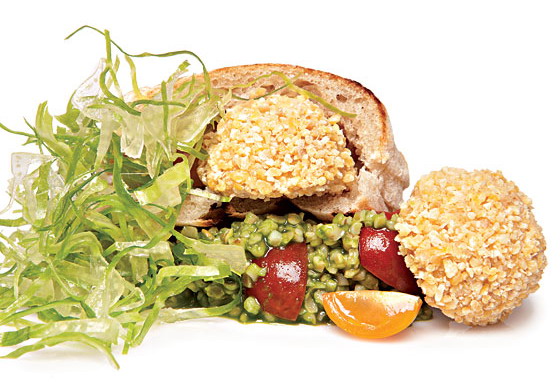 OFFALAFEL
WD-50'S NOT-SAFE-FOR-VEGETARIANS "FOIE-LAFEL" IS JUST AS IT SOUNDS: MOLTEN BALLS OF DUCK LIVER ENCASED WITH DRIED CHICKPEAS AND FAVA BEANS AND PLATED WITH KIMCHEE TAHINI, A FAIRLY CLASSIC TABBOULEH, AND GRILLED LAVASH MINI-PITAS. AVAILABLE ON THE TWELVE-COURSE TASTING MENU, $140, OR À LA CARTE, $17 ; 50 CLINTON ST., NR. RIVINGTON ST.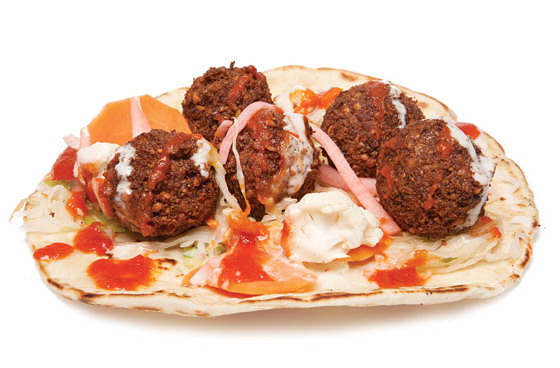 CHEESY
THE CHALLENGE FOR GABE STULMAN'S LITTLE WISCO THINK TANK WAS TO COME UP WITH A STREET-FAIR FOOD THAT REFERENCED THE RESTAURANT GROUP'S MADISON, WISCONSIN, COLLEGE-TOWN ROOTS. THE BRILLIANT SOLUTION SPEARHEADED BY JOSEPH LEONARD CHEF JAMES MCDUFFEE: FALAFEL WITH A GOOEY CHEDDAR FILLING TUCKED INTO A PITA WITH SALTED CABBAGE AND PICKLED TURNIPS AND SEASONED WITH A SQUIRT OF SRIRACHA. $8 AT THE FEAST OF SAN GENNARO THROUGH SEPTEMBER 25.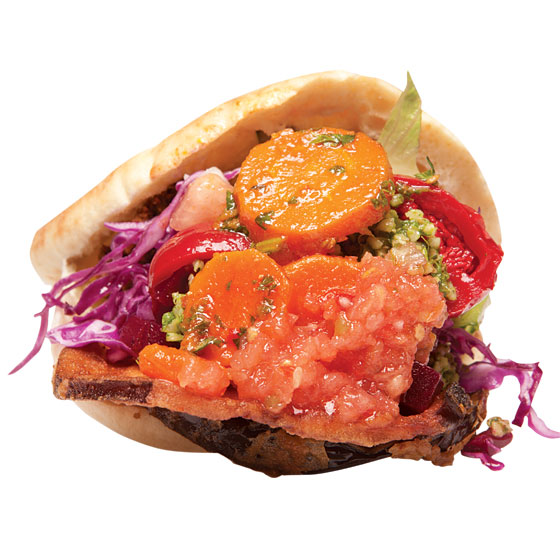 DIY
THE BEAUTY OF THE SELF-SERVE FIXINGS BAR (SEEN IN CHAINS LIKE MAOZ) IS THAT YOU CAN CUSTOMIZE TO YOUR HEART'S CONTENT; THE DOWNSIDE IS THAT YOU MAY COME TO THE CONCLUSION THAT THE MAKING OF A WELL-BALANCED, STRUCTURALLY SOUND FALAFEL SANDWICH IS A JOB BEST LEFT TO THE PROFESSIONALS. $5.25; SEVERAL MANHATTAN LOCATIONS.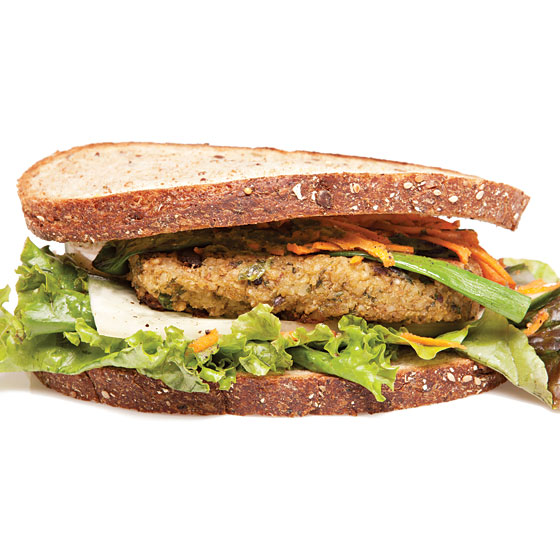 BAKED
AN ABOMINATION, YOU SAY? NOT AT BIRDBATH BAKERY, WHERE THE PATTIES ARE SAUTÉED TEN SECONDS FOR COLOR AND FINISHED IN THE OVEN, THEN LAYERED WITH CUCUMBER, CARROT, AND WATERCRESS SAUCE ON ORWASHER'S MULTIGRAIN. $8.50; 160 PRINCE ST., NR. THOMPSON ST.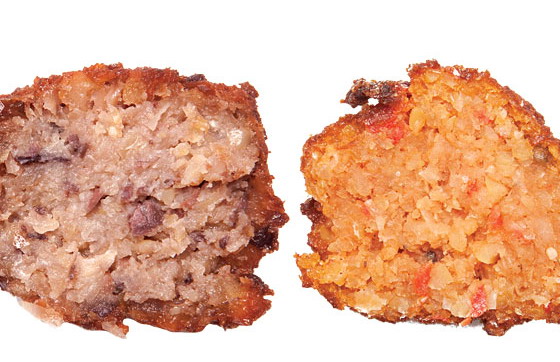 FLAVORED
PURISTS MIGHT BALK, BUT TAÏM'S FLAVORED BALLS DO HAVE ISRAELI PRECEDENTS, INCLUDING A CONTROVERSIAL SWEET-POTATO CONCOCTION. HERB GREEN, RED PEPPER, AND HARISSA ARE CONSTANTS, BUT THE TAÏM MOBILE HAS RUN TOMATO-THAI-BASIL AND KALAMATA OLIVE AS SPECIALS. $6.25 A SANDWICH; 222 WAVERLY PL., NR. PERRY ST.;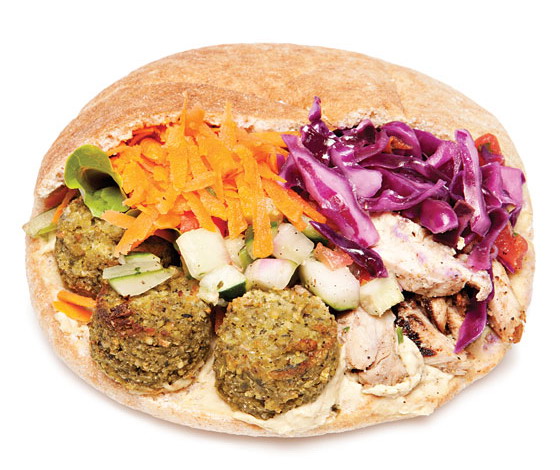 SHAWAFEL
A HOUSE-BAKED PITA POCKET BURSTING AT THE SEAMS WITH CHICKEN SHAWARMA AND BAKED FALAFEL, AND PERHAPS INSPIRED BY THE GREAT NEW YORK DELI TRADITION OF LOONY COMBO SANDWICHES. $6.95 AT CHICKPEA; SEVERAL MANHATTAN LOCATIONS.
CIAO TOP KAPI