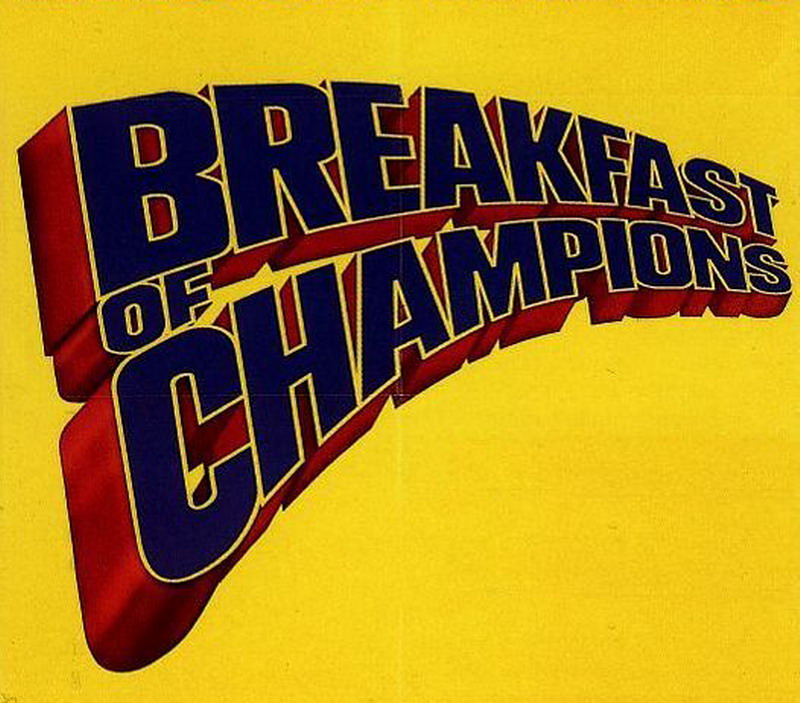 IL POST COOLINARIO PRE PRANZO – LA COLAZIONE DEI CAMPIONI
IL CONCETTO DI COLAZIONE EUROPEO E' MOLTO BEN DIVERSO DA QUELLO AMERICANO E MENO MALE. LA DIFFERENZA LA PUOI VEDERE QUANDO CONTROLLI LA MAPPA DELL'OBESITA' E TI ACCORGI CHE IN CIMA ALLA LISTA CI SONO PROPRIO GLI IMMENSI STATI UNITI D'AMERICA.
COMUNQUE C'E' DA DIRE CHE A VEDERLI QUESTI PIATTI FANNO LA LORO PORCA FIGURA
DICIAMO CHE POTREBBERO ANDARE BENE AL MASSIMO PER UN BRUNCH, MA ALLE OTTO DI MATTINA DOPO CHE MAGARI SEI ANDATO A LETTO ALLE TRE CON LITRI DI ALCOL IN CORPO, ECCO PROPRIO NO
FANCULO E' IL PASTO PIU' IMPORTANTE DELLA GIORNATA QUINDI SPACCATI E POI A PRANZO TI MANGI LE GALLETTE DI RISO CON UN THE' CALDO NO PROBLEMA
I NOSTRI CHEF SI SONO INGEGNATI PER PREPARATI 5 TRA LE MIGLIORI COLAZIONI CHE TU POSSA MAI FARTI, QUINDI FAI VEDERE IL POST A TUA MADRE, AL TUO RAGAZZO, ALLA TUA RAGAZZA, ALLA FILIPPINA, A CHIUNQUE TI PREPARI LA COLAZIONE LA MATTINA E FATTELE FARE, POI QUANDO SEI LI DAVANTI CHE STAI PER MANGIARTELA FATTI UNA FOTO E FATTENE UNA PURE DOPO ANCHE SE SEI MORTO E MANDECELA CHE TI METTIAMO TRA LE FOTO DEI NOSTRIE EROI, C'E' PROPRIO UNO SPAZIO VUOTO TRA NOTORIOUS B.I.G. E SASHA GREY.
NATURALMENTE LE FOTO ARRIVANO CON LE RICETTE SOTTO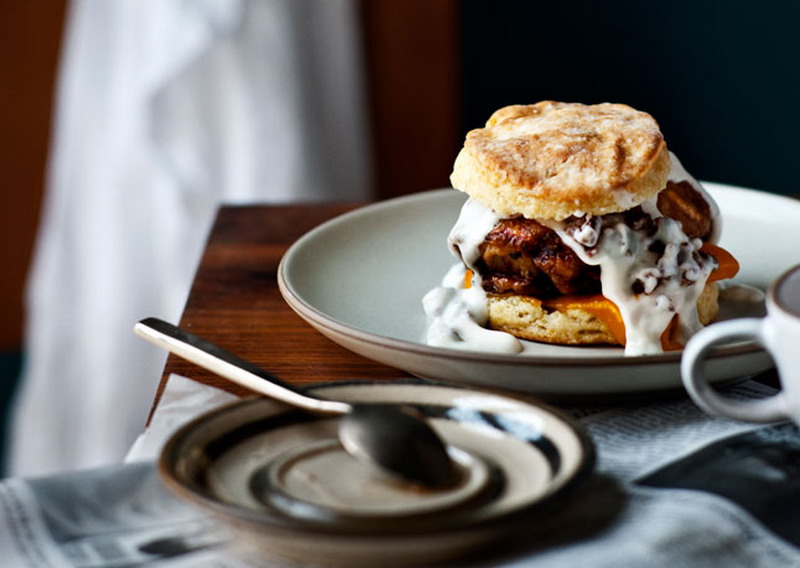 ]*>CHICKEN BISCUITS
"REALLY GOOD FRIED CHICKEN AND REALLY GOOD BISCUITS—TOGETHER, THEY'RE LIKE WONDER TWIN POWERS," SAYS CHEF JOHN CURRENCE, OWNER OF BIG BAD BREAKFAST IN OXFORD, MS. FOR A NO-FRY, OLD-SCHOOL TREAT, SPLIT BISCUITS AND SMOTHER WITH SAUSAGE GRAVY (CLICK FOR RECIPE). TRUST US, YOU'LL BE FULL.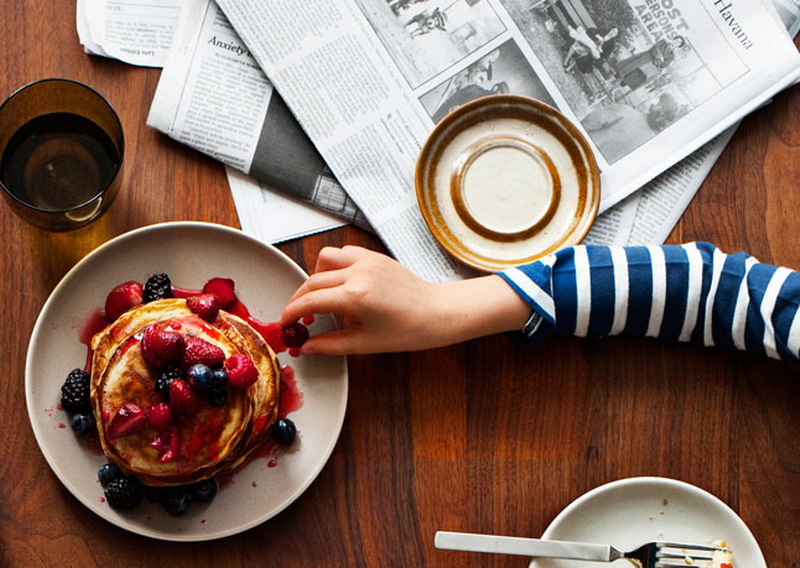 ]*>LEMON-RICOTTA PANCAKES
"THE MARK OF A GREAT PANCAKE IS THAT IT CAN BE EATEN WITHOUT SYRUP," SAYS CHEF TRAVIS LETT, WHO SERVES THIS DISH AT GJELINA, HIS VENICE, CA, EATERY. HIS VERSION DELIVERS: IT'S NUTTY, LEMONY, AND EVER SO MOIST. BE SURE TO FOLD THE RICOTTA INTO THE BATTER VERY GENTLY: "THAT WAY, WHEN YOU BITE INTO THE PANCAKE, YOU GET THESE POCKETS OF PILLOWY RICOTTA."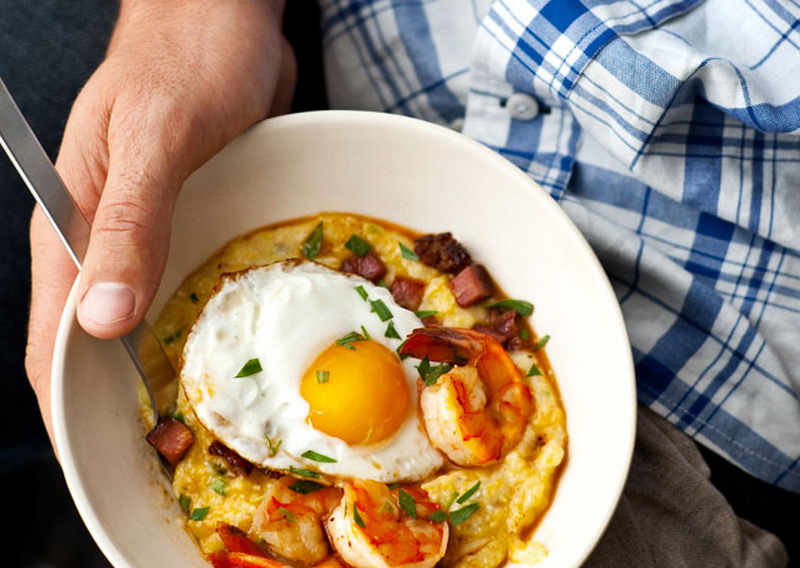 ]*>SHRIMP AND GRITS
AT PEELS IN NEW YORK CITY, CHEFS PRESTON AND GINGER MADSON TWEAK THIS LOW COUNTRY FAVORITE WITH TWO SECRET INGREDIENTS: A LITTLE BUDWEISER AND A LOT OF TASSO, A CAJUN-SPICED HAM.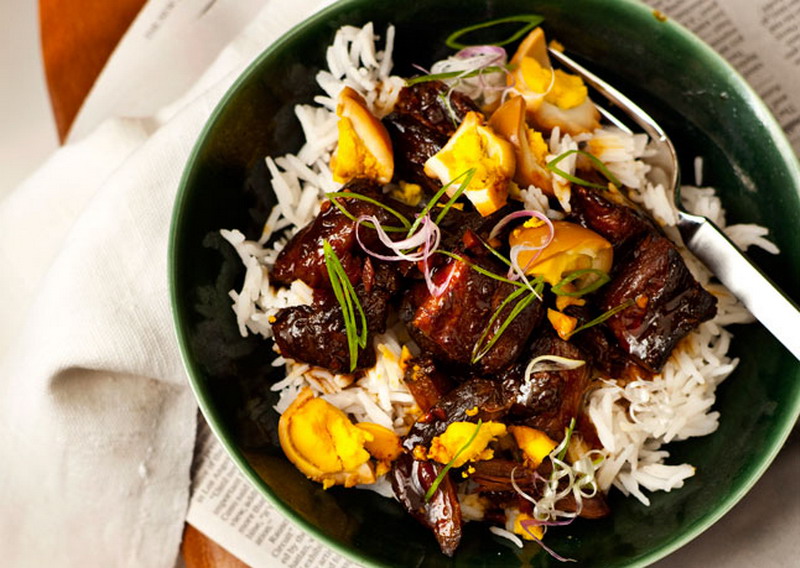 ]*>BURMESE RED PORK STEW
JOHN GORHAM, CHEF AT TASTY N SONS IN PORTLAND, OR, KNEW HE'D SCORED WHEN HIS FRIENDS RAVED ABOUT THE SOULFUL DISH OF MELTINGLY TENDER SPICED PORK AND BRINY PICKLED EGGS HE SERVED THEM ONE NIGHT. "THE NEXT MORNING, I MADE A POT OF RICE AND THOUGHT, WOW, THIS COMBINATION WOULD BE SUCH A GREAT BREAKFAST." INDEED IT IS, NO MATTER WHAT TIME OF DAY YOU EAT IT.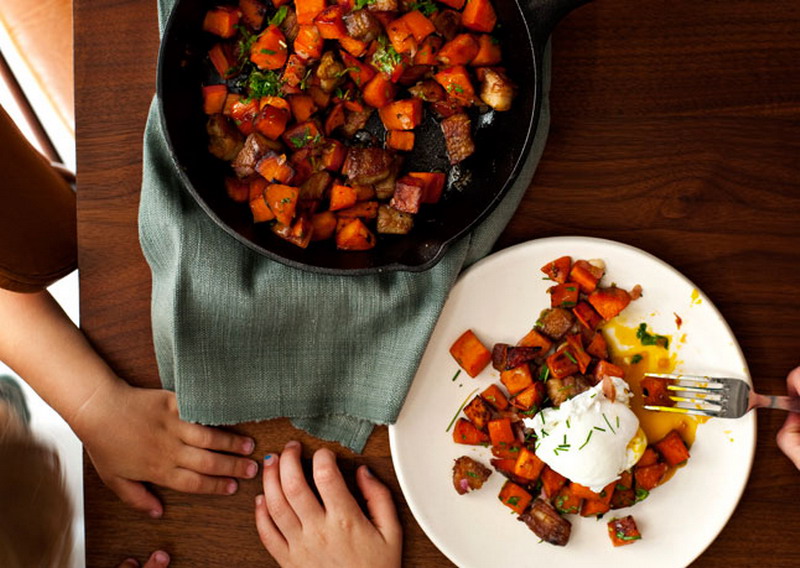 ]*>SWEET POTATO-PORK BELLY HASH
BRAISING THE PORK BELLY YIELDS CRISP-TENDER NUGGETS READY TO MINGLE WITH CARAMELIZED SWEET POTATOES. "IT'S A VERY AMERICAN PROFILE, SWEET POTATO AND PORK," SAYS JARED WENTWORTH, THE CHEF AT CHICAGO'S LONGMAN & EAGLE, WHO GAVE US THIS RECIPE.
QUA SOTTO UNO CHE DI CIBO NE SA E NON LO NASCONDE, POI E' PURE BRAVO A REPPARE.
ACTION BRONSON – "SHIRAZ"
ACTION BRONSON – 'BRUNCH'