DALL'1 AL 5 GIUGNO PIU' DI CENTO ARTISTI SI INCONTRERANNO NELLA CITTA' SULL'ACQUA NON SOLO CERCANDO UN PUNTO D'INCONTRO TRA ARTE E ADVERTISING, MA ANDANDO OLTRE: LA MISSIONE DEL FESTIVAL E' INFATTI RIPORTARE ALL'ATTENZIONE DEGLI OCCHI DELL'ARTE I PERSONAGGI DELLA CULTURA POP.
IN POCHE PAROLE: LINDSAY LOHAN, COME GIA' SAI, RAPPRESENTA L'ECCESSO DI HOLLYWOOD E IN QUESTO VIDEO E' DIVENTATA UN'OPERA D'ARTE.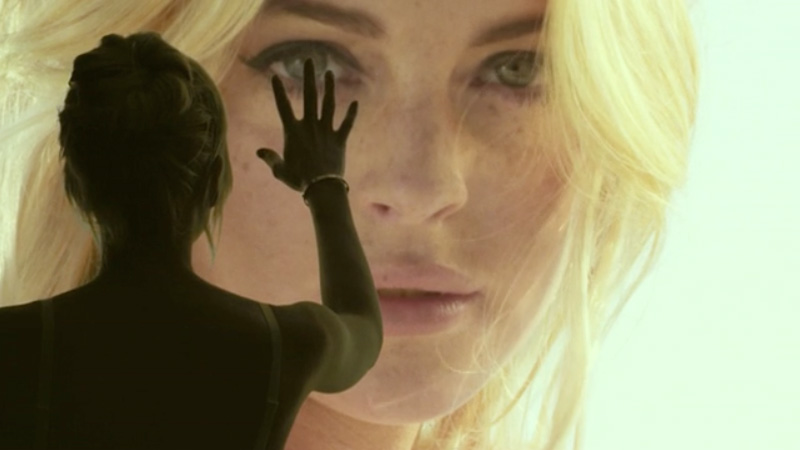 LEGGI IL COMUNICATO:
GAGOSIAN GALLERY IS PLEASED TO ANNOUNCE "LINDSAY LOHAN," THE FIRST SHORT FILM BY ARTIST RICHARD PHILLIPS.THE 90-SECOND MOTION PORTRAIT OF LINDSAY LOHAN, WHICH RICHARD PHILLIPS CREATED IN COLLABORATION WITH THE ACTOR, DRAWS FROM THE CONVENTIONS OF PHILLIPS' PAINTING, EXPLORING THE LEGACIES OF CLASSICAL PORTRAITURE IN RELATION TO CONTEMPORARY CULTURE'S MEDIATED REPRESENTATIONS. THE FILM DEPICTS LOHAN ENGAGED IN A REFORMULATION OF CLASSIC PERFORMANCE TROPES, WITH REFERENCES INCLUDING THE ICONIC IMAGERYOF THE HOMERIC IDENTITY SPLIT OF BRIGITTE BARDOT IN GODARD'S "CONTEMPT" AND THE PSYCHOSEXUAL AMALGAM OF BIBI ANDERSON AND LIV ULMAN IN INGMAR BERGMAN'S "PERSONA." EMPLOYING A TIMELESS HOLLYWOOD SETTING, PHILLIPS REPURPOSES AN ISOLATED MALIBU MANSION AS A PSYCHOLOGICALLY-CHARGED BACKDROP, WEIGHTED WITH THE DESIRE AND SPECULATION OF MODERN CINEMATIC PERFORMANCE.THROUGH PHILLIPS' FRAME, THE INVINCIBLE OPENNESS THAT MAKES LOHAN ENDLESSLY WATCHABLE ON FILM BECOMES THE IGNITION POINT OF EACH IMAGE—THE PAUSE BEFORE MOVEMENT THAT ALLOWS FOR THE IDENTITIES OF ACTOR AND DIRECTOR TO MELD, WHERE THE REALITIES OF EXPECTATION AND PROJECTED IMAGE ARE CONTRASTED WITH MULTILAYERED IDENTITY. IN THESE FULL-FRAME MOTION PORTRAITS OF LOHAN, PHILLIPS REPUDIATES THE CYNICISM AND EXPLOITATION ASSOCIATED WITH THE ARTISTIC AND COMMERCIAL CONVENTION OF THE SCREEN TEST—INTERROGATING ITS MANIPULATIVE OR COERSIVE UNDERTONES—AND INSTEAD USES THIS FORM TO PRESENT THE ACTOR SEPARATE FROM MEDIA, NARRATIVE, AND CASUAL REPRESENTATION.RICHARD PHILLIPS' LINDSAY LOHAN WILL BE INCLUDED IN "COMMERCIAL BREAK," PRESENTED BY THE GARAGE CENTER FOR CONTEMPORARY CULTURE, VENICE, ITALY, JUNE 1 – 5, 2011, CONCURRENT WITH THE 54TH INTERNATIONAL EXHIBITION OF THE VENICE BIENNALE.
]*>
CREDITS:
DIRECTED BY: RICHARD PHILLIPS AND TAYLOR STEELE – DIRECTOR OF PHOTOGRAPHY: TODD HEATER – COSTUME DESIGNER: ELLEN MIROJNICK – CREATIVE DIRECTOR: DOMINIC SIDHU – ART DIRECTOR: KYRA GRIFFIN – EDITOR: HAINES HALL – COLOR MASTERING: PASCAL DANGIN FOR BOXMOTION
THANKS CONTE ORLOK PER LA SEGNALAZIONE.