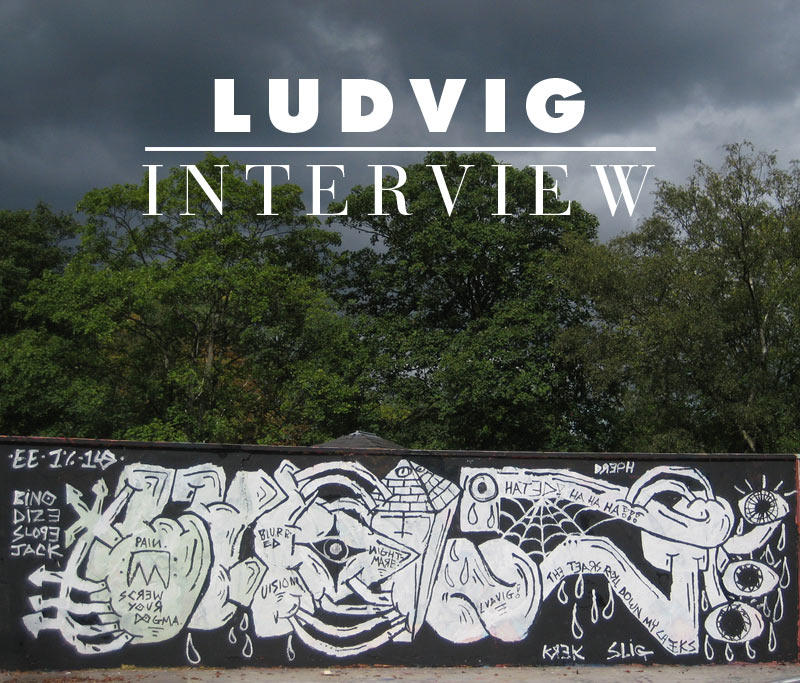 LUDVIG INTERVIEW
LUDVIG È UNO DI QUEI WRITER CHE NON DIMENTICHI. LO ABBIAMO INCONTRATO PER LE STRADE DI LONDRA E CE NE SIAMO SUBITO INNAMORATI! VEDENDO LE SUE ROBE TI VERREBBE DA DIRE CHE È UNO A CUI NON GLIENE FREGA UN CAZZO, E INVECE NE SA, NE SA DI BRUTTO E SE C'HAI VOGLIA DI LEGGERTI LA SUA INTERVISTA (TOTALMENTE IN ENGLISH) LO PUOI CAPIRE DA TE!
DOPO L'INTERVIEW C'È PURE LA SORPRESA QUINDI DAI UN OCCHIO!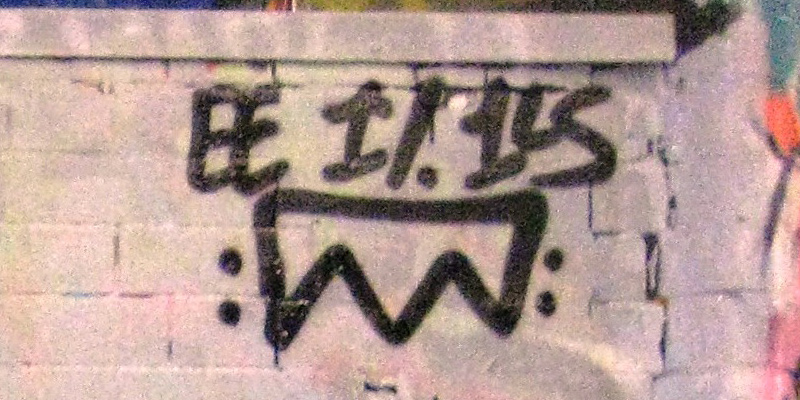 CREWS, CREWS, CREWS… THE GANGS THAT I REPRESENT AND PUSH ARE: 1%, EE AND 1LS. DIZE AND I STARTED 1% AS A SYMBOL OF DIFFERENCE, THE 1%ERS, THE IDEA IS APPROPRIATED FROM US MOTORCYCLE 'CLUBS.' IN LONDON NO ONE WAS PAINTING IN THE WAY THAT WE DO, WE FOCUS ON THE RAW AND DIRTY, NOT BEING TOO FUSSED ABOUT PETTY PERFECTLY EXECUTED DETAILS; FULL OF ENERGY. IT'S ABOUT BEING CREATIVE, HAVING FUN AND NOT JUST DOING THE EXACT SAME THING ALL THE TIME, 99% OF STUFF WE SEE LOOKS THE SAME… HENCE; 1%. I HAVE HEARD THAT SOME PEOPLE THINK THAT IT MEANS 99% OF OUR PIECES ARE PAINTED WITH EMULSION, THIS WASN'T THE INITIAL INTENTION, BUT PRETTY MUCH WORKS BECAUSE IT IS RARE TO SEE A TOTALLY SPRAY PAINTED PIECE FROM US. I DID ONE RECENTLY AND FOUND IT TIRESOME AND ARTIFICIAL TO PAINT SOMEHOW. SLOPE HAS ALSO JOINED US IN THE CREW, WHICH IS A GOOD THING, IT'S ALWAYS GOOD TO DO WALLS TOGETHER.
EE STANDS FOR ENGINEERING THE END. THIS CREW INCLUDES BINO, ANO AND PUNO. THE NAME COMES FROM PEOPLE ACCUSING BINO OF 'KILLING GRAFFITI;' OF COURSE HE'S NOT KILLING GRAFFITI, HE'S AS PASSIONATE ABOUT IT AS THE BEST OF US, BUT HE DOESN'T LET HIMSELF BE CONSTRAINED BY MANY OF THE USUAL 'RULES.' I LIKE DOING THE LARGE EE COLLABORATION WALLS WITH BINO, THEY'RE ALWAYS UNPLANNED, TURN OUT STRANGE LOOKING AND ARE FULL OF SYMBOLS.
THE 1LS GUYS ARE CRAZY HARDCORE BANDOLERO CATS FROM AUSTRALIA, THEY ARE HERE IN LONDON PRETTY OFTEN AND GREAT TO PAINT AND HANG WITH. THE MAIN CHARACTERS THAT I HANG WITH IN THE CREW ARE RAYBEES. PABLO AND GKEF, BUT THERE ARE MANY MORE OF THESE CULT MEMBERS LIVING FAR FAR AWAY. THEY ALL HAVE GOOD FUNKY STYLES, BAGS OF DRIVE AND POSITIVE ENERGY.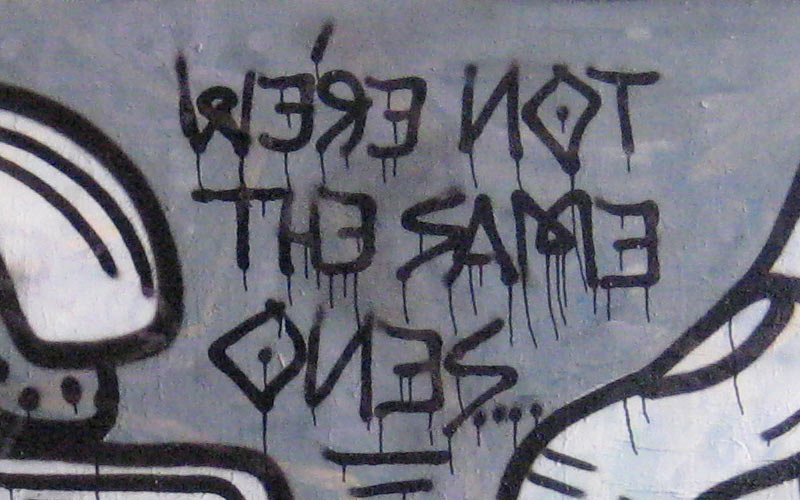 WE'RE ALL DIFFERENT, BUT SO MANY PEOPLE SEEM TO WANT TO BE THE SAME; WEAR, LISTEN, WATCH AND PAINT THE SAME STUFF… I REALLY DON'T CARE, BECAUSE I JUST DON'T REALLY GIVE A FUCK, BUT STILL, THE VOICE INSIDE SCREAMS 'FUCK THAT BIG TIME.' THE QUOTE IN THE PHOTO COMES FROM A TRACK BY HARDCORE PUNK BAND 'THE GALLOWS,' ONE OF MY PERSONAL FAVOURITE BANDS. IT STRUCK A CHORD WITH ME. THE HANDS NEXT TO THIS PIECE ARE PRAYING, BUT A LOT OF PEOPLE SAID THAT THEY LOOK MORE LIKE THEY'RE CLAPPING, PEOPLE ARE DIFFERENT… IF THEY WERE CLAPPING IT'D BE A SLOW CLAP.
I LIKE WALLS THAT LOOK ODD OR STRANGE, WALLS THAT LOOK KIND OF WRONG, IT TURNS ME OFF NOW TO SEE A PERFECTLY POLISHED 'BURNER' WALL, YOU KNOW THE THING – BORING PIECE, PLAYED OUT CHARACTER IN THE MIDDLE, BORING PIECE… YAWN. I OFTEN STRUGGLE TO SEE ANYTHING OF THE CHARACTERS OF THOSE THAT PRODUCE THESE KINDS OF THINGS; CHARACTER IS SACRIFICED IN FAVOUR OF TECHNIQUE. ALL YOU SEE IS A NERDY HASH OF FIDDLY DETAILS AND CUTBACK FROM HELL. FOR ME CHARACTER IS MORE IMPORTANT, NO CONTEST. SO, WHILST WE'RE ALL DIFFERENT WE SHARE A MILLION FUNDAMENTAL THINGS TOO, PHYSICALLY WE'RE ALL MORE SIMILAR TO EACH OTHER THAN WE ARE DIFFERENT. STILL, I HAVE RESPECT FOR GRAFF HISTORY AND FOR OTHER PEOPLE'S WORK, I STICK TO MANY OF THE UNWRITTEN RULES OUT OF RESPECT.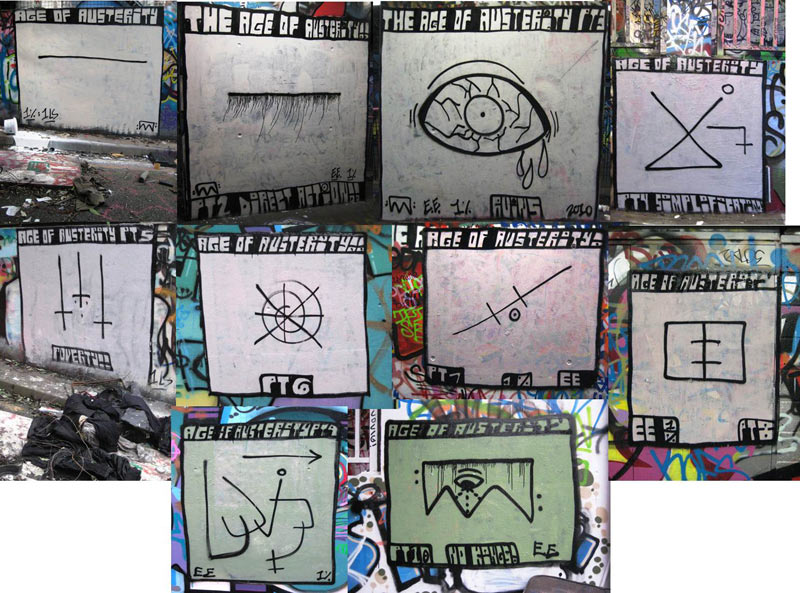 I LOVE SYMBOLS, ESPECIALLY SUBVERTING SYMBOLS. SYMBOLS ARE SO, SO STRONG, THEY CAN MAKE PEOPLE FEEL LIKE THEY BELONG OR TOTALLY ISOLATE PEOPLE IMMEDIATELY, THEY ARE A REPRESENTATION OF SOMETHING DEEPER BEHIND THE SURFACE. THE WEAKNESS IN THE EMPLOYMENT OF SYMBOLS IS SEWN INTO THE FABRIC OF THEIR BEING; WHAT I MEAN IS THAT THE BEST AND MOST RECOGNISABLE SYMBOLS ARE EXTREMELY RECOGNISABLE AND EXTREMELY SIMPLE; THE CRUCIFIX IS PROBABLY ONE OF THE WORLD'S MOST RECOGNISABLE SYMBOLS (AND ONE OF THE SIMPLEST), ALONG WITH THE 'GOLDEN ARCHES' OR THE 'SWOOSH,' EACH OF US COULD SUBVERT THESE REALLY EASILY AND MESS WITH THE MEANING AND CONNOTATIONS THEY HOLD.
THE IMAGES THAT YOU ARE USING HERE ARE A PART OF A SERIES THAT I DID CALLED 'AGE OF AUSTERITY.' IT STARTED WITH A SIMPLE WHITE SQUARE OF PAINT WITH A BLACK LINE THROUGH IT, THE IDEA WAS TO REPRESENT WHAT WRITING COULD BECOME IN EXTREME AUSTERITY, IT TALKED ABOUT CURRENT POLITICAL POLICY (MENTION OF WHICH IS MOSTLY MISSING FROM THE WALLS, HOW THE HELL DOES THAT WORK?) AND ALSO VISUALLY IT WAS PART OF WHAT I THOUGHT COULD HAVE BEEN THE CONCLUSION OF AN EFFORT TO MINIMISE A PIECE AS MUCH AS POSSIBLE. THESE ARE NUMBERED 1-100 AND THERE ARE OVER 100 OF THEM AS I SOMETIMES FORGOT WHERE I WAS IN THE SEQUENCE AND DID SOME NUMBERS TWICE. I SHOULD HAVE BEEN MORE PROFESSIONAL AND ORGANISED! HA HA. MOST OF THEM CONTAIN SYMBOLS OR SHORT MESSAGES; OTHERS INCLUDE TAGS FROM OTHER WRITERS WHO I HAVE BEEN PAINTING WITH. THEY WERE FUN TO DO, I'M THINKING OF PUBLISHING A ZINE FOCUSSED AROUND THEM. I TRY TO BUILD SOME SYMBOLS INTO EVERY PIECE, SOME OF THESE I USE OVER AND OVER, SO MUCH SO THAT THEY HAVE BECOME ALMOST MEANINGLESS IMAGE WEAPONRY TO ME, TOTALLY REMOVED FROM THEIR ORIGINAL MEANINGS (YET STILL FULLY LOADED). EXAMPLES OF SYMBOLS THAT I OFTEN INCLUDE ARE THE UPSIDE DOWN CROWN, INVERTED CRUCIFIXES, SCARS, PYRAMIDS, TEARS, SPIDER'S WEBS AND EYES.
THE SYMBOLS REPRESENT MANY THINGS, MOST OF WHICH ARE PRETTY CLEAR AND OBVIOUS, SOMETIMES  I'LL USE A LOAD OF SYMBOLS TOGETHER CREATING A VISUAL DIALOG OR STORY, THESE ARE USUALLY STORIES OF UNHAPPY THINGS, MANIFESTATIONS OF PAIN, HURT AND SADNESS. THE PIECES THAT I PAINT WHICH ARE MORE LOADED WITH SYMBOLS THAN BASED ON LETTERS ARE OFTEN CATHARTIC, THEY TELL A STORY THAT I CAN READ BACK IN THE FUTURE, THEY TELL IT TO ALL IN PLAIN SIGHT, BUT AT THE SAME TIME THEY DON'T… MY STYLE IS QUITE EXPRESSIVE AND LOOSE, I LOVE TO SLAP ON BUCKET PAINT, USING IT FOR ALL ELEMENTS OF A PIECE, INCLUDING THE OUTLINE. DIRT IS GOOD, DRIPS ARE OK, WHATEVER GOES REALLY. I TEND TO THINK THAT NO LINE IS WRONG SO I USE THE FIRST LINE EACH TIME, IT IS VERY RARE THAT I WOULD MAKE ANY 'CORRECTIONS' TO A PIECE. A GOOD PIECE FOR ME HAS EXPRESSION, PERSONALITY AND ENERGY, SEX. I HAVE FOUND A STYLE WHICH SUITS MY CHARACTER AND TEMPERAMENT WELL, IT REPRESENTS ME. IT'S NOT ABOUT HIP HOP, BUT IT'S ABOUT A WHOLE MULTITUDE OF OTHER THINGS. IT SUITS ME IN GENERAL, IT'S HOW I AM, I WANT TO DO IT HARD, FAST, DIRTY AND NOW. PLUS, I WANT TO DO IT A LOT, AGAIN AND AGAIN, I AM EXTREMELY DRIVEN, SO I NEEDED SOMETHING IN TERMS OF STYLE AND TECHNIQUE THAT WOULD ALLOW ME TO EXPEND ENERGY ON A WALL FAST. I LOVE CONNECTING WITH A WALL, USING THE MOTION OF MY BODY AND THE REACH OF MY ARM, A PHYSICALLY NATURAL WAY OF PAINTING TO ME AND MENTALLY EXPLORING, EXPERIMENTING, SURPRISING, PROGRESSING… JUST BEING ME AND FOLLOWING THE PATH THAT I'VE SET MYSELF, YET DEVIATING FROM TIME TO TIME.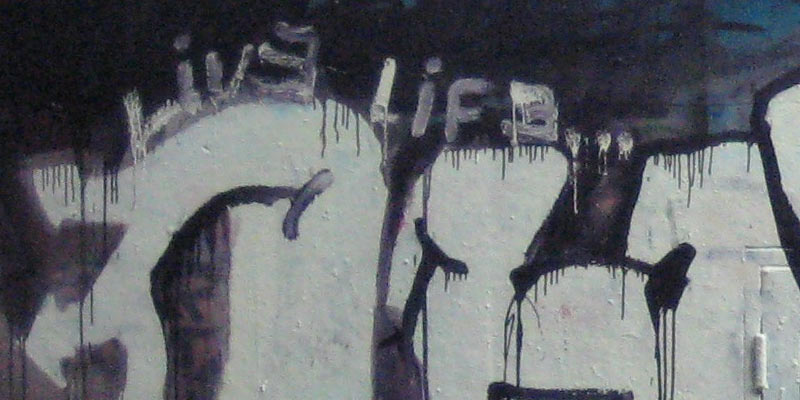 LIVE LIFE! SO MUCH IS ABOUT LIFE AND ENERGY, BUT MUCH THAT I DO IS ALSO ABOUT DEATH AND ENTROPHY. THE PIECES SCREAM LIFE LIFE LIFE! DEATH DEATH DEATH! GROWTH GROWTH GROWTH! DECAY DECAY DECAY! ACTUALLY, TO ME EVERYTHING SHOUTS THESE THINGS. THIS SPECIFIC NOTE IS ABOUT PEOPLE / A PERSON MAKING ODD (MEANING BAD) CHOICES AND DECISIONS, DECISIONS THAT I CAN'T UNDERSTAND, LIFE IS A STRUGGLE, A FUCKING HELL OF A STRUGGLE SOME OF THE TIME, BUT IT'S USUALLY OK, USUALLY LIVEABLE, SOMETIMES ITS AMAZINGLY GREAT… SO, I WAS JUST SAYING 'JUST KEEP LIVING IT' OR AT LEAST TRY TO, YOU DON'T HAVE TO LOVE IT, BUT… SOMETIMES I WONDER WHETHER WHEN WE'RE IN A CERTAIN MENTAL PLACE WE HATE LIFE MORE THAN IT HATES US, I USUALLY REALISE THAT IT PROBABLY HATES US MORE THAN WE HATE IT, SO WE CARRY ON. THERE IS SO MUCH GREATNESS IN LIFE, FOR ME THESE 'GREAT' THINGS ARE THE SIMPLEST, YET MOST COMPLEX THINGS, FEELINGS, EMOTIONS, LOVE, INTIMATE CONNECTION… SOME PEOPLE WILL UNDERSTAND WHAT I MEAN. IT IS A CLICHÉ, BUT I REALLY DO BELIEVE THAT THE BEST THINGS IN LIFE ARE FREE; MONEY IS A MERE HYGIENE FACTOR. I TRY TO INCLUDE QUOTES AND COMMENTS ON MOST PIECES; I DO THIS TO LINK AND TIE THE PIECES TO THE 'REAL' WORLD, TO TRY TO GIVE THEM SOME RELEVANCE TO PEOPLE WHO DON'T WRITE.
I ALSO DO IT FOR MYSELF AND PEOPLE THAT I KNOW, I TALK TO THEM AND WHEN I LOOK BACK I HAVE A RUNNING DIALOGUE OF FLAPPING FLAGS OVER THE VAST SMOOTH DESERT OF TIME, REMINDERS OF WHAT WAS GOING ON OR HOW I WAS FEELING, A LITTLE LIKE AN OBTUSE AND ENIGMATIC PERSONAL DIARY. REVS DID IT (AND EVERYTHING ELSE) A MILLION TIMES BETTER! I DON'T WANT TO BE A GRAFF EMU WITH MY HEAD BURIED IN THE SAND SEEING ONLY WRITING, THAT'S SAD! WE LIVE IN AND ARE AFFECTED BY WHAT GOES ON OUTSIDE OF WRITING, I WANT THIS TO COME THROUGH IN MY PIECES, I'M NOT JUST A WRITER… I DO UNDERSTAND PEOPLE DISAPPEARING INTO WRITING THOUGH, IT CAN AND DOES OFFER GREAT ESCAPISM, ESPECIALLY WHEN YOU'RE DOING IT 'PROPERLY,' WHEN I PAINT I VERY MUCH LIVE IN THAT INTENSE MOMENT, BUT I NEVER WANT TO DISCONNECT FROM WHATEVER ELSE MAY BE GOING ON IN THE WORLD OR MY LIFE. IT CONCERNS ME, OBVIOUSLY NOT A LOT, BUT A BIT, THAT YOU CAN'T EVEN SEE SOME WRITER'S MOODS OR MENTAL STATES COMING THROUGH IN THEIR PIECES, I THINK THAT THIS KIND OF DETACHMENT IS WRONG AND MAKES A PIECE NOTHING BUT DECORATIVE DOYLEY SHIT. IT MAKES WRITING A HOBBY, I GUESS THAT THIS IS OK, BUT IN REALITY FOR MANY OF US IT'S JUST A PART OF OUR WAY OF LIFE, SOMETHING THAT WE DO EVERY SINGLE DAY IN SOME LITTLE WAY, I LIKE PEOPLE THAT WRITE EVERY SINGLE DAY, FOR ME THERE IS SOMETHING VERY RIGHT ABOUT THAT.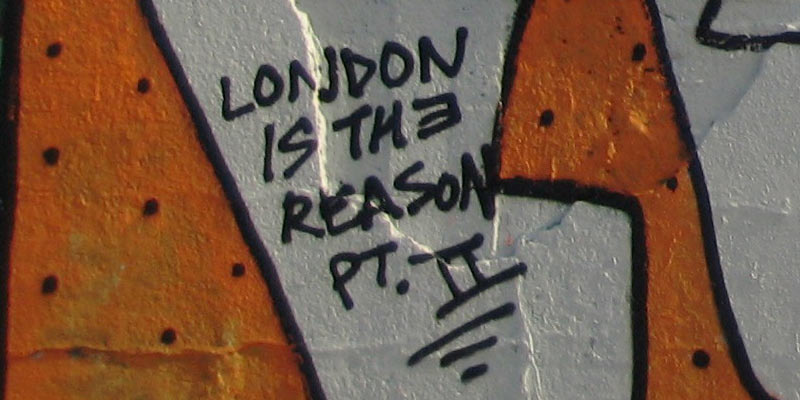 LONDON IS HOME, I LOVE / HATE THIS CITY. IT'S A GREAT PLACE TO BE, YOU HAVE EVERYTHING HERE THAT YOU CAN IMAGINE; EVERYTHING THAT IS GOOD AND EVERYTHING THAT IS BAD, IT'S ALL HERE! LONDON IS A CREATIVE POWER HOUSE AND A BUBBLING BOILING CALDRON, ESPECIALLY MUSICALLY, BUT ALSO IN OTHER ART FORMS. THERE IS A REAL SPARK HERE AND A FEELING THAT ANYTHING CAN HAPPEN, IT IS ALSO ONE OF THE MOST DILIGENTLY SPIED ON CITIES IN THE WORLD, FULL TO THE MAX WITH CCTV AND CITIZEN MOVEMENT MONITORING / TRACKING TOOLS. WE ARE ONLY A SHORT HOP AWAY FROM ORWELL'S 'THOUGHT POLICE,' WE LIVE IN A VERY 'FREE' CITY IN A VERY 'FREE' COUNTRY, BUT ARE SNARED BY SO MANY NASTY DEVISES, THIS DOESN'T JUST RELATE TO LONDON THOUGH… AS AN EXAMPLE, I AM REFERRING TO THINGS LIKE THE THIRST FOR BLOATING WEALTH INSTILLED IN US AND THE HEAVY SHACKLES OF PERSONAL DEBT.
THINGS SUCH AS THESE ARE GETTING MORE AND MORE DIFFICULT TO AVOID AS THEY ARE NOW MORE INSTITUTIONALLY INGRAINED; WANT A DECENT EDUCATION? THE GOVERNMENT WILL FORCE YOU DEEP INTO THEIR DEBT TO GET IT. DRACONIAN SENTENCES ARE BEING ISSUED FOR WHAT CAN BE CONSIDERED RELATIVELY MINOR OFFENCES AND SOCIAL UNREST LIKE WE HAVE SEEN RECENTLY WILL BECOME MORE COMMON PLACE, SOCIAL UNREST WHICH MANY OF THOSE INVOLVED SAW AS 'ENTERTAINMENT' OR 'SPORT' DEVOID OF OVERT IDEOLOGICAL PURPOSE. THE MESSAGE IS IN THE ACTION, RATHER THAN BEING EXPLICITLY STATED. THE DISAFFECTED NEED TO BE BROUGHT INTO THE FOLD SOMEHOW, EVERYONE NEEDS A REASON TO FEEL PART OF 'SOCIETY.' THE REAL ISSUES BEHIND RECENT UNREST WILL BE IGNORED AND SWEPT UNDER THE CARPET BECAUSE THEY ARE TOO BIG FOR THE GOVERNMENT TO HAVE ANY APPETITE TO TACKLE, TO AFFECT REAL CHANGE WOULD BE POSSIBLE, BUT YET AGAIN, AS PREVIOUSLY, THE OPPORTUNITY WILL BE SHIRKED. INSTEAD IMPOSING LONG CUSTODIAL SENTENCES ON THOSE CONVICTED AS SOME KIND OF FAUX DETERRENT FOR THE FUTURE, REALLY JUST A VOTE WINNING ATTEMPT TO APPEASE AN ANGRY, CLUELESS MIDDLE BRITAIN. OH AND THEY'LL USE THIS TO FURTHER IMPOSE ON THEIR CITIZEN'S CIVIL LIBERTIES AND CRACK DOWN, READ REDUCE, ACCESS TO WELFARE BENEFITS. LONDON IS GREAT THOUGH! HA HA HA!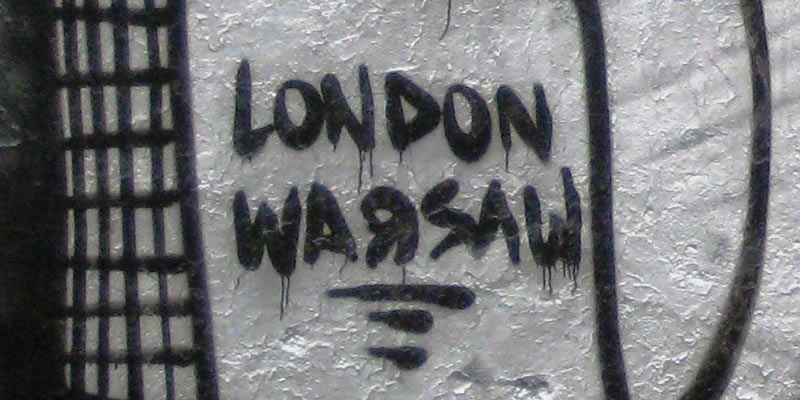 I HAVE CONNECTIONS TO OTHER CITIES THAN JUST LONDON. I LOVE TO TRAVEL AND DON'T DO ANYWHERE NEAR AS MUCH OF IT AS I'D LIKE TO. I LIKE TO TRY TO PAINT IN THESE PLACES TOO. I'M INSPIRED BY THE STYLES THAT HAVE COME OUT OF PLACES SUCH AS POLAND, THE CZECH REPUBLIC AND FINLAND. I LIKE THE FEELING OF BEING IN THESE COUNTRIES, I REMEMBER PANTAL ONCE SAYING TO ME THAT 'SOUL' WOULD ALWAYS BE THE MOST IMPORTANT INGREDIENT IN A PIECE AND THAT FOCUSSING ON TECHNIQUE WOULD BE AN ERROR, HE WAS RIGHT AND THAT SIMPLE ADVICE INSPIRES ME TO THIS DAY. IN LONDON IT WOULD BE HARD TO IMAGINE ANYONE GIVING ADVICE LIKE THAT… I ALSO LIKE PAINTING WITH PEOPLE WHO ARE PASSING THROUGH LONDON, IT'S ALWAYS A GOOD THING AND FUN. MANY CITIES ARE WAY EASIER TO PAINT THAN LONDON, BUT THEY EACH HAVE THEIR OWN GIFTS TO GIVE AND CHALLENGES TO POSE.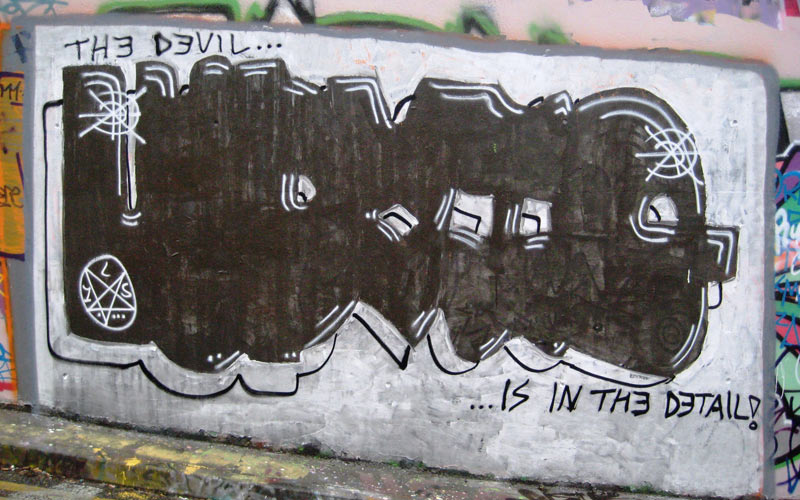 THE DEVIL IS IN THE DETAIL! HA HA HA, NOT ONLY THAT, BUT PAINTING A PERFECTLY POLISHED PIECE WITH MAD EFFECTS AND TRICKS IS JUST SO DAMN BORING! I'M HAPPIEST WITH A ONE COLOUR EMULSION FULL WITH A BLACK EMULSION BACKGROUND / OUTLINE COMBO. ACTUALLY, IF I HAVE TWO CONTRASTING COLOURS OF EMULSION PAINT THEN I'M HAPPY, I DON'T GIVE A DAMN ABOUT PROPER CANS… IF I HAVE SOME I'LL USE THEM, BUT I WON'T GENERALLY GO OUT OF MY WAY TO GET THEM, I'D RATHER SKIP HOP SOME EMULSION DREGS AND TRY TO USE THAT. I LIKE THE ODD HIGHLIGHT / LOWLIGHT DETAIL THOUGH… AND ACTUALLY SOME SYMBOLS… I DON'T KNOW, I JUST DON'T WANT TO PAINT THE DOPEST WILDSTYLE PIECE EVER SEEN OR THE MOST AGGY LOOKING GULLY STYLE, I JUST WANT TO PAINT A WONKY SOULFUL MESS WITH DRIPPING EMULSION AND A BIT OF CHEAP CAR PAINT. EVERYTHING IS ALWAYS ALRIGHT FOR THE IGNORANT MAN.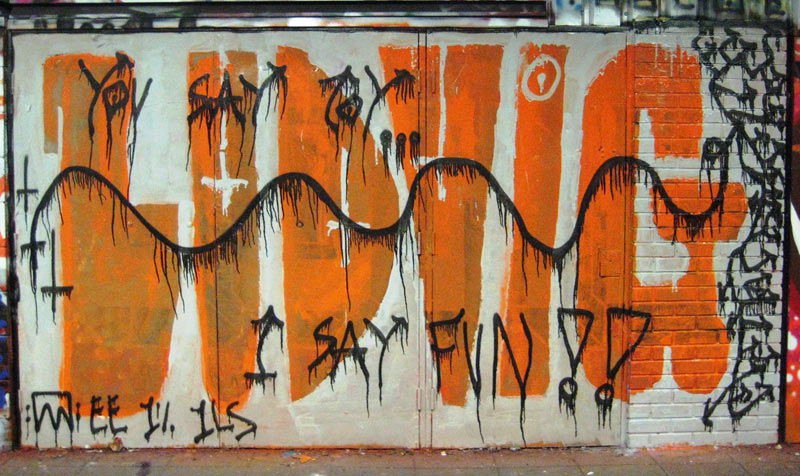 HA HA HA, I OFTEN SYMBOLICALLY DESTROY MY OWN STUFF. IT'S NOT ACTUALLY DESTROYED BECAUSE THAT'S THE WAY THAT IT'S INTENDED TO LOOK… MY WORK HAS BEEN DESCRIBED IN MANY DERISORY WAYS, 'THE SHITTIEST OF THE SHIT' AND 'LOOKING AS IF PAINTED BY A FIVE YEAR OLD.' BOTH OF WHICH I FEEL PRETTY PLEASED ABOUT AND TAKE AS COMPLIMENTS. IT'S NICE WHEN SOMEONE APPRECIATES IT, BUT IT IS REALLY JUST FOR ME AND FOR MY CREWS, I DON'T CARE WHAT ANYONE ELSE THINKS AT ALL! I CAN'T REALLY STRESS THIS ENOUGH. SOME OF THE PIECES THAT I LIKE THE MOST ARE THE ONES THAT MOST WRITERS THINK ARE THE WORST, THEY'RE THE DIRTIEST, DRIPPIEST, SHITTIEST AND UGLIEST ONES. I WISH THAT I COULD ALWAYS PULL OFF A SUPERBLY BRUTAL, DIRTY, WONKY AND UGLY PIECE, BUT I CAN'T… I LOVE REALLY TOY PIECES AND WILL ALWAYS PHOTOGRAPH THEM, THEY ARE WHEN GRAFFITI IS STILL GREAT, BEFORE IT HAS BEEN TOO TAINTED AND TARNISHED BY WRITING NORMS AND EXPECTATIONS. WRITING TAKES ALL SORTS, BECAUSE IT IS AN UNGOVERNED DIY ACTIVITY, IN THIS SENSE I FIT IN FAIRLY WELL… 
THERE IS ALWAYS HOPE, EVEN WHEN THERE ISN'T; I THINK THAT THIS IS 'JUST' AN ATTITUDE THING. I HAVE A LOT OF HOPE FOR WHAT IS A PRETTY HOPELESS WORLD AT TIMES. I THINK THAT IT IS ABOUT FEELING TOTALLY ENERGISED SOMETIMES, THEN YOU REALLY CAN DO ANYTHING AND ALSO THE CONVICTION THAT ACTUALLY IF YOU REALLY NEED / WANT SOMETHING ENOUGH IT'LL BE YOURS, AND IF IT CAN'T BE THEN AT LEAST YOU LOST SOME SLEEP AND TRIED, MAYBE IT'S ABOUT LOVE, IT'LL ALL BE OK (I'M NOT TALKING ABOUT GETTING A PAIR OF NIKES, A HOUSE, A CAR OR ANYTHING FROM A&F ETC). IT'S DIFFICULT TO EXPRESS SOMETHING THAT'S AN INTANGIBLE EMOTION WHICH CAN FLIT AND FADE AND THEN BURN PASSIONATELY BRIGHTER THAN THE SUN… IT'S A LUMP IN THE THROAT, SOME WETNESS IN THE EYE, A SUDDEN NATURAL CHEMICAL RUSH, A COLOUR FLUSH ON THE CHEST, AN ADRENALIN SHAKE, A FIRE IN THE CHEST OR A DISABLING ACHE IN THE CHEST, A HARD COCK, IT'S A DEEPLY HUMAN THING.
I KNOW THAT THIS DOESN'T MAKE THAT MUCH SENSE, BUT THE GREATEST, MOST IMPORTANT, THINGS OFTEN DON'T SEEM TO MAKE TOO MUCH SENSE. THE FUTURE WILL BRING MORE OF THE SAME AND ALSO PROGRESSION, MAYBE INTO SOMETHING SIMPLER, PERHAPS LESS LETTER BASED, NOT SURE, MAYBE DIRTIER, LESS STRUCTURED… I LIKE LETTERS, BUT I'M NOT GOING TO STAND STILL.
PER NOI LA MUSICA È IMPORTANTE E PER LUDVIG LA MUSICA È IMPORTANTE E QUINDI CI SIAMO SUBITO TROVATI.
LUI CI HA DETTO: "PLEASE LIST THEM IN THE ORDER. IT'S A MUSICAL ADVENTURE" . E COSI' SIA!
TRACKLIST:
ADAGIO / SAMUEL BARBER
THE LAND OF GREEN GINGER / THE ORB
TITANIUM / KRAFTWERK
THE ETERNAL / JOY DIVISION
ATHMOSPHERE / JOY DIVISION
BLACK ROSE IMMORTAL / OPETH
LAST CARESS / THE MISFITS
FIEND CLUB / THE MISFITS
THE VULTURE (ACTS 1 AND 2) / THE GALLOWS
CRUCIFUCKS / THE GALLOWS
DARKNESS LIVES / CANCER BATS
MYSTERY MACHING / ED RUSH AND OPTICAL
UNOFFICIAL GHOST / DOC SCOTT