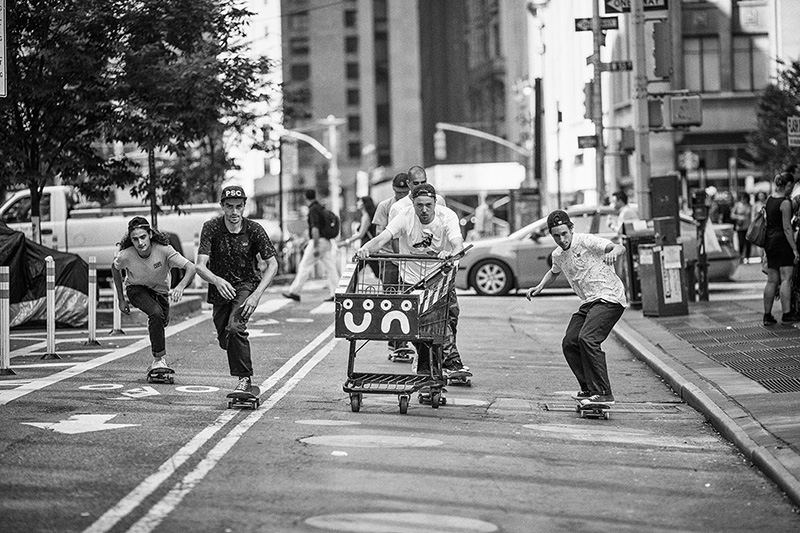 MANHATTAN DAYS A.K.A. LO SKATE COI CARRELLI
PER QUESTA VOLTA LASCIA STARE I SINGOLI TRICK, TANTO I RAGAZZI SONO TUTTI BRAVI. 
LASCIA PERDERE ANCHE L'APPAREL, TANTO QUALCHE PEZZO TE LO PUOI SEMPRE COMPRARE QUI–
TUTTO QUELLO CHE DEVI FARE E' PRENDERTI SEI MINUTI, METTERE IN MODALITA' SCHERMO INTERO E GUARDARTI L'ULTIMO VIDEO GIRATO DA THE REAL KING PONTUS ALV PER CONVERSE CONS. 
MEGLIO ANCORA SE CHIAMI GLI AMICI, TIRI FUORI LE BIRRETTE DI FINE ESTATE E VE LO GUARDATE TUTTI INSIEME; I BOYS DI POLAR APPREZZEREBBERO.
MANHATTAN DAYS TI FA SORRIDERE, FORSE PER GLI SMILE SULLE RAMPE HOMEMADE, FORSE PER LA HAPPY MUSIC, REALIZZATA DA UN AMICO DI PONTUS, JEAN-LOUIS HUHTA, APPOSTA PER IL VIDEO. 
OLTRE A PONTUS, AARON HERRINGTON, JEROME CAMPBELL, DAVID STENSTRTÖM, DANE BRADY E KEVIN RODRIGUES: RICORDATI I NOMI, LE PRESENTAZIONI NON SERVONO.
LORO SEMBRANO DIVERTIRSI UN SACCO, GIRANDO PER NY CON UN CARRELLO DELLA SPESA, FREGANDOSENE DEGLI SBIRRI CHE GLI CHIEDONO IL PERMESSO PER SKATEARE A CENTRAL PARK E DANDO UN PAIO DI CINQUE ALTI ALLA GENTE CHE SI FERMA A GUARDARLI. 
ORA ENJOY THE VIDEO SOPRA E FATTI ANCHE TU DUE RISATE.
STAY INSPIRED.
CIAO SERIONI
BY CC