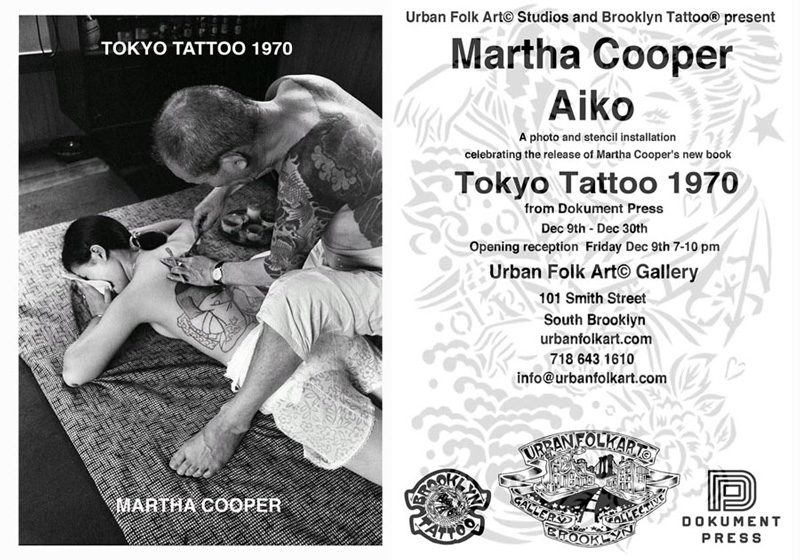 MARTHA COOPER / TOKYO TATTOO 1970
APPROFITTATE DELLE VACANZE MILANESI E FATE UN SALTO A BROOKLYN…STASERA C'È L'INAUGURAZIONE DELLA MOSTRA DI MARTHA COOPER E LADY AIKO.
PRATICAMENTE MARTHA AVEVA FATTO STE FOTO NEGLI ANNI 70 IN GIAPPONE, ALL'EPOCA PERO' I TATTOO NON ERANO TRIANGOLARI COME LO SONO OGGI E NESSUN EDITORE AVEVA MAI SGANCIATO IL GRANO PER PUBBLICARLE…FINCHÈ NON SONO ARRIVATI QUEI CAPI SVEDESI DI DOKUMENT PRESS.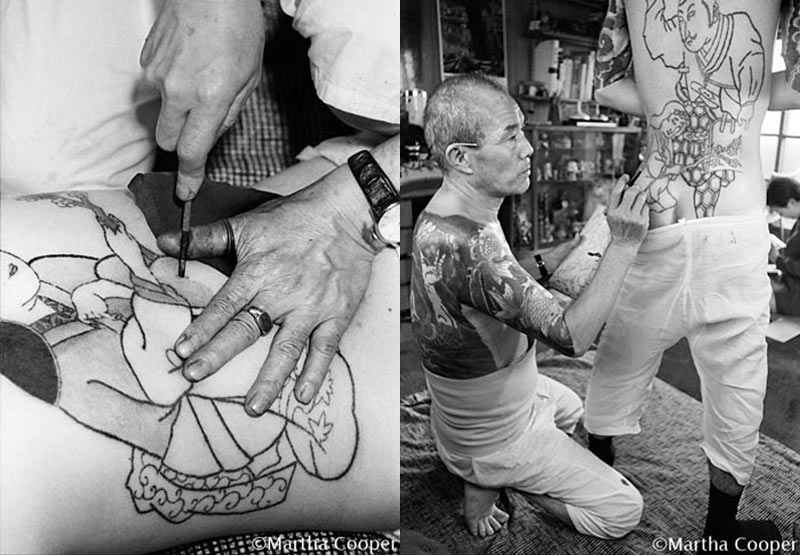 POI AIKO HA VISTO UNA FOTO E L' HA RIPROPOSTA A SUO MODO.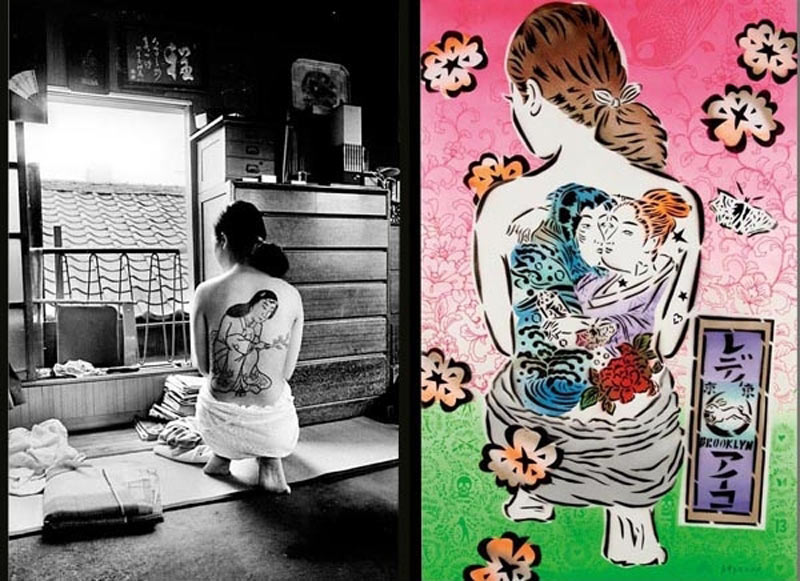 PROBABILMENTE A MARTHA È PIACIUTA COSI' TANTO ( NOI SINCERAMENTE NON CAPIAMO IL PERCHÈ!?) CHE IL GIORNO DOPO L'HA CHIAMATA E LE HA DETTO: "PERCHÈ NON FACCIAMO UNA MOSTRA INSIEME A NYC?? MAGARI CHIEDIAMO AD ADAM SUERTE!
TAAAAAAAAAAC!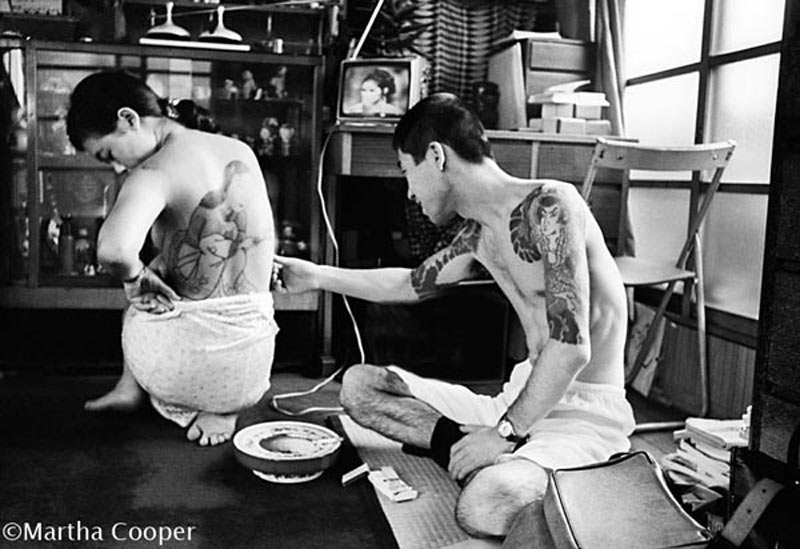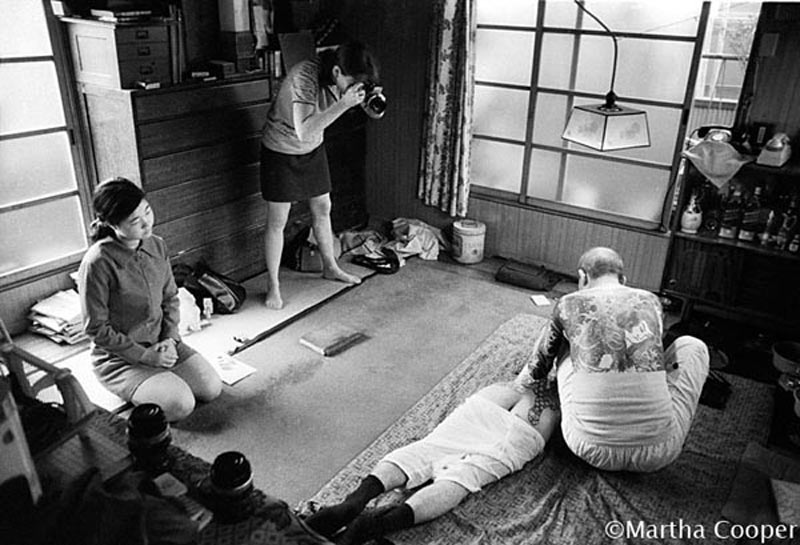 SE CAPISCI L'ANGLESE QUESTA È LA VERSIONE DI MISS HIP HOP FILES:
"IN 1970 I WAS LIVING IN JAPAN TRYING TO GET MY PHOTOGRAPHY CAREER OFF THE GROUND. I BECAME FASCINATED WITH JAPANESE TATTOOING (IREZUMI) AFTER SEEING A TRADITIONAL TATTOO AT A FESTIVAL . WITH PERSEVERANCE I WAS ABLE TO MEET AND PHOTOGRAPH THE ARTIST HORIBUN I AT WORK. AT THE TIME I HOPED TO DO A MAGAZINE ARTICLE BUT NO EDITORS WERE INTERESTED AS TATTOOING HAD AN UNSAVORY REPUTATION. FOR OVER 40 YEARS THE PHOTOS WERE BURIED IN MY EXTENSIVE ARCHIVE OF UNPUBLISHED WORK.
LIKE GRAFFITI, TATTOOING WAS AN UNDERGROUND ART THAT, IN 2011, HAS SURFACED AND PROLIFERATED THROUGHOUT THE WORLD ALTHOUGH THE TOOLS, TECHNIQUES, AND DESIGNS HAVE EVOLVED. I'VE BEEN ESPECIALLY INTERESTED TO OBSERVE THE OVERLAPPING OF GRAFFITI AND TATTOOING. MANY TATTOO ARTISTS BEGAN AS GRAFFITI WRITERS.  I WAS EXCITED WHEN DOKUMENT IN SWEDEN, THE PUBLISHERS OF MANY GRAFF BOOKS INCLUDING MY BOOK, TAG TOWN, OFFERED TO PUBLISH MY TATTOO PHOTOS.
THIS YEAR, AIKO NAKAGAWA CREATED A MAGNIFICENT STENCIL BASED ON ONE OF MY PHOTOS FOR MY REMIX SHOW AT CARMICHAEL IN LA SO WE DECIDED TO TEAM UP FOR A TATTOO SHOW IN NYC. ADAM SUERTE'S URBAN FOLK ART TATTOO STUDIO AND GALLERY WAS THE PERFECT PLACE FOR AN EXHIBIT AND BOOK LAUNCH BECAUSE HE'S ONE OF THE MANY TATTOO ARTISTS WHO STARTED OFF AS A WRITER. PLEASE STOP BY FRIDAY EVENING IF YOU'RE ANYWHERE NEAR BROOKLYN."
SCAVALCATO DA 12OZ