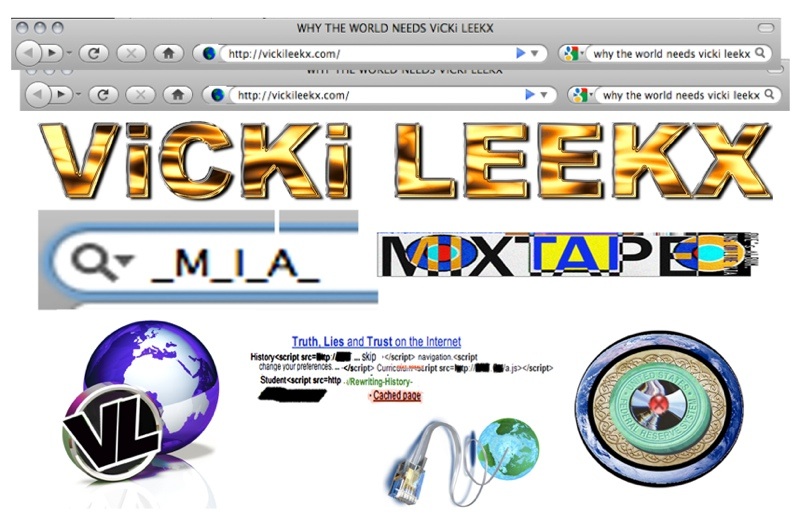 M.I.A. – THE VICKI LEEKX MIXTAPE
NON E' USCITO IERI, MA TE LO FACCIAMO ASCOLTARE LO STESSO: THE VICKI LEEKX MIXTAPE. PIU' CALDO DEI FILE DI ASSANGE.
PERCHE' "INCOMINCIARE IL SABATO CON UNA DELLE DONNE PIÙ CALDE DEL MOMENTO È COSA BUONA E DOVEROSA".
SE VUOI FARE DOWNLOAD METTI LA TUA MAIL QUI, O VAI DIRETTAMENTE SU VICKILEEKX.COM. INTANTO ASCOLTA:
TALMENTE VIRAL CHE NE AVEVA PARLATO PURE VOGUE.
TRACKLIST:
0:16 "THE WORLD"
1:39 "BAMBOO GO"
2:37 "ILLY GIRL"
3:23 "SUPER TIGHT"
4:50 "LET ME HUMP YOU"
7:00 "WWW/MEDS/FEDS"
8:57 "STEPPIN/UP"
9:58 "GO AT IT"
11:30 "VICKI INTERMISSION"
11:50 "GEN-N-E-Y"
14:55 "BAD GIRLS"
17:08 "DUTCH DUTCH"
17.27 "MARSHA/BRITNEY"
19:43 "TAMIL BEAT MUNCHI"
21:00 "LISTEN UP"
23:48 "MUDERSOUNDS MUNCHI"
26:18 "OVERDRIVE"
29:30 "YOU MY LOVE" (FEAT. ROSALY)
32.38 "GET AROUND"
-
THANKS TO PIGNA