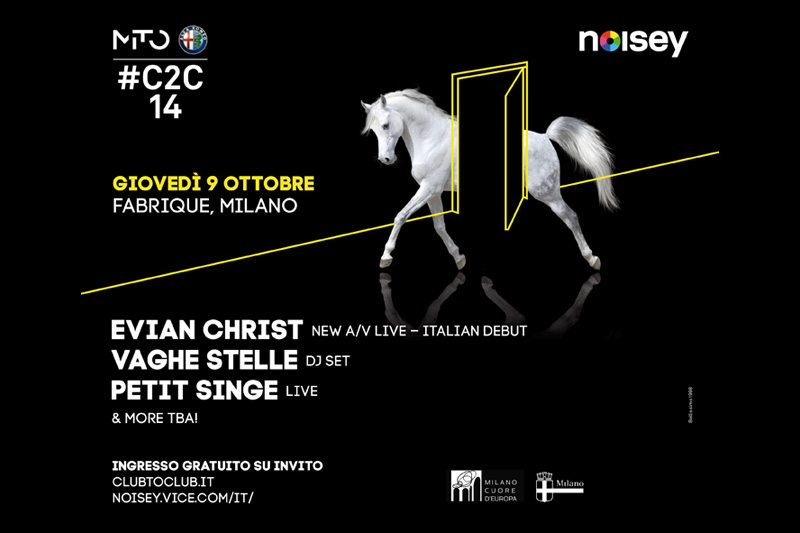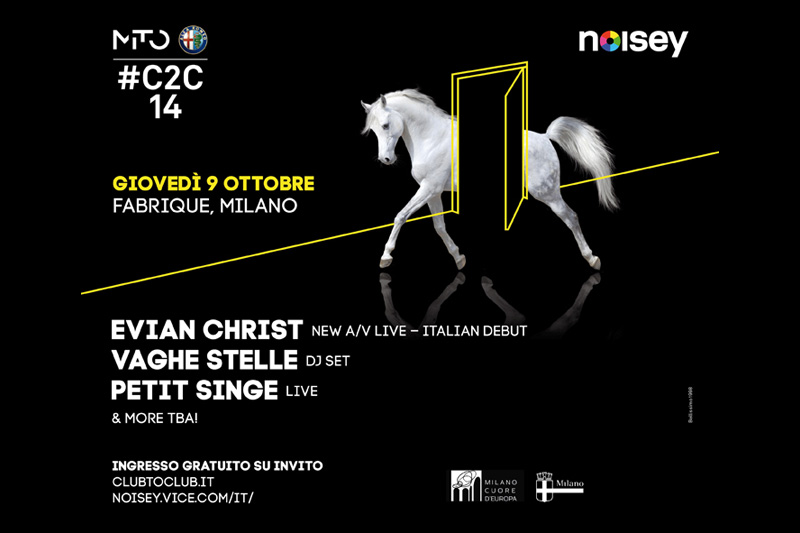 NOISEY & ALFA MITO #C2C14 PRESENTANO: EVIAN CHRIST A/V LIVE SET, 09.10.14
E' IL COMPLEANNO DI NOISEY E UNO DEI TANTI CONTI ALLA ROVESCIA PER CLUB TO CLUB.
EVIAN CHRIST, NOME IMMENSO (A PARTIRE DAL NOME STESSO CHE RICORDA UN CERTO GESU'), ARRIVA A MILANO PER LA PRIMA VOLTA IN UNA LOCATION A SUA VOLTA IMMENSA, IMMERSA NEI FANTASMI DI ZONA MECENATE ALL'INTERNO DI QUESTA CATTEDRALE CHE CONTIENE MIGLIAIA DI DEVOTI PRONTI A FARSI PERFORARE GLI OCCHI E LE ORECCHIE DA UN LIVE AUDIO VIDEO CHE PER ORA ABBIAMO VISTO SOLO ALL'ESTERO.
OPS
L'INGRESSO E' SU INVITO E CI SONO ANCORA UN PO' DI POSTI DISPONIBILI SE TI METTI IN LISTA QUI: HTTP://CLUBTOCLUB.IT/EVIAN-CHRIST
TI CONVIENE VENIRE PRESTO PER SENTIRE ANCHE LE SUGGESTIONI TRIBALI DI PETIT SINGE
E TORNARE A CASA TARDI PER SENTIRE FINO ALL'ULTIMO PEZZO IL DJ SET DI VAGHE STELLE E APPLAUDIRE TUTTI PER QUESTO ASSAGGIO IN ANTEPRIMA DI CLUB TO CLUB.
– EVENTO FB –
POLLICI SU:
HTTP://FACEBOOK.COM/CLUBTOCLUB
HTTP://FACEBOOK.COM/NOISEY
CIAO GUIDO, CIAO DAVIDE, CIAO SERGIO.