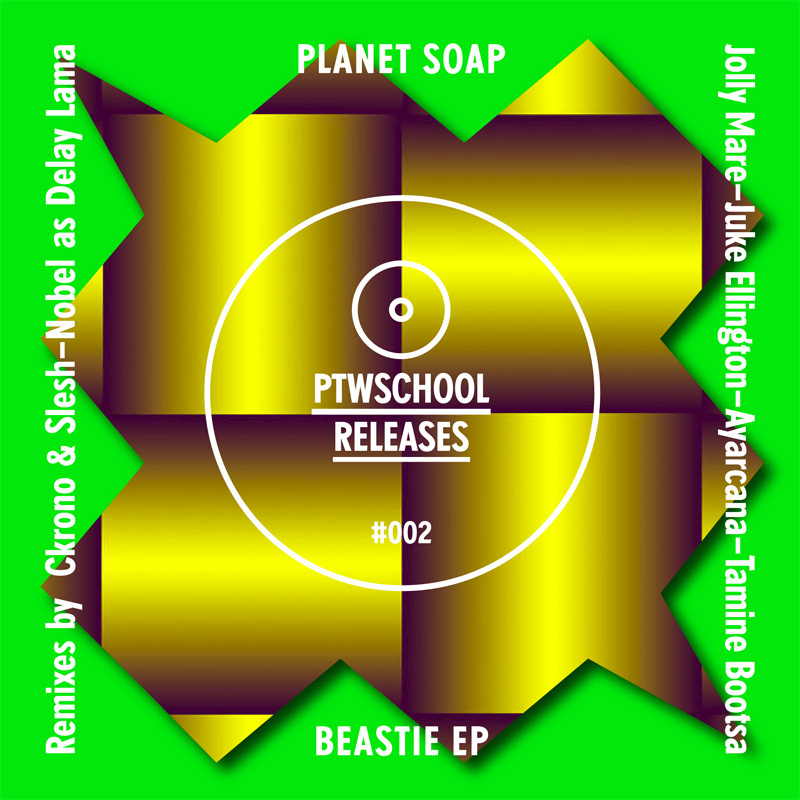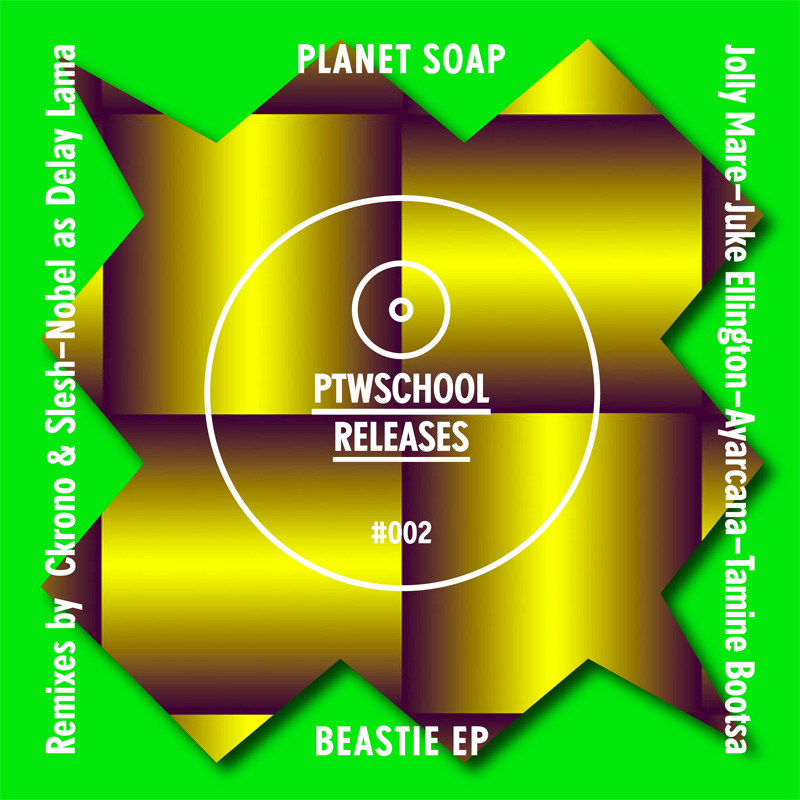 PLANET SOAP – BEASTIE EP / PTWSCHOOL RELEASES #002
B-U-M.
BASTEREBBERO SOLTANTO QUESTE TRE LETTERE PER INTRODURRE, PRESENTARE E RECENSIRE LA RELEASE DEI PLANET SOAP X PTWSCHOOL CHE TRA POCO ANDRAI AD ASCOLTARE, MA IN REALTA' DI COSE DA DIRE CE NE SONO UN TOT E ALLORA NON CI FERMIAMO QUA.
INIZIAMO CON ORDINE: SIAMO ALLA RELEASE NUMERO #002, CHE IN REALTA' E' LA TERZA, MA VOGLIAMO CONSIDERARE L'ESPERIENZA RIVER GBEH DI FEBBRAIO SCORSO COME L'USCITA NUMERO #000 (OK CAPIAMO), E QUELLA DI IAMSEIFE – PRIMO EP HOSTED SU SOUNCLOUD – COME LA NUMERO #001 (OK FACCIAMO), E COSI' VIA. ECCO, SEGNATI QUESTE COSE PERCHE' DALLA PROSSIMA NON LE RIPETEREMO PIU'.
QUESTO EP DI OTTO TRACCE DEL POWER DUO FROM BRIANZA ARRIVA PUNTUALISSIMO NEL CUORE DELL'AUTUNNO, ANNUNCIATO VENERDI' SU SENTIREASCOLTARE IN ANTEPRIMA E, DOBBIAMO ESSERE SINCERI, NON SAPPIAMO ANCORA SE DIRTI COME SEMPRE: "TI RINFRESCA, ECC. COME IL GHIACCIOLO", OPPURE SEMPLICEMENTE "TI RISCALDA ECC. COME QUALCOSA DI CALDO APPENA SFORNATO", MAGARI LO PREFERISCI, BOH, MEZZE STAGIONI, FREDDO, CALDO, TIEPIDO, DECIDI TU.  L'ALTRO DUBBIO INVECE E' SUL GENERE IN CUI INSERIRE I PLANET SOAP, COSA CHE PUO' TORNARE UTILE QUANDO SCRIVI UNA RECENSIONE: BEAT, JUKE, WONKY, GARAGE, MANSARDA, AVANT-POP? E' QUESTA LA LORO FORZA, IL LORO GENERE SECONDO NOI SI CHIAMA PLANET SOAP E ALL'INTERNO DELLA SCENA ITALIANA HANNO UN SUONO ABBASTANZA UNICO, INSOMMA, SE LI CONOSCI LI RICONOSCI SUBITO. NUCLEARI.
 BEASTIE EP (PTW#002) OLTRE ALLE DUE TRACCE ORIGINALI, BEASTIE (CHE GIA' AVRAI SENTITO NEL VIDEO-REPORT DEL LORO LIVE X PTWSCHOOL SHOWCASE @ JAZZ RE:FOUND) E COME ON, CONTIENE ALTRI SEI REMIX, TRE CONTRO TRE, DA UNA PARTE CKRONO&SLESH, NOBEL AS DELAY LAMA E JOLLY MARE, ITALIANO SELEZIONATO PER LA REDBULL ACADEMY DI NEW YORK E CON CUI ABBIAMO CONDIVISO QUEST'ESTATE L'ESPERIENZA STREAMFEST, MENTRE DALL'ALTRA, CON COME ON, JUKE ELLINGTON, AYARCANA E TAMINE BOOTSA, TUTTI VINCITORI. L'ULTIMO, T.B., OLTRE CHE PRODUTTORE COME TUTTI GLI ALTRI E' ANCHE UN AMICO DEI PLANET SOAP, NEL SENSO CHE ESCONO NELLA STESSA COMPAGNIA, STESSA PLAZA, CENE INSIEME E LO SAI: GLI AMICI PRIMA DI TUTTO.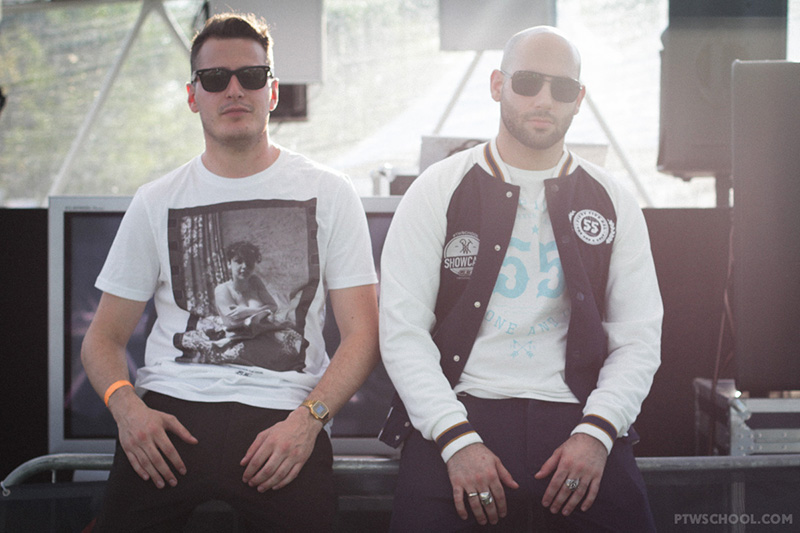 ARTWORKS BY LL & AAJR, PHOTO BY RFM / PTWSCHOOL
DOWNLOAD BEASTIE_EP.ZIP

TRADUZIONE: VICKY MILLER
B-U-M.
THESE THREE LETTERS ALONE WOULD BE ENOUGH TO INTRODUCE, PRESENT AND REVIEW THE PLANET SOAP X PTWSCHOOL RELEASE THAT YOU'LL BE HEARING VERY SHORTLY, BUT THERE ARE ACTUALLY A FEW OTHER THINGS TO BE SAID SO WE WON'T STOP THERE.
LET'S START IN AN ORDERLY FASHION: THIS IS RELEASE #002, WHICH IS ACTUALLY THE THIRD, BUT WE LIKE TO THINK OF THE RIVER GBEH EXPERIENCE FROM LAST FEBRUARY AS RELEASE #000 (OK WE GOT IT), AND THE FIRST EP FROM IAMSEIFE HOSTED ON SOUNDCLOUD AS NUMBER #001 (OK LET'S DO IT), AND SO ON. BETTER PAY ATTENTION, BECAUSE THAT'S THE LAST TIME WE'RE EXPLAINING IT.
THIS EIGHT TRACK EP FROM THE BRIANZA POWER DUO ARRIVES RIGHT ON TIME FOR AUTUMN, IT WAS ANNOUNCED IN A PREVIEW ON SENTIREASCOLTARE ON FRIDAY, AND TO TELL YOU THE TRUTH, WE DON'T KNOW WHETHER TO USE THE OLD: "IT'S FRESH LIKE AN ICE LOLLY" APPROACH, OR SIMPLY, "IT'S HOT LIKE SOMETHING THAT'S JUST COME OUT OF THE OVEN". IT'S AUTUMN AFTER ALL, SO MAYBE YOU PREFER, WELL, COLD-HOT-LUKEWARM, WHATEVER, YOU DECIDE. OUR OTHER DOUBT IS WHAT GENRE PLANET SOAP FALL INTO, SOMETHING THAT'S QUITE USEFUL TO KNOW WHEN WRITING A REVIEW: BEAT, JUKE, WONKY, GARAGE, ATTIC, AVANT-POP? AND THAT'S WHERE THEIR STRENGTH LIES, WE RECKON THE NAME OF THEIR GENRE IS PLANET SOAP, AND THEY'VE GOT A PRETTY UNIQUE SOUND ON THE ITALIAN SCENE. BASICALLY, IF YOU KNOW THEM, YOU'LL RECOGNISE THEM STRAIGHT OFF. NUCLEAR.
THE BEASTIE EP (PTW#002), IN ADDITION TO TWO ORIGINAL TRACKS, BEASTIE (WHICH YOU'LL HAVE HEARD IN THE VIDEO-REPORT OF THEIR LIVE X PTWSCHOOL SHOWCASE @ JAZZ RE:FOUND) AND COME ON, CONTAINS ANOTHER SIX REMIXES, THREE ON THREE. ON ONE SIDE, CKRONO&SLESH, NOBEL AS DELAY LAMA AND JOLLY MARE, THE ITALIAN SELECTED FOR REDBULL ACADEMY IN NEW YORK AND THE GUY WE HUNG OUT WITH AT STREAMFEST THIS SUMMER, WHILE ON THE OTHER, WITH COME ON, JUKE ELLINGTON, AYARCANA AND TAMINE BOOTSA, ALL THREE WINNERS IN THEIR OWN RIGHT. AS WELL AS BEING A PRODUCER LIKE ALL THE OTHERS, THE LATTER, T.B., IS ALSO A FRIEND OF PLANET SOAP, IN THE SENSE THAT THEY HAVE THE SAME GANG, SAME TURF, AND EAT DINNER ALL TOGETHER. AND WE ALL KNOW: FRIENDS COME FIRST.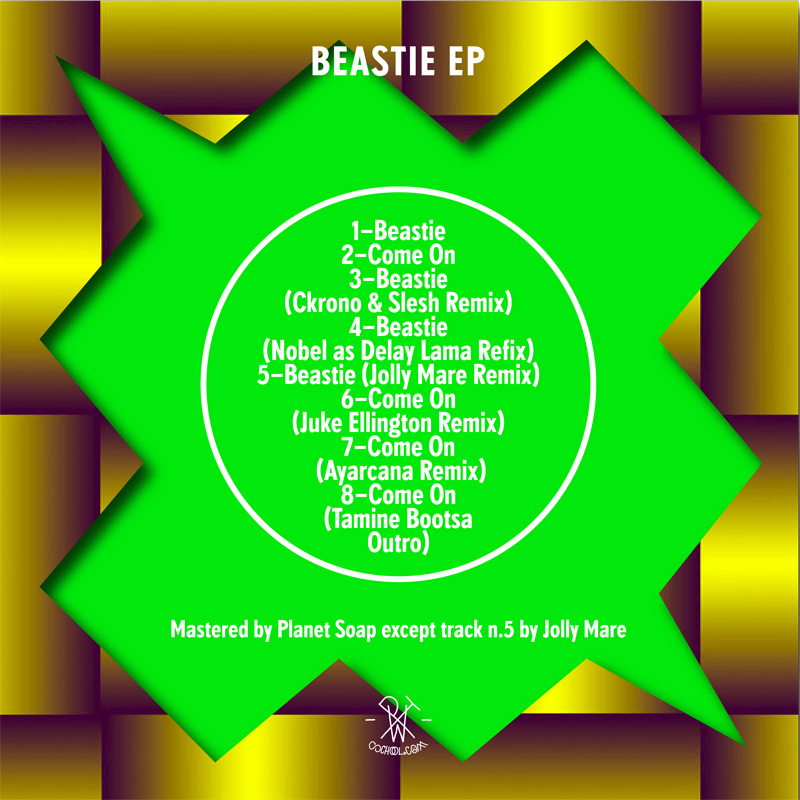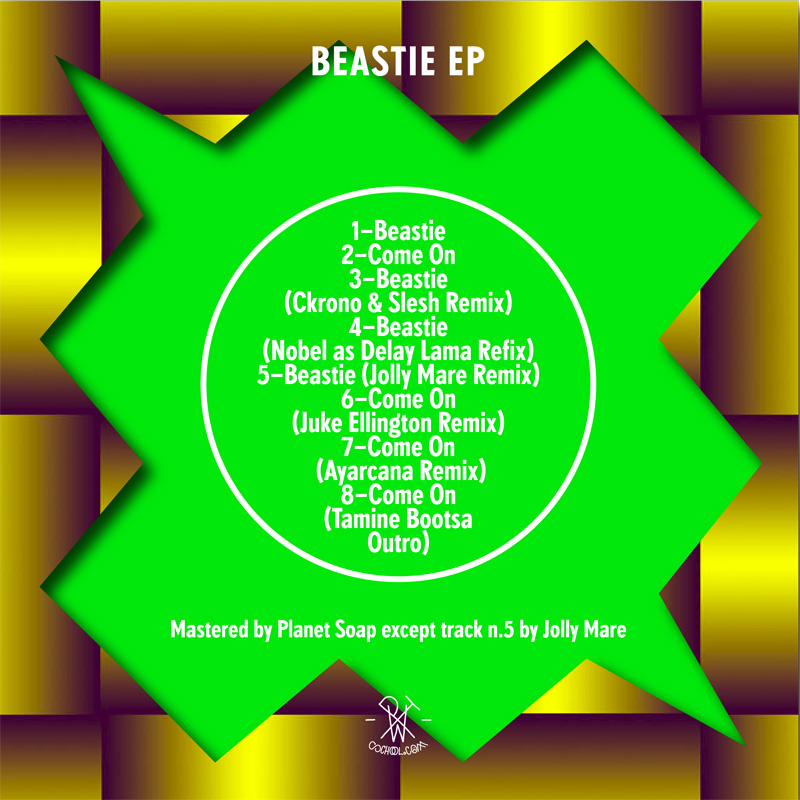 TI ALLEGHIAMO ANCHE IL BACK, CHE NON VERRA' MAI STAMPATO, MA NON SI SA MAI…
CIAO BEASTIE BOYS