REDBULL MUSIC ACADEMY WORLD TOUR – LONDRA VS ROMA
UNA LINE UP DA FAR GIRARE LA TESTA E UNA LOCATION CHE DI SOLITO FA LO STESSO
LE 30 CAPSULE CHE FORMANO LA LONDONEYE VERRANNO RIEMPITE DALLA CREMA MUSICALE DI LONDRA E PER TRE ORE OFFRIRANNO UN SILENT SET A TUTTI QUELLI CHE PRENDERANNO IL BIGLIETTO CHE COSTA: ZERO!!
CI SARANNO:
WRETCH 32, SKREAM & BENGA W/ SGT POKES, METALHEADZ FT GOLDIE MC JUSTYCE, KANO, DIGITAL SOUNDBOY SOUNDSYSTEM (SHYFX, BREAKAGE, B TRAITS, DONAE'O, STAMINA MC & YOUNGMAN), ROB DA BANK PRESENTS SUNDAY BEST, RODIGAN, FABRICLIVE FT. HESSLE AUSIO (PEARSON SOUND, BEN UFO, PANGAEA), ANDREW WEATHERALL, ROLLER EXPRESS FT. TODDLA T & REDLIGHT, DON LETTS, YOYO, DEVIATION FT BENJI B, L-VIS 1990 B2B BOK BOK (NIGHT SLUGS), THE 2 BEARS, CHANNEL ONE SOUND SYSTEM, JACKMASTER, LUNICE, RBMA MADRID FT XXXY & DOC DANEEKA, ANDREYA TRIANA & TANYA AUCLAIR, RBMA ALLSTARS FT SPACE DIMENSION CONTROLLER B2B BRAIDEN, MOSHI MOSHI FT D/R/U/G/S & NIGHT ANGLES PLUS MORE TBA
DEO GANE
TUTTO QUESTO AMBARADAN FA PARTE DEL MEGA PROGETTO CHE SOTTO IL CLAIM "AMPLIFYING LOCAL SCENES BEYOND THE BEAT" E' PARTITO IL 29 AGOSTO DA CAPE TOWN E FINIRA' PROPRIO A LONDRA IL 13 OTTOBRE. QUELLI DI REDBULL SE NE VANNO IN GIRO PER IL MONDO E INCOMINCIANO A SPINGERE A MANETTA LA SCENA LOCALE.
E' EVIDENTE CHE A LONDRA LA SCENA LOCALE E' LA SCENA MONDIALE, LO CAPISCI QUANDO ARRIVANO A ROMA E CHI CHIAMANO A SUONARE?
ENNIO MORRICONE
CHE OK MASSIMO RISPETTO MA QUESTO TI FA CA PIRE QUANTO CAZZO C'E' BISOGNO DI METTERE LA MUSICA ITALIANA IN UN FRULLATORE INSIEME AD UN PO' DI DINAMITE, FRULLARE BENE E SERIVIRE A COLAZIONE A TUTTI QUELLI CHE STANNO DIETRO AD UNA CONSOLLE, DIETRO UNO STRUMENTO O DIETRO UNA SCRIVANIA GESTENDO UN LOCALE.
CRISTO SVEGLIA RAGA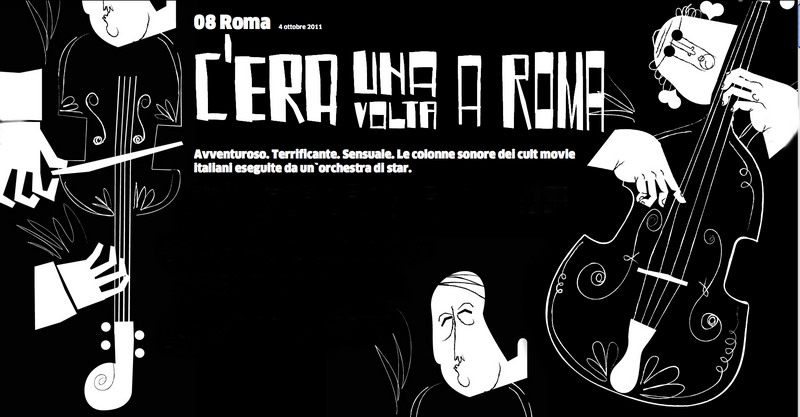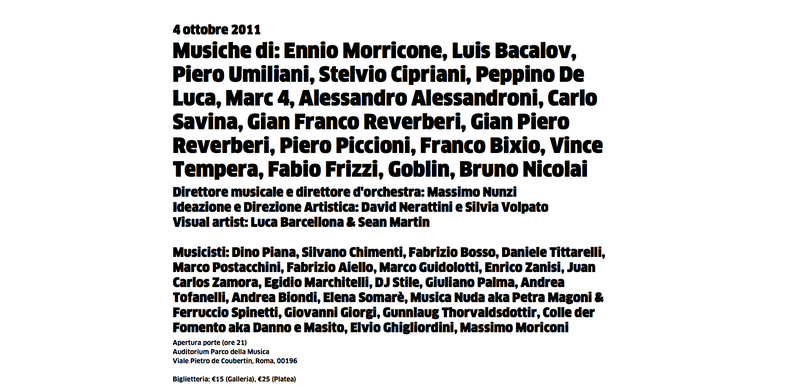 L'APPUNTAMENTO E' PER IL 13 OTTOBRE ANCHE PER TE CHE VIVI A CESANO BOSCONE PERCHE' QUELLI DI REDBULL FANNO LE COSE PER BENE E TI SPARANO TUTTO IL SET ON LINE IN LIVE STREAMING QUA
DIMENTICATELO PURE TANTO TE LO RICORDIAMO NOI