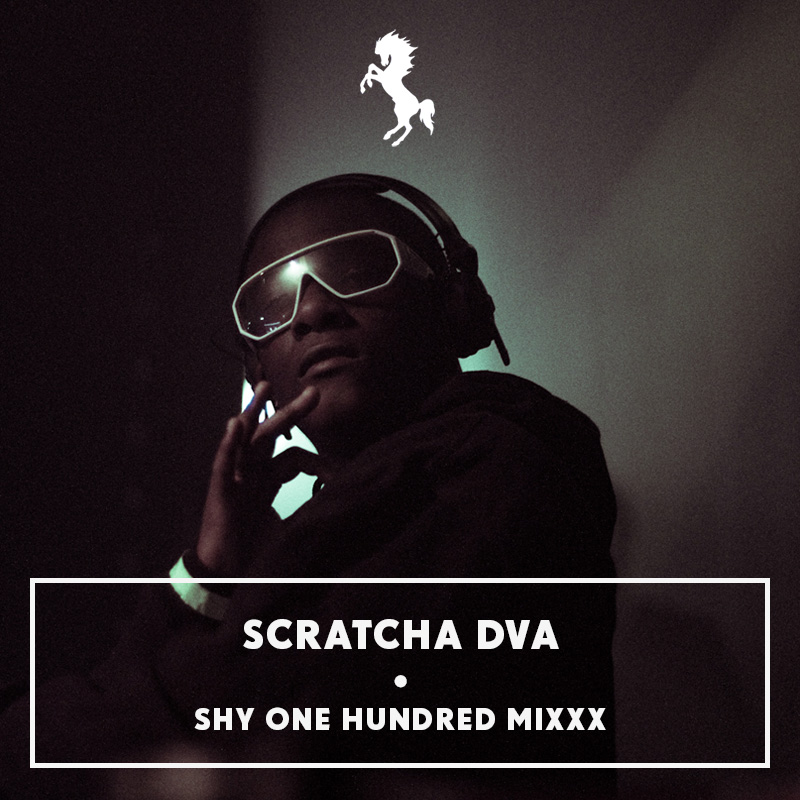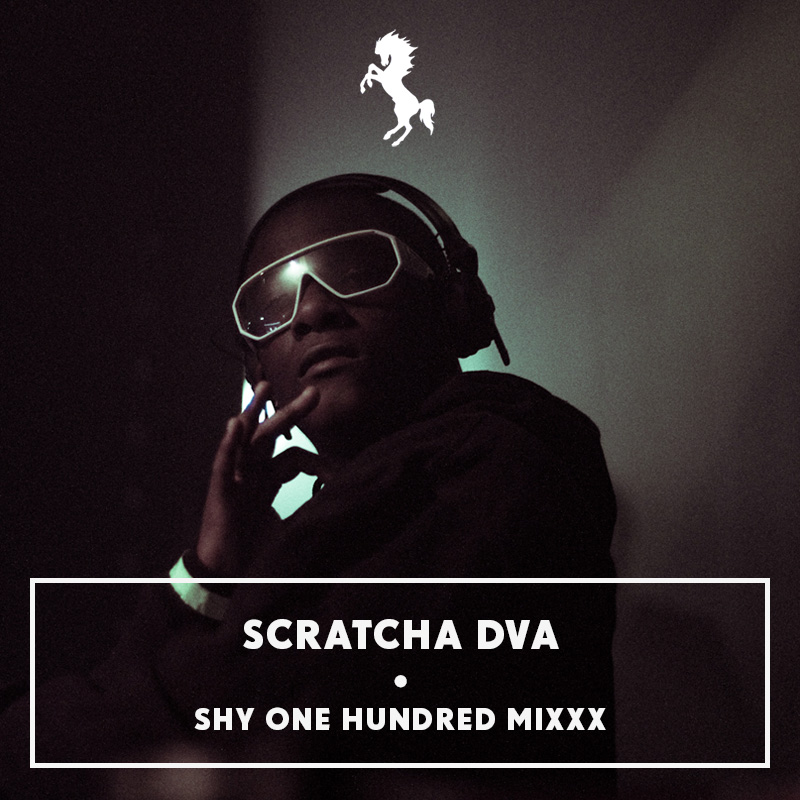 SCRATCHA DVA X VIRALBASS X PTWSCHOOL – SHY ONE HUNDRED MIXXX / XXXCLUSIVE
IL THE MIXIE VOL. 3 DI DJ PIER DI VIRALBASS E' UNO DEI RICORDI PIU' PIACEVOLI CHE ABBIAMO PERCHE' A INIZIO 2011 LA "REALTA'" DI PTWSCHOOL ERA ANCORA TUTTA IN NASCERE, QUINDI RISPETTO SEMPRE E BELLA PE' LORO CHE CI HANNO CREDUTO SUBITO. IN QUESTI ANNI NATURALMENTE SIAMO RIMASTI IN CONTATTO E ABBIAMO SEMPRE SEGUITO LE LORO SERATE, POI OGNI TANTO UN HIT SU TWITTER, UN LIKE SU FACEBOOK, UNA MAIL ECC. E A QUESTO GIRO E' SCATTATA LA COLLABOW:
SCRATCHA DVA X DVA MUSIC X VIRALBASS X PTWSCHOOL
TE L'ABBIAMO SEMPRE DETTO CHE LE COLLABO SONO IL FUTURO. SPIEGHIAMO MEGLIO:
SCRATCHA DVA NEL POSTO, VIRALBASS NIGHT ROUND 2, XXXCLUSIVE MIX X PTWSCHOOL. VAI OLTRE PER LE ALTRE INFO SULL'EVENTO. QUELLO CHE DEVI SAPERE SUL MIX INVECE E' CHE SCRATCHA HA FATTO UNA COSA MOLTO SPECIALE: HA SUONATO SOLO PEZZI E REMIX DI SHY ONE FROM DVA MUSIC FUORI TRA NON MOLTO CON UN LP GRASSO: BEDKNOBS & BOOMBCLICKS #DVALP001. IL MIX OVVIAMENTE E' IN FREE DOWNLOAD.
TRACKLIST:
SHY ONE – SPEAK EAZY
SHY ONE – PASTEL REQUIEM
SHY ONE – BLACK WIDOW
SHY ONE – THE WINDS THAT PRODUCED THE STORM
SHY ONE – SKANK OUT
DAVINCHE FT SOPHIE SOF – JAY Z MONEY (SHY ONE REMIX)
SHY ONE – AZTEC BWOY
SHY ONE FT RUBY LEE RYDER – SPRING ROMANCE
SHY ONE – HOWARD
FRENCH FRIES FT BAMBOUNOU – HUGZ (SHY ONE REMIX)
SHY ONE – LICKLE RASCAL
SHY ONE – QUID PRO QUO
♦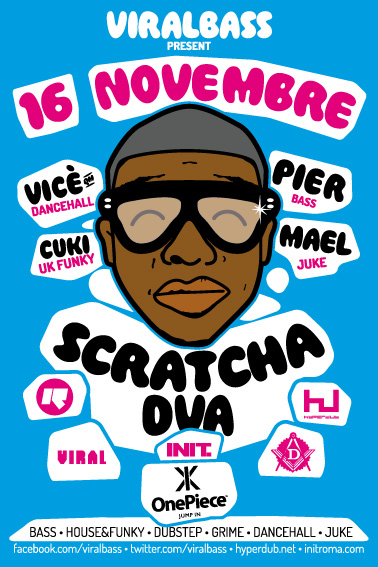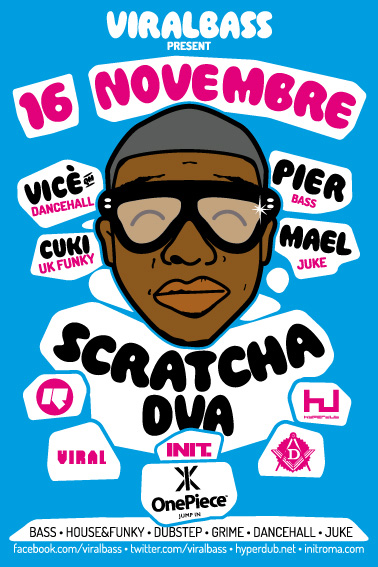 LA DATA DELLA VIRALBASS NIGHT ROUND 2 E' IL 16 NOVEMBRE, SEGNATELO SULL'AGENDA DELLE FESTE ROMANE, PRENDI UN TRENO, VAI NELLA CAPITALE O SE CI SEI GIA' TANTO MEGLIO PER TE. NOI FAREMO IL POSSIBILE PER ESSERCI E FINALMENTE CONOSCERCI DI PERSONA COI RGZ.
LA LINEUP E LA SEGUENTE:
VICÈ (QUADRAROMASSIVE RM, DANCEHALL) HTTP://TWITTER.COM/CLASSICOROME
CUKIMAN (UKF/UKG) HTTP://TWITTER.COM/CUKIMAN
DJ PIER (BASS/DUBSTEP) HTTP://TWITTER.COM/PIERVIRAL
SCRATCHA DVA HTTP://TWITTER.COM/SCRATCHADVA
DJ MAEL (OUTERNATIONAL RM, JUKE) HTTP://TWITTER.COM/MAELSOUND
– EVENTO FB –
 CIAO SCRECCI