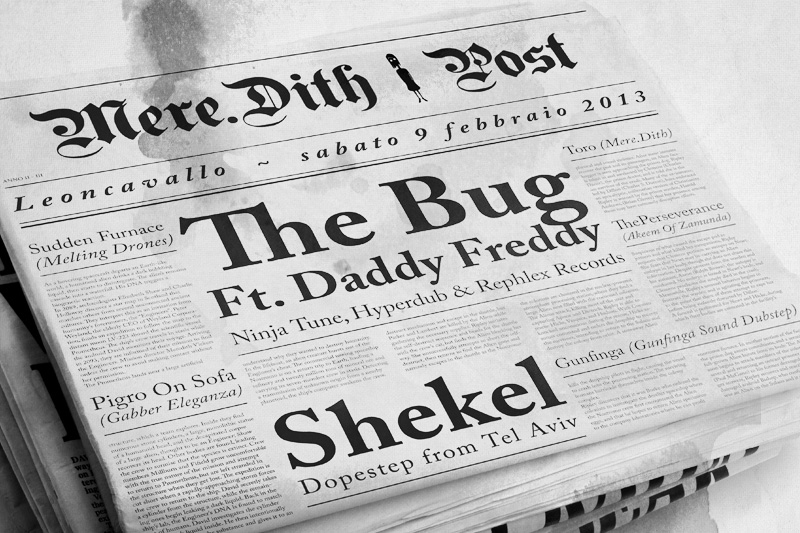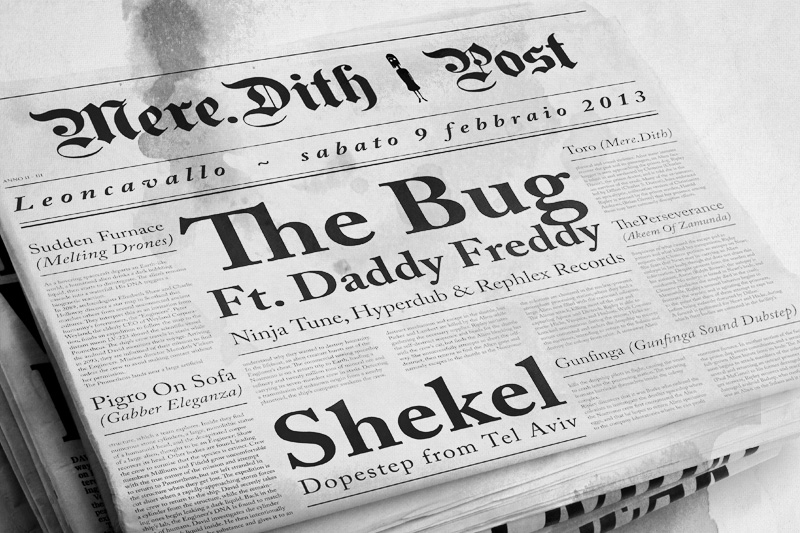 THE BUG & DADDY FREDDY, SHEKEL, PIGRO ON SOFA X MERE.DITH AL LEONCAVALLO, 09.02.2013
SI', L'ABBIAMO DETTO, SARA' UN WEEKEND IMPEGNATIVO. UNO DI QUEI WEEKEND IN CUI DOVRAI DIVIDERTI REGOLARMENTE IN TRE PARTI E MUOVERTI DA UN ANGOLO ALL'ALTRO DI MILANO. PERCUI SAREMO BREVI, THE BUG FEAT. DADDY FREDDY, SHEKEL E AD APRIRE LE DANZE PIGRO ON SOFA A.K.A. GABBER ELEGANZA AND MORE.
THE BUG LO CONOSCIAMO TUTTI PER ALCUNI PEZZI CHE PER ANNI HAI SENTITO IN QUALSIASI CLUB DEL PIANETA, TIPO SKENG, UNO DI QUEI PEZZI CHE TUTTI ALMENO UNA VOLTA NELLA VITA ABBIAMO MESSO IN LOOP NELL'IPOD. SHEKEL INVECE DICONO FACCIA RAGGA-GORESTEP, MINCHIA BOH.
MA NON E' TUTTO.
IL VIDEO FLYER E' CHIARO, IL LEONCAVALLO LO CONOSCI, QUESTA ROBA CI CALZA A PENNARELLO, IMMAGINATI LA SITUAZIONE PREMENDO PLAY A TUTTE QUESTE COSE QUI SOTTO CONTEMPORANEAMENTE.
CHE CASINO CHE VERRA' FUORI.
THE BUG FEAT. DADDY FREDDY
SHEKEL
PIGRO ON SOFA
SUDDEN FURNACE (LIVE)
E POI:  
THE PERSEVERANCE
FROM AKEEM OF ZAMUNDA
TORO
IL VERO RESIDENT DI MERE.DITH
GUNFINGA 
CHE DIO TE LO SPINGA
MA QUANTI CAZZO SIETE? ATTENZIONE AI MURI DEL LEO, SE TUTTA QUESTA LINEUP TI SPAVENTA (E DOPO TUTTO MERE.DITH E' DA SEMPRE TERRORE) C'E' SEMPRE IL BARETTO.
– EVENTO FB –