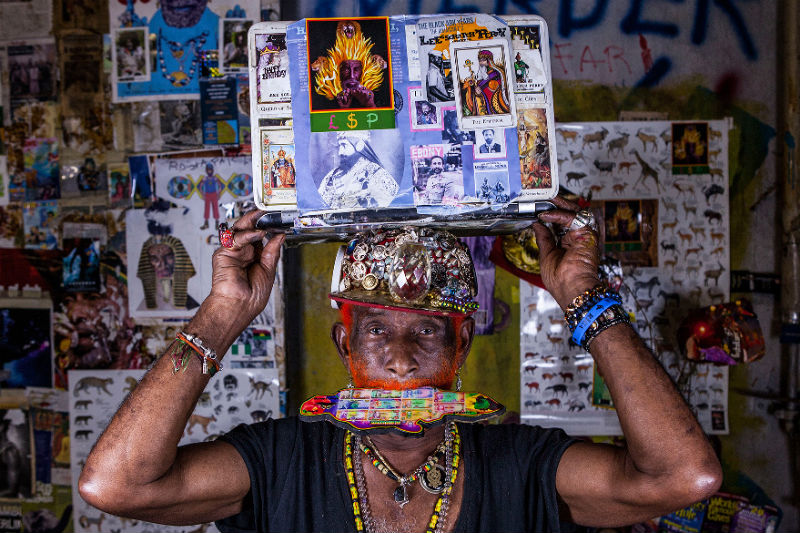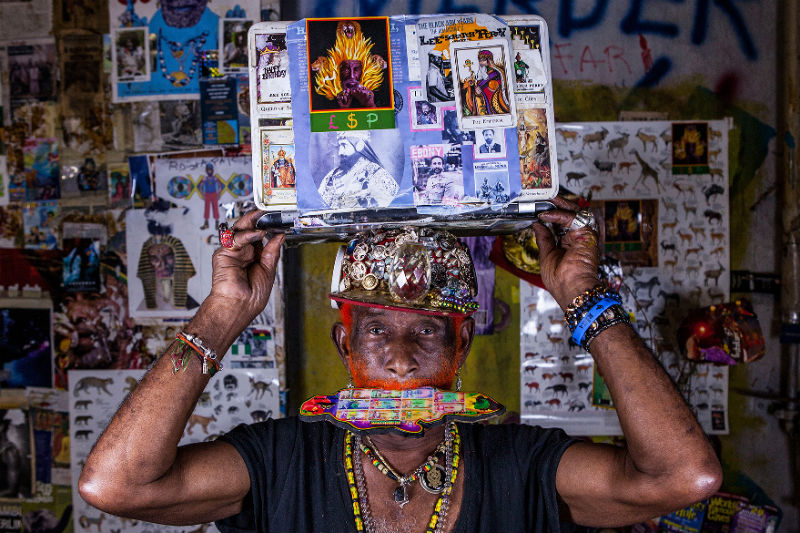 "THE DEATH OF BATHOMET" LA NUOVA ESPOSIZIONE DI LEE "SCRATCH" PERRY
LEE "SCRATCH" PERRY  HA UN SUO NUOVO ART SHOW A LOS ANGELES, ALLA DEM PASSWORD GALLERY, E IL TEMA PRINCIPALE E' LA CRITICA AGLI ILLUMINATI, IL DIAVOLO E "IL SUO PUPAZZO" JAY-Z.
TIE' JIGGA, PRENDI E PORTA A CASA.
INAUGURA OGGI LA TERZA ESPOSIZIONE PERSONALE DI COLUI CHE CONOSCIAMO ANCHE CON IL NOMIGNOLO DI "THE UPSETTER",  L'INCAZZOSO, DA QUANDO NEGLI ANNI 60 FECE GIRARE LE SCATOLE AI KING DELLA MUSICA JAMAICANA DEL TEMPO PRODUCENDO QUELLOCHE LA STORIA HA DEFINITO IL PRIMO DISSING MAI ESISTITO.
LA CANZONE IN QUESTIONE E' "PEOPLE FUNNY BOY", MA QUESTA E' UN'ALTRA STORIA.
INFATTI L'ECCENTRICO OMETTO DALLA BARBA ROSSA HA DECISO DI CONTINUARE LA SUA BATTAGLIA CONTRO IL PECCATO ORIGINALE E TUTTE LE SUE METAMORFOSI SIANO ESSE BANCHE, SATANISTI, MASSONI O JAY Z, COSI' COME SPIEGA IN QUESTO VIDEO MESSAGGIO.
 "THE ART SHOW PRESENT THE DEATH OF BAPHOMET. THE DEATH OF BAPHOMET AND THE ILLUMINATI AND THE DOOM OF EGYPT FOREVER. THE ART SHOW NAMED THAT…THE DEATH OF BAPHOMET…AND HIS PUPPET, JAY-Z"
IL COMUNICATO STAMPA SPIEGA ANCHE CHE COSA TROVERANNO I VISITATORI UNA VOLTA ENTRATI IN GALLERIA:
"THE DEATH OF BAPHOMET PRESENTS 4 INTERRELATED OUTPUT STYLES – WRITINGS, SPELL CASTING PAINTINGS, ASSEMBLAGES AND VIDEO. THE MIRRORS HE'S LONG SINCE PATTEXED (GLUED) TO HIS HATS AND BOOTS HAVE BEEN ENLARGED AND GET FULL TREATMENT. PERRY'S PRE-STRETCHED CANVASES STACK VERTICALLY FORMING A KIND OF SHATTERED CRUCIFIX AFFIXED WITH PHOTOS OF HIMSELF AND CLIPPINGS FROM GERMAN MAGAZINES. STONES, COCONUTS AND SPENCER'S GIFTS DETRITUS COME TOGETHER TO FORM OBJECT COLLAGES. AN UNABRIDGED DICTIONARY-THICK VOLUME OF PERRY'S WRITINGS IN MICROSOFT WORD FROM 2007 PUBLISHED IN AN EDITION OF 3 BY THIS GALLERY CONTAINS OVER 1,000 PAGES OF ORIGINAL EPIC POETRY THAT PERRY PECKED OUT WITH HIS INDEX FINGER"
CHISSA' SE LA VOCE E' ARRIVATA A JAY-Z!! CMQ MEGA RISPETTO PER QUESTO ENNESIMO DISSING DA PARTE DI MR PERRY.
SE QUESTA FIGURA MITOLOGICA TI INTERESSA DOVRESTI GUARDARTI LE ALTRE SUE ESPOSIZIONI ( REPENT AMERICANS E SECRET EDUCATION) E  SOPRATTUTTO "NEGUS" IL LAVORO FATTO CON LUI DAGLI ITALIANISSIMI INVERNOMUTO AKA PALM WINE E DRACULA LEWIS PER CAPIRCI AL VOLO. NOI NE PARLAMMO QUI QUANDO STAVANO FACENDO CROWDFOUNDING.
CIAO JAH