THE MIXIE VOL. 24 / BOSSTONE
DA PHILADELPHIA A MELBOURNE SONO INFINITE ORE DI VOLO, MA QUI SU THE MIXIE LE ORE DI VOLO SONO SOLO VIRTUALI. QUALCHE SETTIMANA FA CON BOMBÉ NON VOLEVAMO ABUSARE DI ESPRESSIONI COME BOMBA, BOOM, ESPLOSIONI ECC. (TROPPO SCONTATO), MA A STO GIRO CON BOSSTONE POSSIAMO ECCOME. ANZI DOBBIAMO.
QUESTO MIX E' UNA BOMBA! 
ECCO, CHE LIBERAZIONE (COME LA FESTA).
DEVI SAPERE CHE BOSSTONE LO SEGUIVAMO DA UN PO', OGNI UPLOAD SU SOUNDCLOUD E' GIOIA, OGNI EP (UNO SULLA FRANCESE SOUKOUCH ETHNIK, MENTRE L'ULTIMO SULL'OLANDESE PARADISIACA) E' DINAMITE, PERCHE' CHRIS E' UNO DEI PRODUTTORI GIOVANI PIU' INTERESSANTI AL MOMENTO ED E' IN QUEL GIRO DI GIUSTONI (KRUEGER, RIVER GBEH, LUCID, PER INTENDERCI) CHE SEGUIAMO E CHE SECONDO NOI SONO UN PO' IL FUTURO. GIUSTO UN PO'. POI CHISSA'. LE SUE BASI SONO FORTEMENTE INFLUENZATE DA RAP E R'N'B E SI SA CHE RAP E R'N'B SONO IL FUTURO, QUINDI FORSE NON CI SBAGLIAMO. LA CAPACITA' DI BOSSTONE, A.K.A. CHRIS, DI MESCOLARE I SUOI ASCOLTI IN CIO' CHE PRODUCE FANNO DI LUI UN VINCENTE, LO TESTIMONIANO ANCHE GLI INFINITI REMIX E BOOTLEGS CHE TROVI SUL SUO CANALE E CHISSA' QUANTI ALTRI NE HA SUL SUO COMPUTER. QUEL PASSAGGIO CHE FA VERSO IL MINUTO 8 DI QUESTO THE MIXIE VOL. 24. RIASSUME TUTTO IL SUO STILE.
ONE MORE THING: CON IL SUO VALENTINE MIX (CHE E' LA SUA PRODUZIONE CHE CI HA DI FATTO CONQUISTATO DEFINITIVAMENTE) HA DIMOSTRATO DI SAPERE ANCHE COSA VUOL DIRE AMARE. LOVE. ASCOLTA ANCHE QUELLO SE NON CI CREDI. COSA VUOI DI PIU', UN INVITO A CENA? HEY MAGARI CE LA FAI. TIENITI LIBERA TRA GIUGNO E LUGLIO CHE LUI E IL SUO SOCIO LUCID PRENDERANNO UN AEREO E VERRANNO NELLA VECCHIA EUROPA, DOVE L'ACQUA NEI LAVANDINI GIRA AL CONTRARIO.
CIAO CANGURI.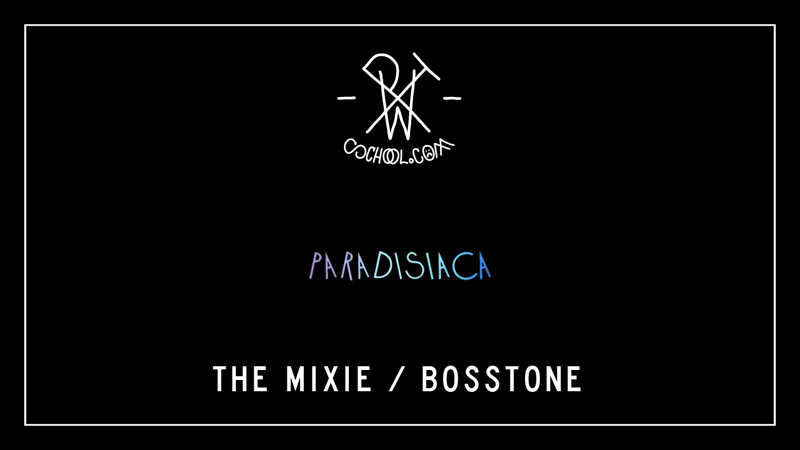 IT'S A HELL OF A LONG FLIGHT FROM PHILLY TO MELBOURNE, BUT HERE ON THE MIXIE WE FLY VIRTUALLY. WHEN BOMBÉ WAS HERE A COUPLE OF WEEKS AGO WE WERE STRUGGLING NOT TO OVERDO IT WITH THE BOMB, BOOM, EXPLOSIVE TALK ETC. (WAY TOO OBVIOUS), BUT THIS TIME ROUND WITH BOSSTONE WE CAN GO WILD. AND THEN SOME. 
THIS MIX IS THE BOMB!
GLAD WE GOT THAT OFF OUR CHESTS.
YOU GOTTA KNOW THAT WE'VE HAD AN EYE ON BOSSTONE FOR A WHILE NOW, EVERY UPLOAD TO SOUNDCLOUD IS PURE JOY, EVERY EP (ONE ON FRENCH LABEL SOUKOUCH ETHNIK AND THE LATEST ON DUTCH LABEL PARADISIACA) DYNAMITE, BECAUSE CHRIS IS ONE OF THE MOST INTERESTING YOUNG PRODUCERS AROUND AT THE MOMENT AND HE'S PART OF THAT GANG WHO ARE REALLY ON IT (WE'RE TALKING ABOUT KRUEGER, RIVER GBEH, LUCID…) AND WHO WE RECKON ARE PROBABLY THE FUTURE. PROBABLY. BUT WHO KNOWS. HIS TRACKS ARE HEAVILY INFLUENCED BY RAP AND R'N'B AND EVERYBODY KNOWS RAP AND R'N'B ARE THE FUTURE, SO MAYBE WE'RE NOT SO FAR OFF. BOSSTONE, A.K.A. CHRIS, HAS THE ABILITY TO MIX WHAT HE LISTENS TO INTO WHAT HE PRODUCES AND THAT MAKES HIM A WINNER, PROVED TOO BY THE ENDLESS REMIXES AND BOOTLEGS TO BE FOUND ON HIS CHANNEL AND THE WHO KNOWS HOW MANY MORE ON HIS COMPUTER. THAT MIX HE DOES AROUND MINUTE 8 OF THIS THE MIXIE VOL. 24 SUMS UP HIS WHOLE STYLE.
ONE MORE THING: WITH HIS VALENTINE MIX (WHICH WAS WHAT REALLY WON US OVER) HE SHOWED THAT HE ALSO KNOWS WHAT IT MEANS TO LOVE. LOVE. LISTEN TO IT IF YOU DON'T BELIEVE US. WHAT MORE DO YOU WANT, A DATE? WELL, MAYBE YOU'RE IN WITH A CHANCE. DON'T GO ANYWHERE IN JUNE AND JULY CAUSE BOSSTONE AND PARTNER LUCID ARE GETTING ON A PLANE AND COMING TO THE OLD CONTINENT, WHERE THE WATER DRAINS THE OTHER WAY. 
TOODLE-DOO KANGAROO.
TRACKLIST:
MANIKAN – GGGGETTIN' HEAD
CASHMERE CAT- HHALDEN
KRUEGER – TALK (BAAUER REMIX)
TORY LANEZ – WOODEN BEADS
THE PHANTOM – GOTHIC
TORO TORO BLUE BLOUSE (NADUS REMIX)
BBMG – #BBMG ANTHEM
DING DONG – GO AWAY JERSEY REMIX
MIKE GIP – ELEVATOR
JAYHOOD – BREAK YO BACK
JAYHOOD – ASS ON THE FLOOR
KMILLZ FEAT. MIKE HARDY – GYPSY RUN
QUALITY – MOMENTS IN LOVE
STRICT FACE – FLOATY RIDDEM