THE MIXIE VOL. 25 / MIL3¥ $3RI•VS
IL PROGETTO MIL3¥ $3RI•VS NASCE NEL 2011. PRATICAMENTE IERI. TUTTO FRESCO COME IL MIX CHE AURORE, COSI' SI CHIAMA LA PRIMA RAGAZZA CHE PRENDE PARTE AL PROGETTO THE MIXIE, HA CONFEZIONATO PER NOI. LEI E' DI TOLOSA, DIRTHY SOUTH FRANCIA, E I SUOI CAPELLI SONO BLU. NON C'E' MOLTA ROBA SUA IN GIRO SE NON UN MIX (A-W-E-S-O-M-E) PER UN TUMBLR RUSSO (KOSSMOS) E UNO SPLIT CON UN TIZIO RISPETTATISSIMO NELLA SCENA WITCH HOUSE CHE SI CHIAMA GIALLO, LO SPLIT SI CHIAMA N3V3R S∆Y N3V3R. POI CI SIAMO NOI, CHE CREDIAMO NEI SUOI SKILLS, CHE CI GASA IL SUO TUMBLR E CHE I CAPELLI BLU SONO IL TOP.
IL SUONO DELLE ONDE CON CUI SI APRE IL THE MIXIE VOL. 25 CI FA VENIRE VOGLIA DI ANDARE AL MARE, IL RESTO DELLA SELECTA  DI BERE SOLO COCKTAIL GHIACCIATI E FARE FESTA CON LEI. POTREMMO FARLO, VOLENDO, VISTO CHE MILANO-TOLOSA SONO POCHE ORE DI MACCHINA; SE NON TE LA SENTI DI FARE UNA TIRATA UNICA PUOI FARE TAPPA A META' STRADA, A MARSIGLIA (LE GUIDE CONSIGLIANO IL PORTO), SE NO POCO PRIMA C'E' TUTTA LA COSTA AZZURRA DOVE IL MARE E' SEMPRE WOW.
ECCO, SI VEDE CHE ABBIAMO VOGLIA DI ANDARE IN VACANZA EH? QUESTO CALDO CI RALLENTA ALL'INVEROSIMILE, E' PASSATO PIU' DI UN MESE DALL'ULTIMO THE MIXIE, ABBIAMO ASPETTATO CHE MILEY TORNASSE DAL SONAR, CHE CI MANDASSE TUTTO E ORA ECCOCI QUA. DOBBIAMO DIRE CHE NE E' VALSA LA PENA. QUELLO CHE DEVI FARE TU E' SOLO ASCOLTARE. STAI GIA' ASCOLTANDO?
BENE.
ORA PENSA A DEI DELFINI CHE NUOTANO.
P.S. SE NON LO SAPEVI, MILEY SERIOUS E' LA STORPIATURA SIMPA DI MYLEY CYRUS A.K.A. HANNAH MONTANA A.K.A. QUELLA CHE SI FUMA I BONG.
DETTO TUTTO.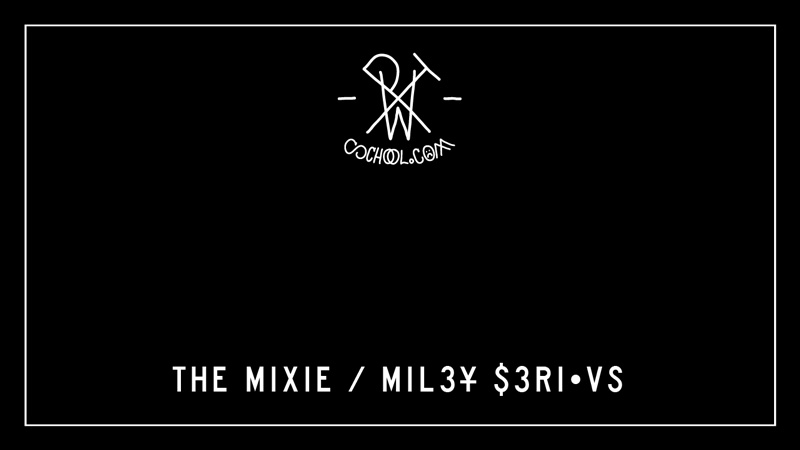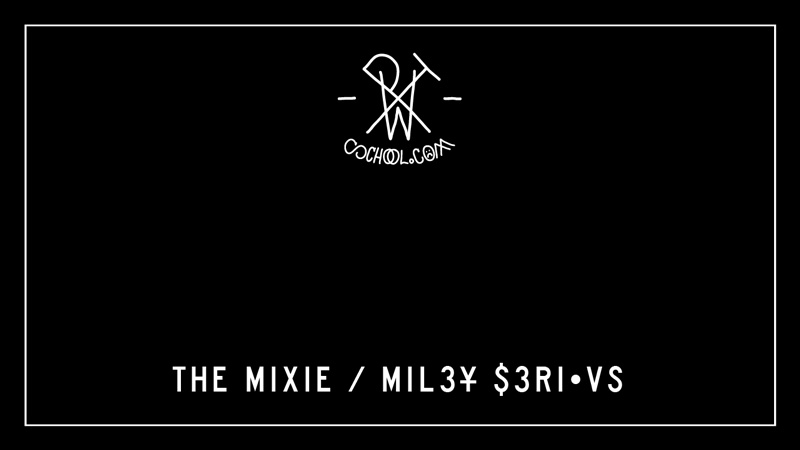 THE MIL3¥ $3RI•VS PROJECT WAS PRACTICALLY BORN YESTERDAY, IN 2011. BRAND SPANKING NEW AND AS FRESH AS THE MIX THAT AURORE, THE FIRST EVER GIRL TO TAKE PART IN THE MIXIE PROJECT, HAS COOKED UP FOR US. SHE'S FROM TOULOUSE, FRANCE AND SHE HAS BLUE HAIR. THERE'S NOT A LOT OF HER STUFF ABOUT APART FROM A MIX (A-W-E-S-O-M-E) FOR A RUSSIAN TUMBLR (KOSSMOS) AND A SPLIT WITH A GUY WHO'S SUPER RESPECTED IN THE WITCH HOUSE SCENE AND GOES BY THE NAME OF GIALLO, THE SPLIT'S CALLED N3V3R S∆Y N3V3R. AND THEN THERE'S US. WE BELIEVE IN HER SKILLS, WE RECKON HER TUMBLR IS THE BOMB AND WE THINK HER BLUE HAIR IS TOP.
THE SOUND OF WAVES THAT OPENS THE MIXIE VOL. 25 MAKES US WANT TO HEAD FOR THE BEACH, THE REST OF THE SELECTA JUST MAKES US WANNA DRINK ICE-COLD COCKTAILS AND PARTY WITH HER. WHICH ISN'T IMPOSSIBLE SEEING AS MILAN IS JUST A FEW HOURS FROM TOULOUSE BY CAR; IF YOU'RE NOT UP FOR THE LONG HAUL YOU CAN ALWAYS STOP OFF HALFWAY IN MARSEILLES (THE GUIDEBOOKS RECOMMEND THE PORT), OR THERE'S ALWAYS THE FRENCH RIVIERA WHERE THE SEA NEVER FAILS TO WOW.
YOU CAN TELL WE WANT TO GO ON HOLIDAY, HUH? THIS HEAT IS SLOWING US RIGHT DOWN, IT'S BEEN MORE THAN A MONTH SINCE THE LAST MIXIE, WE HAD TO WAIT FOR MILEY TO GET BACK FROM SONAR AND SEND US EVERYTHING AND NOW HERE WE ARE. BUT WE'VE GOT TO SAY IT WAS WORTH THE WAIT. ALL YOU HAVE TO DO IS LISTEN. YOU'RE ALREADY LISTENING?
GREAT.
NOW JUST IMAGINE DOLPHINS FROLICKING IN THE WAVES.
P.S. IF YOU DIDN'T ALREADY KNOW, THE NAME MILEY SERIOUS IS A NICE LITTLE REMIX OF MYLEY CYRUS A.K.A HANNAH MONTANA A.K.A THE GIRL WHO HITS BONGS.
NEED WE SAY MORE?
TRACKLIST:
DJ K MILLZ – BOUNCE TO MY LOU (FT. BREE)
DJ JAYHOOD – GO DEEPER
BEACHES – CASSIE – WHEN UR BODY IS TALKING (CLUB MIX)
DJ IRRESISTIBLE – MOTIVATION
DJ IRRESISTIBLE – CASHING OUT 95 26
DJ K MILLZ – GET BUSY
BRENMAR – TAKING IT DOWN
BRENMAR – LET ME KNOW (5KINANDBONE5 & VIN SOL GARAGE & PATIO RMX)
DANCE AREA – AA 24/7 (DIPLO REMIX)
LAO – MANGLE (DJ TYLERMANIA REMIX)
DJ IRRESISTIBLE – BEAUTIFUL PEOPLE (IRRESISTIBLE REMIX)
CRAIG DAVID – WHAT'S YOUR FLAVOR (T EDWARDS VOCAL MIX)
SHONTELLE – IMPOSSIBLE (DJ SLIIINK REMIX)
SALVA – KANYE WEST – MERCY (RL GRIME & SALVA REMIX)
DJ IRRESISTIBLE – SHE AINT YOU (JERSEY MIX)