THE MIXIE VOL. 28 / ∆∆ Ƥ∆ṜIȘ †ɌILL†ΘN ∆∆
COME FA PARIS HILTON AD ESSERE UNA STAR MONDIALE E ALLO STESSO TEMPO PRODURRE BOMBE A MANO, CI CHIEDEVAMO? MISTERO RISOLTO, A NOSTRO MALINCUORE LA PERSONA CHE SI CELA DIETRO ∆∆ Ƥ∆ṜIȘ †ɌILL†ΘN ∆∆ E' UN RAGAZZO COME NOI, CON GLI STESSI NOSTRI GUSTI E A CUI ABBIAMO SUBITO CHIESTO UN FEATURING ALL'INTERNO DI THE MIXIE (PROVA TU A CONTATTARE LA VERA PARIS). SIAMO AL NUMERO 28 E IL TRENTA SI AVVICINA, E' UN NUMERO CHE FA PAURA PERCHE' COME CON L'ETA' 30 SIGNIFICA METTERE LA TESTA A POSTO. NOI LA TESTA INVECE CONTINUEREMO A MUOVERLA SOPRATTUTTO SE CONTINUANO AD ARRIVARCI COSE COME QUESTA TRAP SHIT.
IL TRAP E' RIVISITAZIONE, E' POST-POST-MODERNO, E' UN CLASSICO PRESO, RI-EDITATO, SPACCATO E SCOPATO (TIPO CHOPPED & SCREWED MA CON PIU' RULLANTI E TRILL TRILL). POTREMMO DIRE CHE QUELLA E' LA DIREZIONE DEL 2013, MA C'E' CHI DICEVA LA STESSA COSA DEL MOOMBAHTON UN ANNO FA E ALLORA ABBIAMO CAPITO CHE QUELLO CHE CONTA DOPOTUTTO E' VIVERE IL PRESENTE E NON SMETTERE DI SOGNARE NELL'AVVENTO DI UN GENERE MUSICALE CHE UNIRA' CUORI, ETNIE E RELIGIONI.
WE HAVE A DREAM. 
CAZZATE A PARTE, RIMETTIAMO I PIEDI PER TERRA: SIAMO IN BELGIO, LI' DOVE LA SCENA E' ATTIVISSIMA E NEI CLUB LA GENTE SALTA IL DOPPIO CHE QUA, RECEPTIVE AS FUCK COME CI HA DETTO ∆∆ Ƥ∆ṜIȘ †ɌILL†ΘN ∆∆ NEL BREVE SCAMBIO DI MAIL CHE ABBIAMO AVUTO PRIMA DI RICEVERE LA MINA. #TOMCREW E' LA SITUAZIONE E TUTTA QUESTA STORIA DI PARIS TRILLTON E' NATA TRA DUE CHIACCHIERE E UNA BIRRA TRA I MEMBRI DELLA CREW SUDDETTA (TRA CUI JUKE ELLINGTON, NON TI DICIAMO NIENTE), CIOE' L'IDEA DI CREARE UNA CREW PARALLELA E CHIAMARSI #TOMTRAPCREW A.K.A. Ω tℜiϕὴΛïЯΞ$ Ω KREW. 
GIA', I NOMI SCRITTI CRAZY VANNO UN SACCO DI QUESTI TEMPI, ANCHE TU DOVRESTI FARTENE UNO, SAI CHE LOL?
CIAO ЯΞΛDΞR.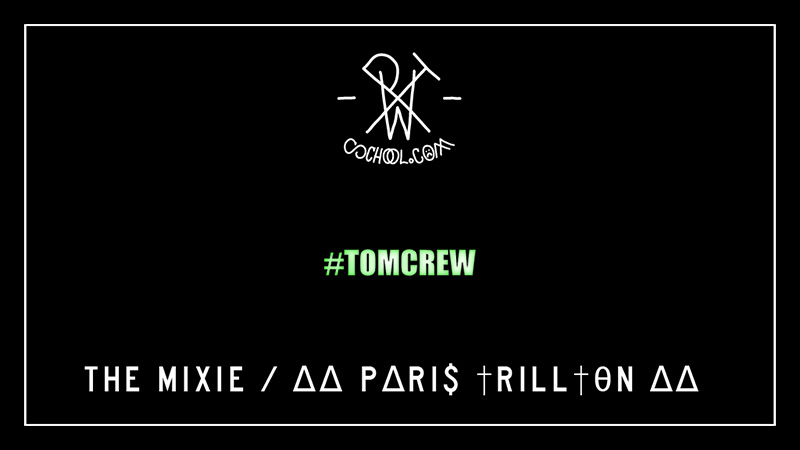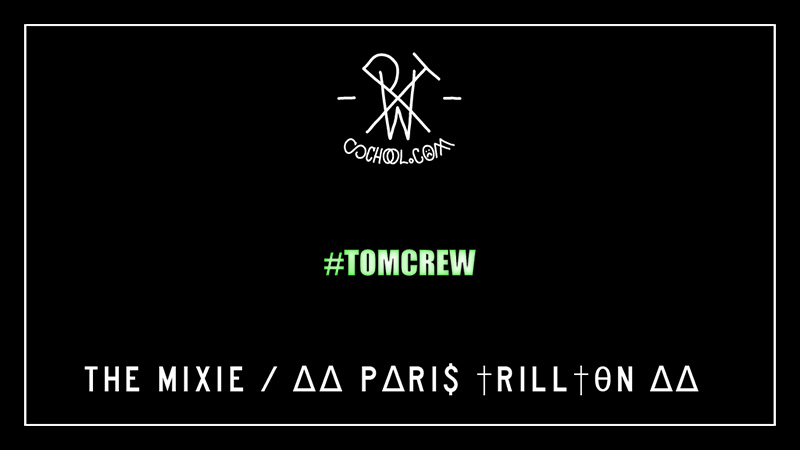 SO WE'VE BEEN ASKING OURSELVES HOW PARIS HILTON MANAGES TO BE AN INTERNATIONAL SUPERSTAR AND STILL FIND THE TIME TO PRODUCE THOSE HAND GRENADES. MYSTERY SOLVED. BEGRUDGINGLY WE REVEAL THAT THE PERSON BEHIND ∆∆ Ƥ∆ṜIȘ †ɌILL†ΘN ∆∆  IS A NORMAL GUY JUST LIKE US, WHO LIKES ALL THE SAME STUFF AS US AND WHO WE ASKED STRAIGHT AWAY TO FEATURE IN THE MIXIE (YOU TRY GETTING HOLD OF THE REAL PARIS). WE'RE AT NUMBER 28 AND 30 LOOMS EVER CLOSER, IT'S A SCARY NUMBER BECAUSE JUST LIKE THE AGE, 30 MEANS YOU GOTTA GET YOUR HEAD SCREWED ON. BUT WE'RE GOING TO KEEP RIGHT ON MOVING OUR HEADS, ESPECIALLY IF THINGS LIKE THIS TRAP SHIT KEEP ON COMING IN.
TRAP IS REINTERPRETATION, IT'S POST-POST-MODERN, IT'S A CLASSIC PICKED UP AND RE-EDITED, LIKE CHOPPED & SCREWED BUT WITH MORE SNARE AND TRILL TRILL. WE COULD SAY THAT THIS IS SOME 2013 SHIT, BUT PEOPLE SAID THE SAME THING ABOUT MOOMBAHTON A YEAR AGO AND WE'VE REALISED THAT WHAT REALLY MATTERS IS JUST LIVING FOR THE MOMENT AND NEVER GIVING UP ON THE IDEA OF A MUSICAL GENRE THAT WILL ONE DAY UNITE HEARTS, RACES AND RELIGIONS.
WE HAVE A DREAM. 
ANYWAY, BS ASIDE, LET'S GET BACK DOWN TO EARTH: WE'RE IN BELGIUM, WHERE THE SCENE IS BUSTLING AND PEOPLE IN THE CLUBS JUMP TWICE AS MUCH AS THEY DO HERE, RECEPTIVE AS FUCK, AS ∆∆ Ƥ∆ṜIȘ †ɌILL†ΘN ∆∆  TOLD US IN OUR BRIEF EMAIL EXCHANGE WE HAD BEFORE THIS MISSILE ARRIVED. THE SITUATION IS #TOMCREW AND THIS WHOLE PARIS TRILLTON THING WAS BORN OVER A CHINWAG AND A COUPLE OF BEERS WITH THE MEMBERS OF THE AFOREMENTIONED CREW (INCLUDING JUKE ELLINGTON… WE'RE NOT SAYING A WORD), BASICALLY, THE IDEA WAS TO CREATE A PARALLEL CREW AND CALL IT THE #TOMTRAPCREW A.K.A. THE Ω TℜÏ££IΦὴΛÏЯΞ$ Ω KREW.
NAMES WRITTEN IN CRAZY ARE HUGE NOWADAYS, YOU SHOULD GET ONE TOO, JUST IMAGINE HOW LOL THAT WOULD BE.
 LATERS ЯΞΛDΞR.
TRACKLIST:
BIG MAKK – CHILDREN OF THE TRVP
BRENMAR & DJ SLIINK – BAIT
BLVCK LITE – BVTT3RFLX STR0K3
RED CURRY POPSICLE (MANIKAN REMIX)
GIRL UNIT – CLUB REZ (INFLECT REFIX)
DETZKY – PEANUT BUTTER JELLY (TRAP VERSION)
GANGSTERS PARADISE (CANDYLAND'S OG REMIX)
THE VANDAL SQUAD – SIMON SAYS
ROBTHREEBEATS – POP THAT PUSSY LIKE THIS
LOUDPVCK – DIP'N IT
MICKEY AVALON- MY DICK (KID WOMP REMIX)
SMASH & GRAB – DEEP IS WHAT YOU NEED (BIG MAKK TRVP REMIX)
KID WOMP – DROP IT FEAT. ARINZE (ORIGINAL MIX)
PIGEONFOX – GOT A RED ONE
AZEALIA BANKS – WICKED AWESOME REMIX
FACE MELT CHICAGO – MAKER – MONEY FIGHT EP – 01 FACE DOWN
BRO SAFARI & KNUCKLE CHILDREN – FREAK
DJ SLIINK & FLOSSTRADAMUS – TEST ME (WAYF 'TRAPMORETON' RMX)
JUKE ELLINGTON & ∆∆ Ƥ∆ṜIȘ †ɌILL†ΘN ∆∆ – TRVP CRVCK BVSS SHIIT