THE MIXIE VOL. 30 / PANTHERA808
QUELLO CHE CI HA SPINTO A PARLARE DI PANTHERA808 LA PRIMA VOLTA E' STATO, OLTRE ALLA MUSICA (OBV), IL MODO IN CUI SI PRESENTA SUL WWW: NOME POTENTE, GRAFICHE CATTIVE E UNA BIO CHE DICEVA "BEEN FIDDLING AROUND WITH INSTRUMENTS SINCE GOD KNOWS WHEN". LEGGENDO COSI' E' UN ATTIMO IMMAGINARTELO GIOCARE CON UNA BATTERIA A CINQUE ANNI E CON UNA DRUM MACHINE A DICIOTTO. NOI, CHE NON CONOSCEVAMO IL SUO BACKGROUND, PER QUELL'ATTIMO INGENUAMENTE CI ABBIAMO CREDUTO, PENSANDO CHE QUEI SUONI VENISSERO DA QUALCHE STUDIO POLVEROSO CON STRUMENTI SU STRUMENTI AMMASSATI, MA NON E' COSI'. IL WEB E' UNA GROSSA BUGIA E  CHIEDENDOGLIELO DIRETTAMENTE ABBIAMO POI SCOPERTO CHE DI ANALOGICO NEI SUOI PEZZI C'E' MOLTO POCO IN REALTA' E CHE LUI SEMPLICEMENTE E' MOLTO BRAVO A RENDERE "VERE" QUELLE IMPERFEZIONI DIGITALMENTE REALI, DALLA GRANA LO-FI ALLA DISTORSIONE DI UN NASTRO MAGNETICO CHE NON C'E'. E' IL RAGIONAMENTO CHE STA DIETRO QUINDI A RENDERE PANTHERA808 VINCENTE E SOPRATTUTTO CREDIBILE, E' L'IDEA, IL CERVELLO DI LUCA, 21 ANNI, DA GENOVA (SI' OK, PESTO, COLOMBO, ACQUARIO, ECC., CIAO). 
BACK IN ITALY QUINDI, DOVE LA SCENA E' VERA E CHI HA I MEZZI – COME NOI E I NOSTRI COLLEGHI BLOGGER – CERCA DI SPINGERLA E SUPPORTARLA IL PIU' POSSIBILE. QUELLO CHE CI GUADAGNIAMO? UN MONDO MIGLIORE, WE RLY HOPE SO.
PANTHERA808 IN QUESTE ULTIME SETTIMANE DI WWW-HYPE E' STATO INSERITO ALL'INTERNO DEL FILONE TRAP, WAVE CHE STA PRENDENDOSI IL SUO SPAZIO NELL'ULTIMO PERIODO E ALLO STESSO TEMPO UNA DIREZIONE CHE NON ABBIAMO ANCORA CAPITO SE E' QUELLA CHE CI PIACE, STAREMO A VEDERE. CIO' CHE SAPPIAMO E' CHE A LUCA TUTTE QUESTE SEGHE SUL GENERE INTERESSANO RELATIVAMENTE, PERCHE'  PER LUI "E' TUTTO HIP HOP". QUESTO THE MIXIE VOL. 30 – AH, LA FIGATA DEI NUMERI TONDI – SUONA SI' TRAP, MA – OLTRE AD AVERE UN PEZZO POLITICO-(T)RAP-ITALIANO CHE IMPLICITAMENTE SOTTOLINEA QUELLA VOLONTA' DI NON SCIMMIOTTARE NESSUN GENERE D'OLTREOCEANO – SI APRE CON DUE PEZZI SUOI (OUT ON SAFE SEXXX A GENNAIO) CHE LO STESSO PANTHERA808 HA DEFINITO SU SOUNDCLOUD PROG-TRAP: UNA DEFINIZIONE FATTA PER GIOCO, MA INTELLIGENTE, COME TUTTA LA SELEZIONE CHE TROVI DENTRO (DIGI G'ALESSIO, WARSAW, KRUEGER, TNGHT & MORE), E COME LUI STESSO, UNO STUDENTE DI MEDICINA (!!!) CHE POCO FA, PRIMA DI SCRIVERE QUESTE RIGHE CI HA SALUTATI DALLA CHAT DI FACEBOOK PER ANDARE A VEDERSI UN PAIO DI LEZIONI DI SCACCHI. E SI SA CHE GLI SCACCHI SONO UNO SPORT PER PERSONE INTELLIGENTI. 
CIAO ALFIERI.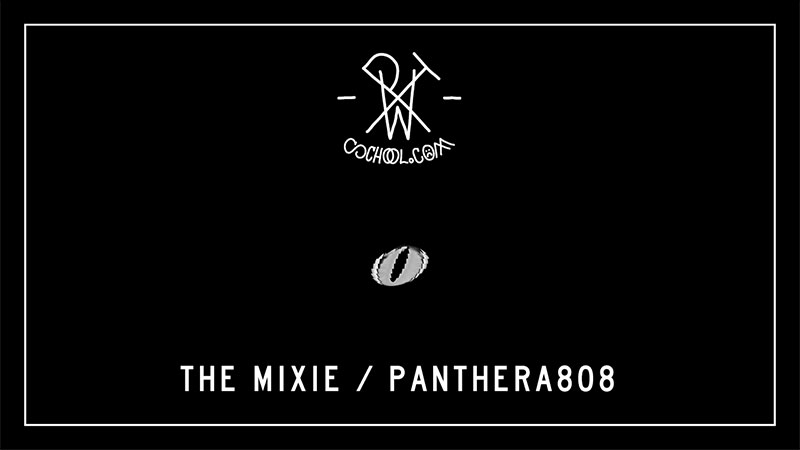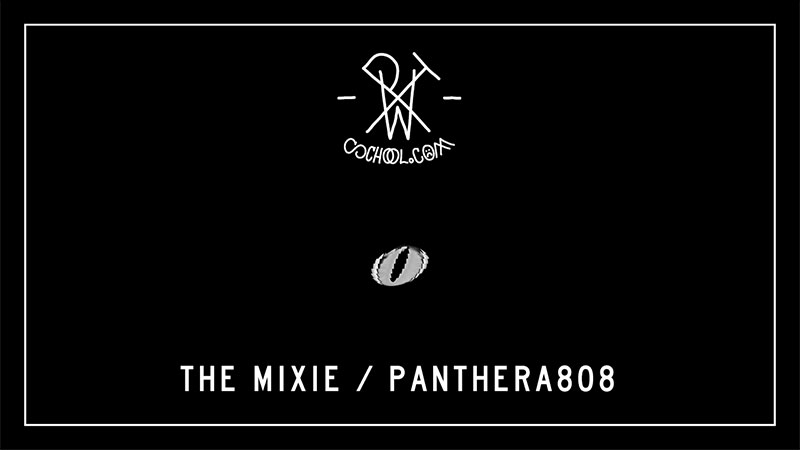 TRADUZIONE BY: VICKY MILLER
APART FROM THE MUSIC (OBV), THE THING THAT GOT US WRITING ABOUT PANTHERA808 IN THE BEGINNING WAS THE WAY HE PRESENTED HIMSELF ON THE WWW: POWERFUL NAME, MEAN GRAPHICS AND A BIO THAT SAID HE'D "BEEN FIDDLING AROUND WITH INSTRUMENTS SINCE GOD KNOWS WHEN".  PUT LIKE THAT, IT TAKES A SECOND TO IMAGINE HIM WITH A DRUM AT THE AGE OF 5 AND A DRUM MACHINE AT 18. UNFAMILIAR WITH HIS BACKGROUND, THAT'S WHAT WE INNOCENTLY BELIEVED FOR THAT SECOND, IMAGINING THOSE SOUNDS EMERGING FROM SOME DUSTY STUDIO WITH MASSES OF INSTRUMENTS PILED ON TOP OF EACH OTHER, BUT IT'S NOT TRUE. THE WEB IS A BIG FAT LIE AND WHEN WE ASKED HIM WE DISCOVERED THAT THERE'S VERY LITTLE ANALOG IN HIS TRACKS – HE'S JUST VERY GOOD AT MAKING THOSE DIGITALLY-REAL IMPERFECTIONS SOUND REALLY 'REAL'. FROM LO-FI GRAIN TO THE DISTORTION OF A MAGNETIC TAPE THAT'S NOT REALLY THERE. WHAT MAKES PANTHERA808 SUCCESSFUL, BUT ABOVE ALL CREDIBLE, IS THE THOUGHT THAT GOES INTO ALL THIS, IT'S THE IDEAS AND THE BRAIN OF LUCA, 21 YEARS OLD FROM GENOA (YEAH, OK, PESTO, COLUMBUS, THE AQUARIUM, WE KNOW.).
BACK IN ITALY THEN, WHERE THE SCENE IS REAL AND THOSE WHO GOT THE MEANS – LIKE US AND OUR FELLOW BLOGGERS – TRY TO SUPPORT IT AND PUSH IT AS MUCH AS POSSIBLE. WHAT DO WE STAND TO GAIN? A BETTER WORLD. AT LEAST WE RLY HOPE SO.
IN THESE LAST FEW WEEKS OF ONLINE HYPE, PANTHERA808 HAS BEEN INCLUDED IN THE TRAP VEIN, A WAVE WHICH HAS BEEN SETTLING IN RECENTLY AND AT THE SAME TIME TAKING A DIRECTION THAT WE STILL CAN'T MAKE UP OUR MINDS ABOUT, WE'LL JUST HAVE TO SEE. WHAT WE DO KNOW IS THAT LUCA ISN'T BOTHERED BY THIS FUSS ABOUT GENRES, BECAUSE "EVERYTHING'S HIP HOP" TO HIM. THIS THE MIXIE VOL. 30 – AREN'T ROUND NUMBERS THE SHIT – SOUNDS LIKE TRAP BUT, AS WELL AS HAVING AN ITALIAN POLITICAL-(T)RAP TRACK IN IT THAT IMPLICITLY UNDERLINES THAT RELUCTANCE TO MIMIC GENRES FROM ACROSS THE POND, IT OPENS WITH TWO OF HIS OWN TRACKS (OUT ON SAFE SEXXX IN JANUARY), WHICH PANTHERA808 HIMSELF DECLARED PROG-TRAP ON HIS SOUNDCLOUD: HE'S JOKING, BUT IT'S ALSO AN INTELLIGENT DEFINITION, IN FACT THE WHOLE DAMN SELECTIONS INTELLIGENT (DIGI G'ALESSIO, WARSAW, KRUEGER, TNGHT & MORE). MUCH LIKE THE MAN HIMSELF, WHO'S STUDYING MEDICINE (!!!) AND JUST SIGNED OFF ON FACEBOOK CHAT TO GO HAVE A COUPLE OF CHESS LESSONS. WE ALL KNOW CHESS IS A SPORT FOR CLEVER PEOPLE.
BYE KNIGHTS.
TRACKLIST:
PANTHERA808 – UNRELEASED (OUT ON JANUARY X SAFE SEXXX)
PANTHERA808 – DODGER
DIGI G'ALESSIO – M.TYSON
WARSAW – SKYFORCE 88
KRUEGER – TALK (BAAUER REMIX)
MANI PULITE – SEGRETI MASSONICI
KANYE WEST- MERCY (RL-GRIME SALVA REMIX)
MAJOR LAZER – ORIGINAL DON (FLOSSTRADAMUS REMIX)
PARACHUTE YOUTH – AWAKE NOW (WHAT SO NOT REMIX)
PANTHERA808 – UNRELEASED (OUT ON JANUARY X SAFE SEXXX)
TNGHT – GOOOO
CASIOPEA – ASAYAKE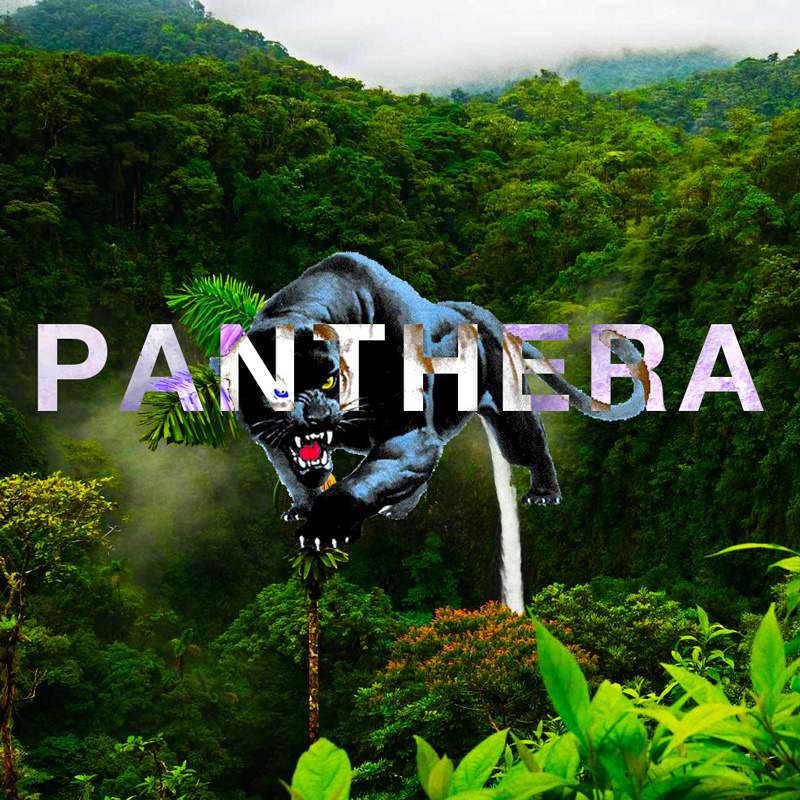 SOUNDCLOUD.COM/PANTHERA808
FACEBOOK.COM/PANTHERA808 
PANTHERA808 LIVE @ CRIMEWAVE, ROCKET 08.11.2012