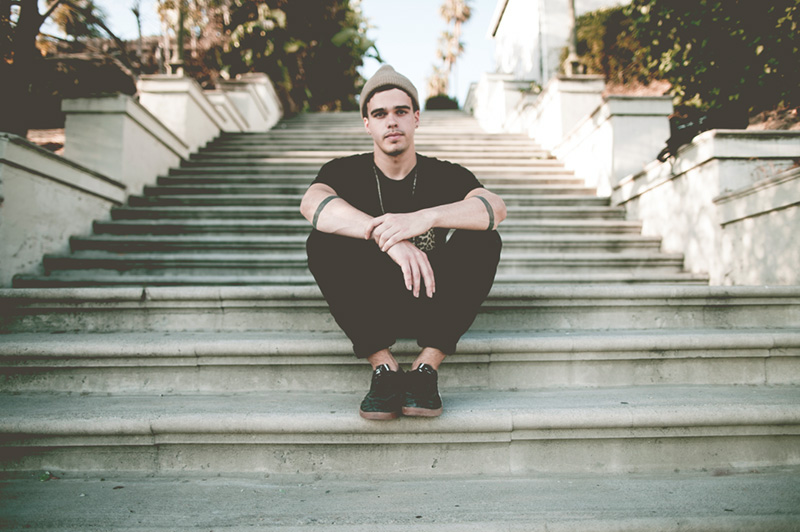 THE MIXIE VOL.37 / FALCONS
TRADUZIONE BY: VICKY MILLER
THIS THE MIXIE JUST SORT OF FELL FROM THE SKY AND WE'RE NOT JUST SAYING THAT BECAUSE THE ARTIST IN QUESTION IS NAMED AFTER A BIRD, ABSOLUTELY NOT. WHAT ACTUALLY HAPPENED IS THAT SOMEONE SHOWED HIM THE PREVIOUS EPISODES AND HE WAS UP FOR TAKING PART (IF YOU LIVE IN LOS ANGELES, BEING UP FOR THINGS IS IN YOUR DNA).
BUT THAT'S ENOUGH BLOWING OUR OWN TRUMPET, WE'RE LEAVING LONDON AND KODIAK BEHIND AND CROSSING THE ATLANTIC OCEAN UNTIL WE HIT THE PACIFIC AND LAND AT LAX, WHICH IS L.A.'S AIRPORT, BUT YOU ALREADY KNOW THAT.
THROW ON A VEST AND YOUR FAVOURITE SHADES, FALCONS HAS LAID DOWN 40 MINUTES OF GOOD VIBES AKA REVISITED RAP CLASSICS, R&B, JERSEY CLUB AND TRAP.
BORN IN THE SOUTH BUT TRANSPLANTED OVER TO THE WEST COAST OF THE UNITED STATES, FALCONS HAS PRETTY MUCH PLAYED WITH ALL THE BEST NAMES IN THE CITY: GASLAMP KILLER, DAM FUNK, SLUGABED, RL GRIME TO NAME A FEW. HE RECENTLY SWUNG THROUGH EUROPE ON A MINI TOUR THAT TOUCHED DOWN IN ALL THE BIG CITIES AROUND US (WE'D HAVE MADE HIM STOP OVER IN MILAN HAD WE KNOWN) AND HIS NEW EP 'BIRDCALL' CAME OUT A FEW WEEKS AGO ON HUH WHAT & WHERE.
 BEFORE THAT HE SELF-PRODUCED AN EP AND TWO REMIXES THAT WE SUGGEST YOU GO AND LISTEN TO.
LIKE MOST EVERYTHING THAT COMES FROM THAT SIDE OF THE WORLD, EVEN FALCONS'S PRODUCTIONS GIVE OFF RAYS OF SUNSHINE AND THE SMELL OF THAT AS WE SPEAK, SMOOTHLY TAKING YOU FROM A STATE OF RELAXATION TO A STATE OF SHAKING YOUR ASS.
AND THERE WAS EVEN A SURPRISE IN THE TRACKLIST,
FALCONS PLAYED A TRACK REMIXED BY OUR MATE PANTHERA808.
SAGE THE GEMINI – GAS PEDAL (SALVA REMIX)
FALCONS – BE QUIET
MISSY ELLIOT – WORK IT
CIARA – PROMISE (FALCONS 3 TIME MASHUP)
FALCONS – SUMBODY
FALCONS – JULIO (BUSTA RHYMES)
MR. CARMACK FEAT. BUKKWEAT BILL – BABY TALK
FALCONS – CELL
ODB – SHIMMY SHIMMY YA (MR. CARMACK REMIX)
TIMBALAND – INDIAN FLUTE (SANGO REMIX)
DJ HOODCORE – FIRE
FALCONS – VROOM
SWIZZYMACK – DRIP
TWEET – OOPS (FALCONS REMIX)
SEAN PAUL FEAT. BEYONCE – BABYBOY (PANTHERA808 REMIX)
RIHANNA – COCKINESS (GRANDTHEFT & DJ HEDSPIN REMIX)
GINUWINE – PONY
GINUEWINE X WAKA MASHUP
DJ YOLO BEAR FEAT. UNIIQUE – BAD BXTCHES
GANZ – LUV U TWICE (UNRELEASED)
RUSTIE – STARTT (UNRELEASED)
SWEATER BEATS – FEEL ME (FALCONS REMIX)
CIARA – OH (FALCONS REMIX)
MISSY AND J. COLE X THE FRESHEST – CALL MY NAME (FALCONS REMIX)
CIAO GULY