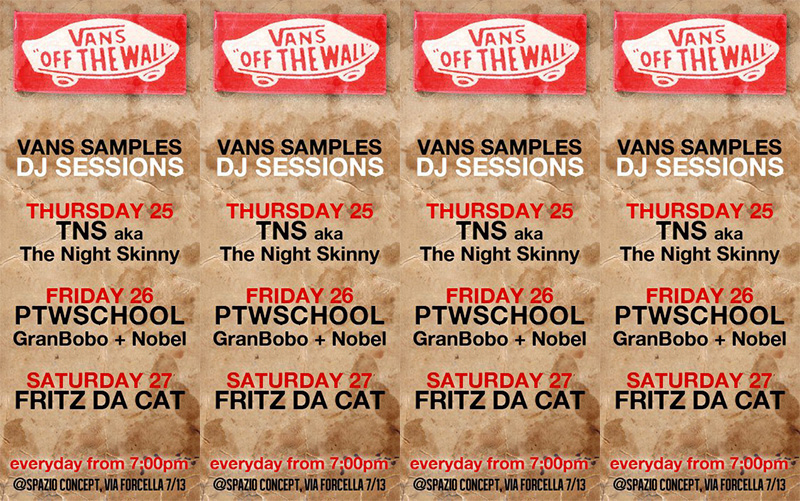 VAN$ $.$. DJ $E$$ION$: THE NIGHT SKINNY, PTWSCHOOL, FRITZ DA CAT, $PAZIO CONCEPT, 25-26-27.10.2012
SE SEI UNO CHE SE NE INTENDE DI BUSINESS E AFFARI SAPRAI CHE QUESTO WEEKEND – INIZIATO A PARTIRE DA OGGI – C'E' LA SVENDITA CAMPIONARIO DI VANS. IL POSTO E' LO SPAZIO CONCEPT E COM'E' BUONA EDUCAZIONE OLTRE AI VESTITI C'E' ANCHE IL FESTINO DALLE 19 IN POI. ABBIAMO LA GIOYA DI CONDIVIDERE LO SPAZIO CON TNS A.K.A. THE NIGHT SKINNY E FRITZ DA CAT A.K.A. FRITZTINCANTACOIBEATSDAL950.
LE INFO SONO NEL FLYER QUA SOPRA, RIPETUTO QUATTRO VOLTE PER I PIU' DISATTENTI.
QUESTA SERA, CIOE' TIPO CHE LEGGI ORA, TI CAMBI LE SCARPE ED ESCI, C'E' NIGHT SKINNY.
DAI, GIOVEDI' IS THE NEW SATURDAY, QUINDI CI VEDIAMO LAH.
BRING THE $$$ & NON DORMIRE.
NIGHT SKINNY FEAT. OP ROT – DUORM (2010):