PTWSCHOOL INTERVIEW: TYLER, THE CREATOR FEAT. G.QUAGLIANO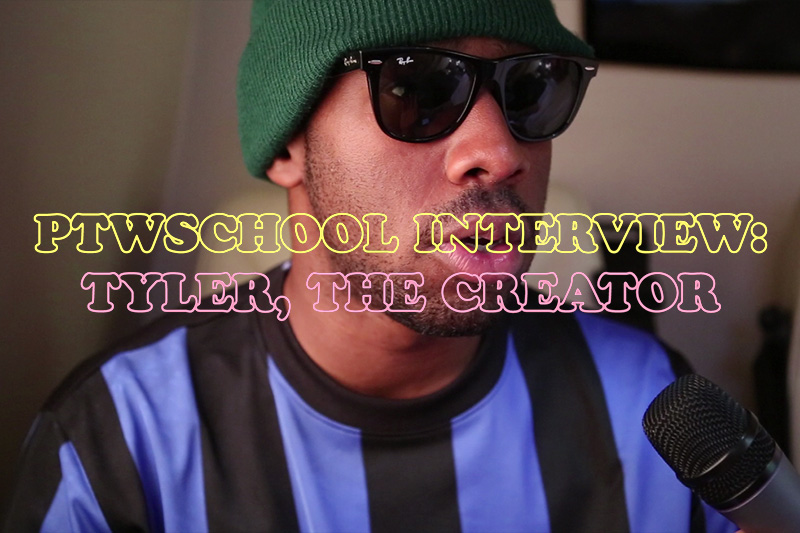 UNA GIORNATA LUNGHISSIMA QUELLA DELL'11 LUGLIO SCORSO IN CUI PER UN ATTIMO ABBIAMO PURE RISCHIATO DI NON INTERVISTARE NESSUNO. SI SA, SONO RAPPER E QUANDO APPENA ARRIVATI G.QUAGLIANO HA PROVATO A INTERVISTARE HODGY BEATS, DOMO E LEFTBRAIN LORO ERANO PIU' IN MODALITA SMOKE SPLIFF SMOKE SPLIFF. MA CI STA, ALLA FINE ABBIAMO "RIMEDIATO "CON QUEST'INTERVISTA FATTA A TYLER, ARRIVATO PIU' TARDI NEL POSTO, LONTANA DAGLI OCCHI DELLE CENTINAIA DI FAN FUORI DALLO SWEATSHOP.
SIAMO NEL TOUR BUS, DOVE FACEVA ABBASTANZA CALDO E NON ABBIAMO CAPITO COME FACEVA TYLER A INDOSSARE IL CAP DI LANA.
TYLER DISSA PITCHFORK, PARLA DEL VIDEO DI SKATE DI SUPREME, PROVA ANCHE A SEDURRE G. OFFRENDOGLI DELLA DROGA E CONFESSA DI VOLERSI RITIRARE NEL GIRO DI BREVE.
UN'OCCHIATA AL VIDEO LA DOVRESTI DARE E SOPRATTUTTO DOVRESTI SEGUIRE G_QUAGLIANO SU TWITTER E SU INSTAGRAM PERCHE' STA PER POSTARE DELLE FOTO INEDITE DI SE STESSO VESTITO SOLO COI CALZINI USATI DI TYLER THE CREATOR ED UNA T-SHIRT DI KARL KANI.
 CIAO N*GGA, CHAIR AND TABLE,  DON'T QUIT YOUR DAY JOB!
 PS: TYLER HA PARLATO ANCHE DEL SUO DISCO WOLF, PARLANDO DEI SUOI PEZZI PREFERITI DELL'ALBUM , TRACCIA DOPO TRACCIA. CONFESSA ANCHE DI AVER CERCATO DI IMITARE RICK ROSS.
POTRETE ASCOLTARLO QUESTA DOMENICA SERA IN ONDA SU BABYLON RADIO2 (LINK)
THANKS AGAIN TO SLAM JAM PER TUTTI GLI SBATTY.
PAGINA 2 PER LE FOTO IN STORE E IL REPORT UFFICIALE.